wild
herps
Anolis bimaculatus
—
Statia Bank Tree Anole
Also known as:
Green Tree Lizard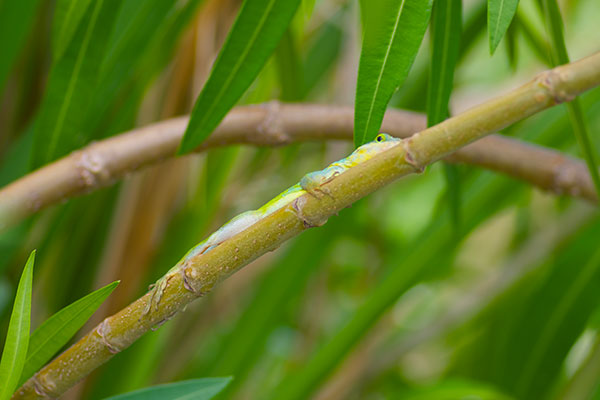 Our itinerary on St. Kitts involved a ride on the St. Kitts Scenic Railway (a.k.a. the St. Kitts Sugar Train), then a catamaran ride back to the cruise port town of Basseterre. I kept my eyes peeled for herps as the train passed near trees and bushes, and counted about a dozen anoles on the trip. But I saw each one for just a second or three, without enough time to focus and shoot, so I ended the train trip without any lizard pictures. Nearly a tragedy! However, we had to wait for ten minutes or so after disembarking the train before the buses arrive to take us to the catamaran, and ten minutes on a Caribbean island is usually enough time to find anoles, if there is any vegetation nearby. A few bushes had been planted around the otherwise-grassy field in which we waited, and I noticed this beautiful, strapping anole on the third one I inspected. It also noticed me, and rotated itself to the far side of its branch in the movement known to anole aficionados as "squirreling", so I didn't get any clear photos of its body. I am fond of the "suspicious lizard watching warily from behind a branch" pose though (also employed by many other lizards, from
Florida
to
Australia
and beyond).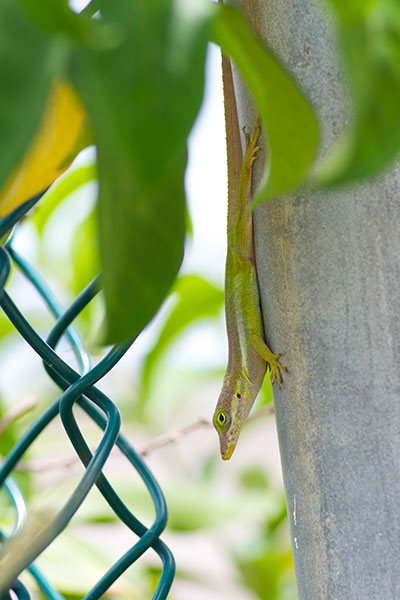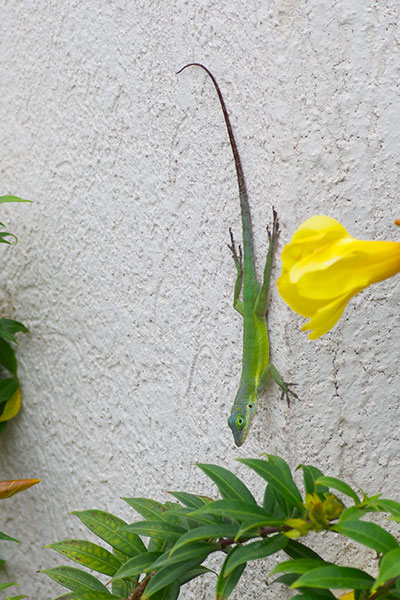 When we finished our catamaran ride we walked around the cruise dock area in Basseterre for awhile, and I saw a few more of the green
Anolis bimaculatus
there. None of them were as large and pretty as the one that had squirreled away from me earlier.
St. Kitts is a two-native-anole island, with the other species being the much smaller and less colorful Anolis schwartzi. It's possible that I saw a few of those from the St. Kitts Scenic Railway, but I'm not sure. I definitely didn't see any around town in the afternoon.
Online references:
Caribherp's list of reptiles and amphibians of each Caribbean island
Printed references: