wild
herps
Agama lionotus
—
East African Rainbow Lizard
Also known as:
Kenyan Rock Agama
These agamas were probably the most visible lizards in Kenya, though some skinks and geckos may have been more common. They're a social species, often found in groups. This is a tiny little baby one that visited us on a lunch stop off the road between Nairobi and Tsavo.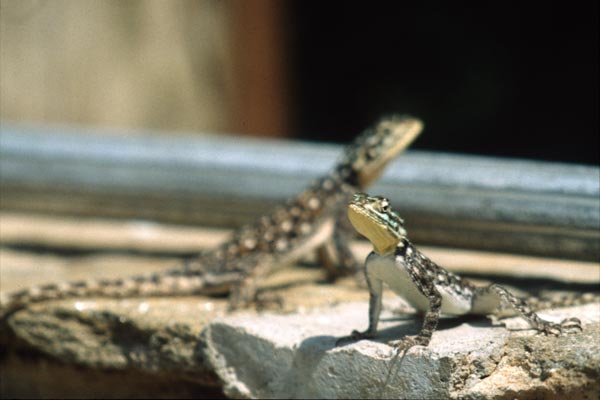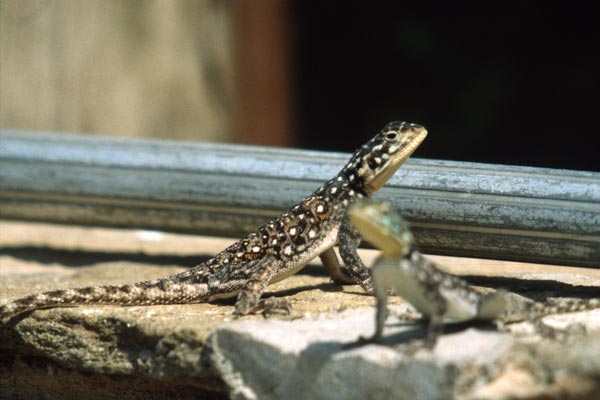 A gregarious group of agamas held court at poolside at the Samburu Intrepids tented camp. The full-grown females are somewhat smaller than the males, and have light green flecks on their heads. Maybe you can get a hint of this from the foreground lizard. The males are often colored similarly to the females, though without the green flecks, such as the larger background lizard here.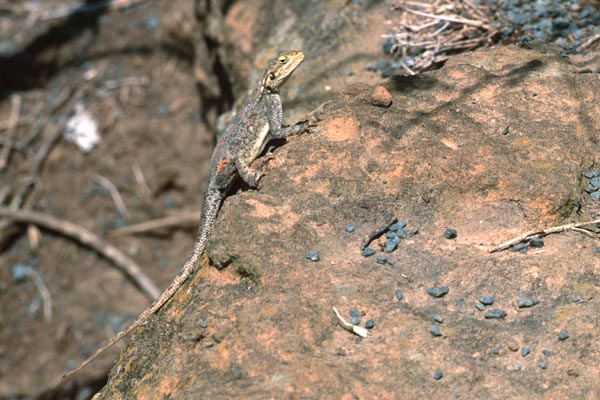 I originally thought this agama might be a different species, since it didn't look like an adult male or an adult female. The red spots near the hind leg seemed a distinguishing mark. However,
Dr. Robert Drewes
identified it as
Agama agama lionotus
, probably a sub-dominant male. (
A. a. lionotus
was later elevated to full species status.)
These lizards are best known for the shockingly bright colors sometimes adopted by the dominant males. Remarkably, a brownish spotted male such as the poolside fellow from Samburu above can turn into one of these garish eyecatchers in just a few minutes.
Online references:
Printed references:
Obst, F. J., Richter, K., Jacob, U. 1988. The Completely Illustrated Atlas of Reptiles and Amphibians for the Terrarium
Rogner, M. 1997. Lizards
Spawls, S., Howell, K., Hinkel, H., Menegon, M. 2018. A Field Guide to East African Reptiles, 2nd edition