wild
herps
Amnirana nicobariensis
—
Cricket Frog
Also known as:
Nicobar Cricket Frog, Nicobar Island Frog, Nicobarese Frog, Nicobar Frog
Some authorities place this species in the genus Hylarana. It has also been placed in various other genera over the years, including at least Auletris, Calamita, Hyla, Hylorana, Rana, Sylvirana, and Fejervarya (!).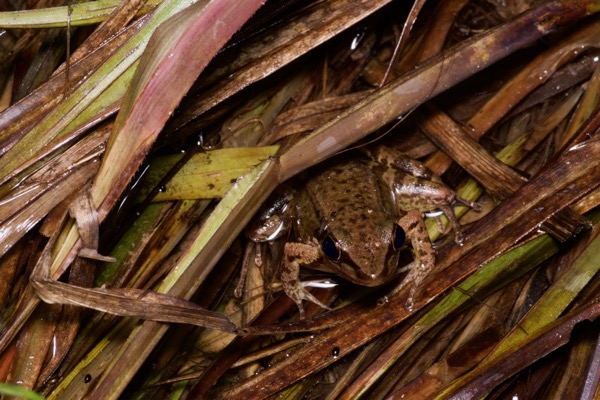 On my last night in Danum Valley, my guide was leading me across a large field in the employee housing area when I noticed a frog hop in the wet grass. I thought the frog looked new to me, and would have spent a little time to get a decent photo, but someone in front of us had seen a Leopard Cat, so we rushed in that direction instead. I did get to see the (housecat-sized) wild cat for a moment, but I didn't get a photo.
Thanks to Borneo frog expert Alexander Haas for identifying this frog for me.
Online references:
Printed references:
Inger, R. F., Stuebing, R. B., Grafe, T. U., Dehling, J. M. 2017. A Field Guide to the Frogs of Borneo, Third Edition
Malkmus, R., Manthey, U. Vogel, G., Hoffmann, P., & Kosuch, J. 2002. Amphibians & Reptiles of Mount Kinabalu (North Borneo)