wild
herps
Batrachoseps gavilanensis
—
Gabilan Mountains Slender Salamander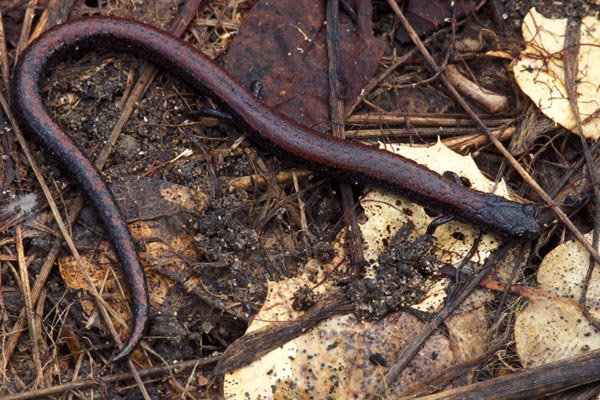 Like the
Santa Lucia Mountains Slender Salamander
, this is another species recently split out from the older species
Batrachoseps pacificus
. We ran across this one while looking for the extremely rare
Santa Cruz Long-toed Salamander
.
I am not certain why the scientific name for this salamander is spelled with a "v" but the common name is spelled with a "b". A reader suggests that the Gabilan range was named after the Spanish name Gavilan but the spelling error crept in due to a misunderstanding caused by the pronunciation of "v" in Spanish, which sounds like "b".
I see these salamanders fairly often (though not as often as
Batrachoseps luciae
, which I find in my backyard and all around my neighborhood). But I hadn't taken any photos of them for years so I decided it was time.
This salamander and some friends hung out under small hunks of driftwood that had apparently washed up into vegetation above the standard tidal zone. I was very surprised to see them in this habitat so close to the ocean.
Online references:
Printed references: