wild
herps
Sonora annulata
—
Resplendent Desert Shovel-nosed Snake
Also known as:
Colorado Desert Shovel-nosed Snake
This species was previously classified as Chionactis annulata, and some authorities continue to use that classification.
Subspecies I've seen: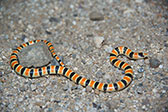 S. a. annulata
Colorado Desert Shovel-nosed Snake
Sonora annulata annulata
—
Colorado Desert Shovel-nosed Snake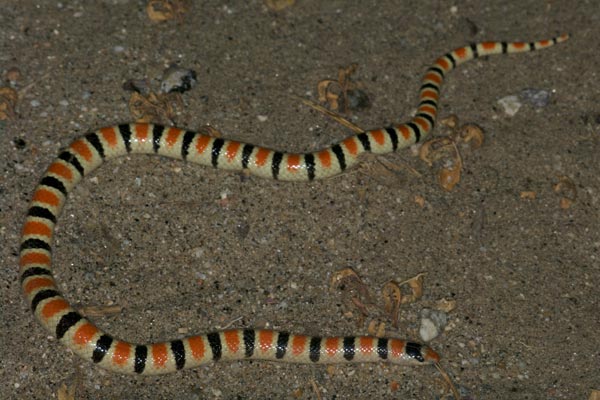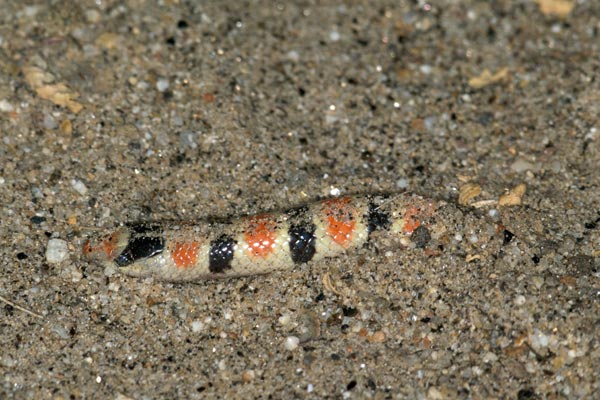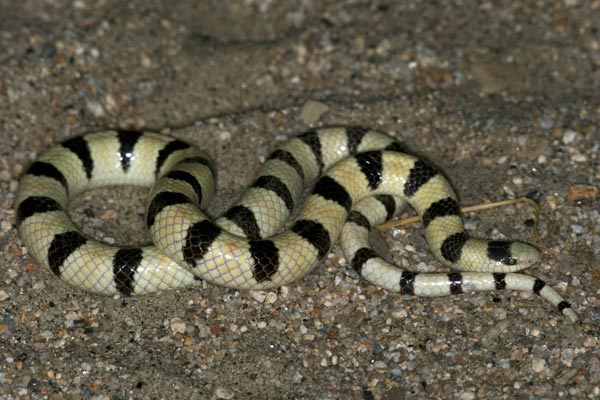 These little serpentine jewels were the species I came across most often crossing the roads at night in a week and a half in Borrego Springs. They would move across the road in a leisurely way until they became aware of my presence, at which point they would start thrashing like mad, moving rapidly in an S-shaped pattern. When they got off the road, they would typically start burrowing into the sand immediately, and I had to take fast action to prevent them from escaping before I could get any photos.
Most of the shovel-noses were the three-colored type as pictured in the first two photos above. But occasionally I'd find one that had almost none of the red color, making them look like a different species entirely, as shown in the third photo above.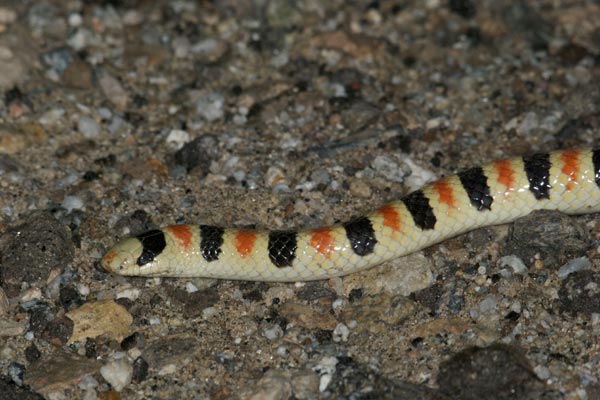 Here's one more little beauty from the next evening.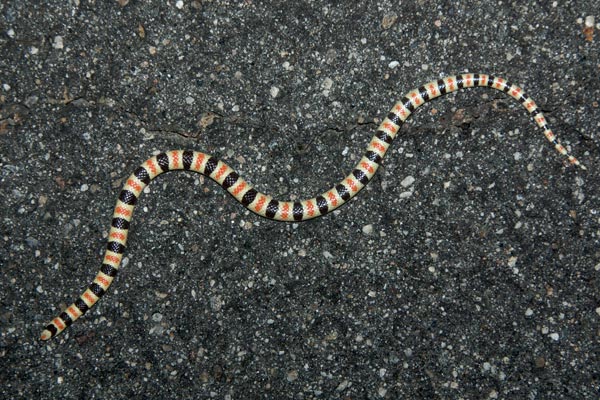 And another from the evening after that. Their bright colors made these snakes really visible against the road or sand, but once they started their high-speed slithering the colors washed together and they seemed to vanish almost instantly.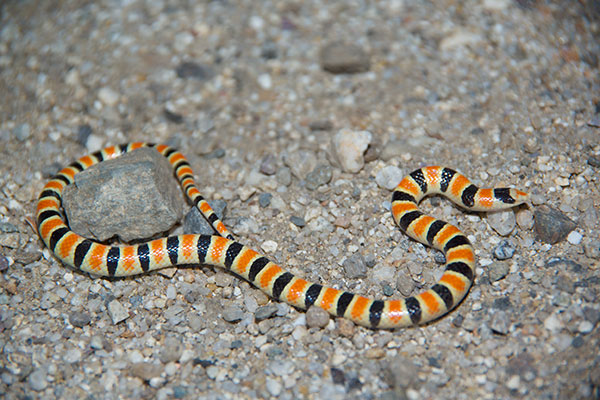 It seems that one of the best places to find these beautiful little snakes in the Borrego Springs area is right downtown on the main road.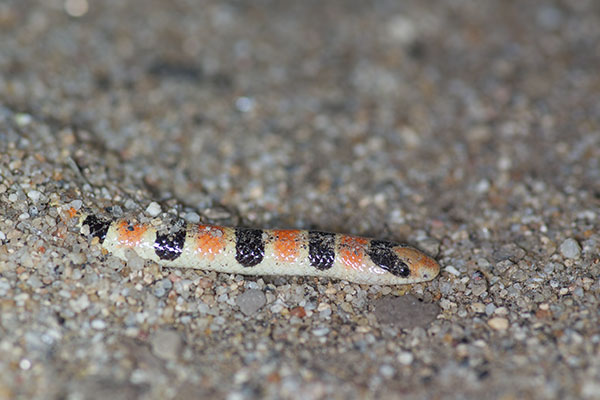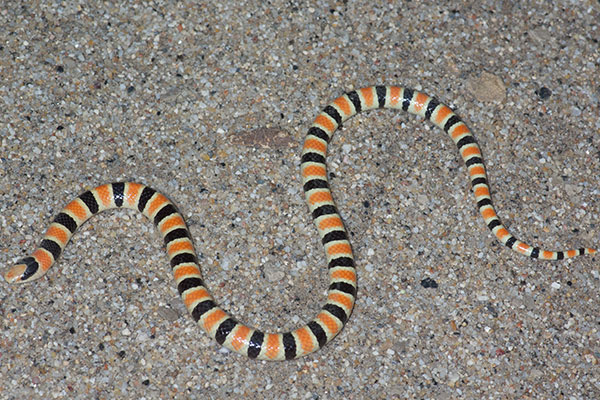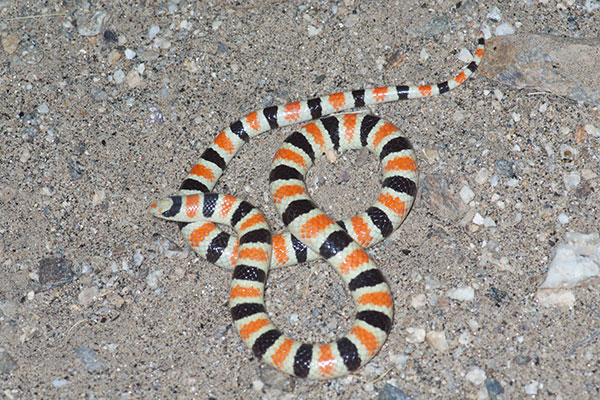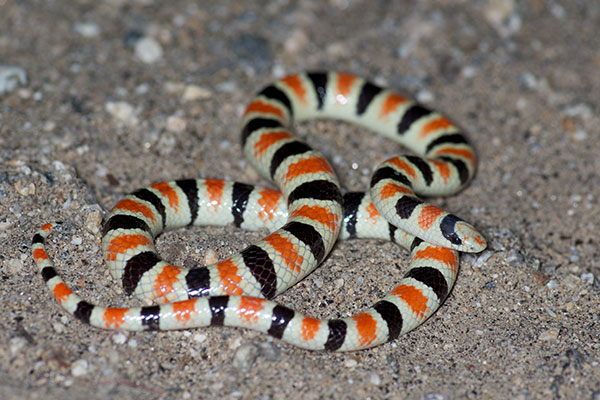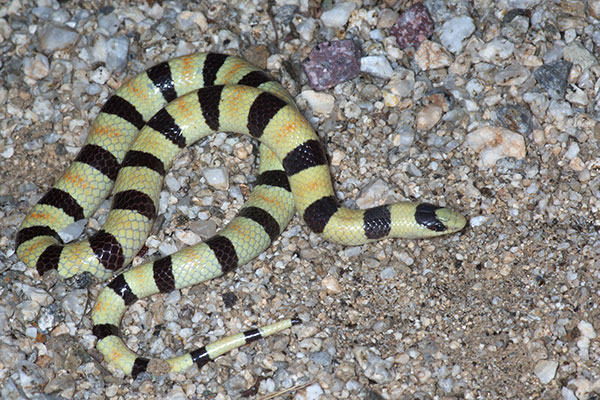 Matt Cage and I saw four of these little lowland guys in half an hour or so before we headed up to higher ground to see what else we could discover. We turned around before we even got to our target Chionactis area; probably we could have found a dozen or more if we had tried.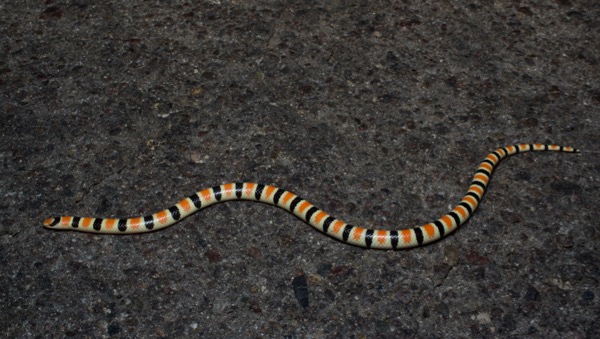 I saw several shovel-nosed snakes on this trip to Anza-Borrego Desert State Park. This one had the most vibrant colors.
Online references:
Printed references: