wild
herps
Crotaphytus collaris
—
Eastern Collared Lizard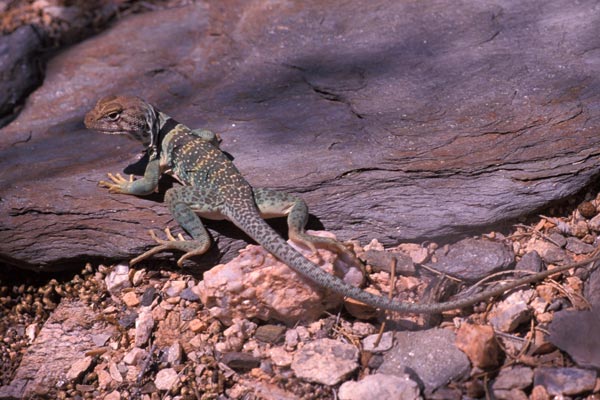 What a gorgeous lizard this is. Collared lizards eat smaller lizards after chasing them down, and you can see the powerful hind legs for chasing and the large head for biting on this beautiful fellow.
Greater earless lizards
abounded nearby, so I'm sure this collared lizard had plenty to eat.
Until recently, the collared lizards in this area were considered part of the subspecies Crotaphytus collaris baileyi. Recent studies have concluded that the different populations of C. collaris are not sufficiently differentiated to be considered subspecies.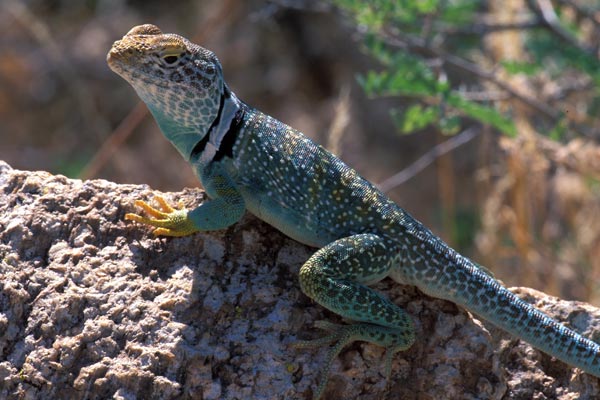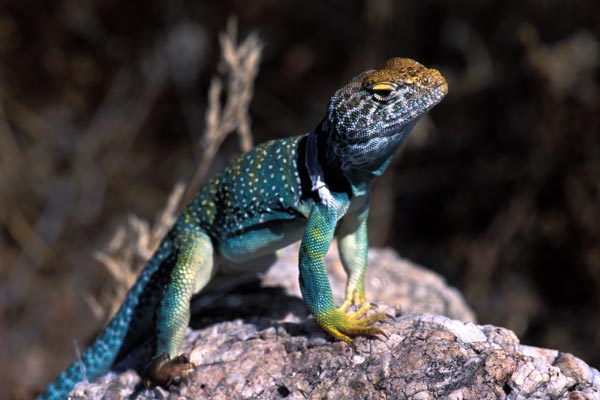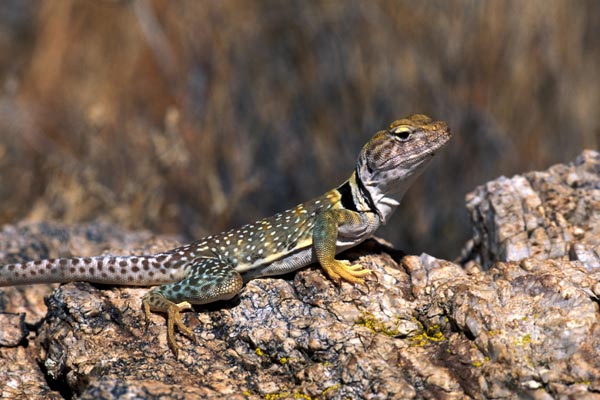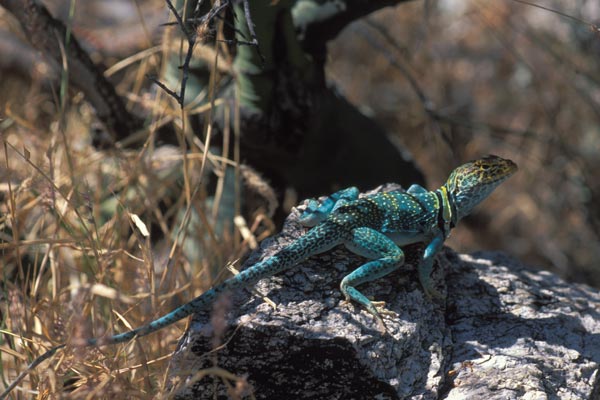 My friend David Sloo and I were on the prowl for Gila monsters on this fine morning, but we had no luck in that quest. Actually, we had the worst sort of luck -- we saw a dead-on-road Gila monster later in the morning that hadn't been there earlier. However, we saw a wonderful set of four collared lizards, three of which are pictured here.
The first collared lizard we saw is shown in the first two pictures above. The bright green shows that he is an adult male in full breeding season regalia. He showed not the slightest trace of fear of David and me. In fact, he seemed to want to get closer and see exactly what we were doing with our cameras. David took a picture with a small camera no more than a foot away, and the collared lizard just looked intrigued.
The third picture above shows an adult female, much less gaudily colored than the males. Still a beautiful lizard by any standard.
The fourth picture above shows an insanely bright turquoise male. He looked painted; the colors were too bright for nature. He was much more skittish than our friend in the first pictures.
The fourth collared lizard we saw was more skittish still. He ran into a crevice in the rocks right away, without posing at all. He was very dark green.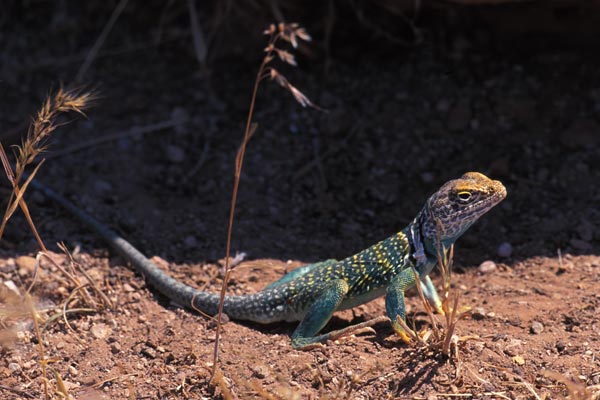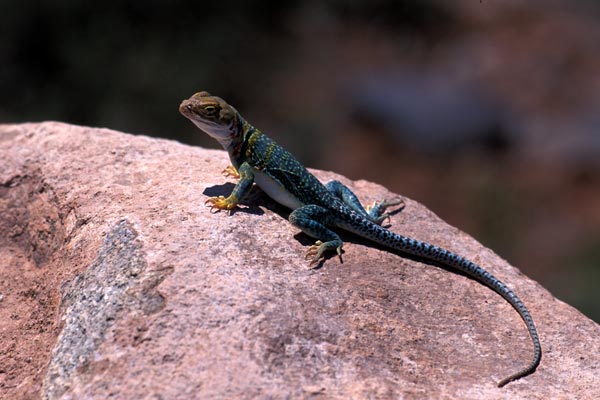 I found another nestbed of beautiful collared lizards in southeast Utah. The lizards from this area used to be considered a subspecies called Yellow-headed Collared Lizards, but recent taxonomic revision eliminated the subspecies distinctions for Crotaphytus collaris. I saw 11 of these guys in about 45 minutes. Eight of them dashed off before I could get anywhere near. The other three were quite cooperative though.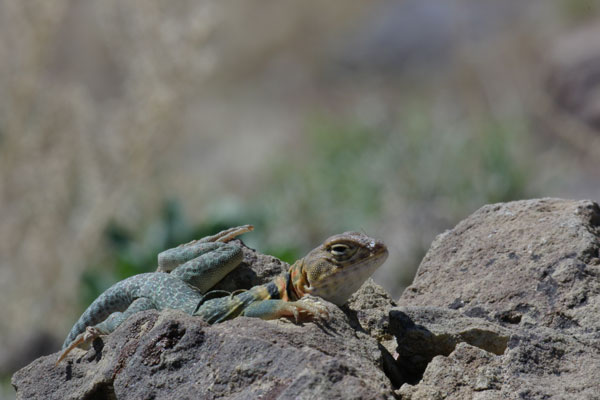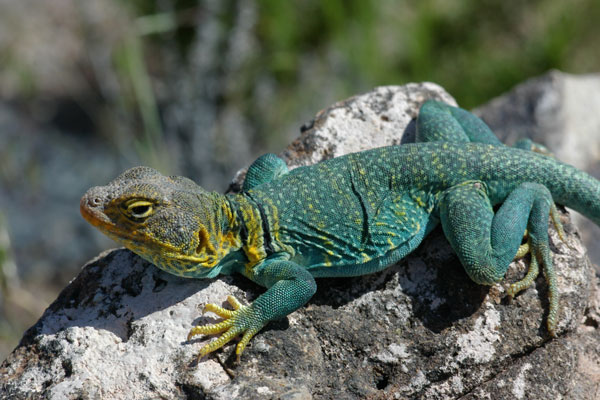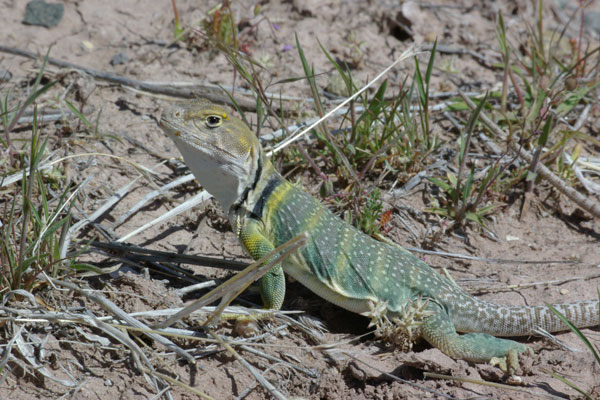 We stopped at Rabbit Valley Recreation Area as a dog-exercising opportunity, but it turned into a great lizard-photographing opportunity as well. The collared lizards were just waking up as we hiked around a dinosaur-fossil-strewn trail. The first one I saw was a juvenile that had clearly unburied itself recently. Shortly thereafter I spotted another juvenile basking on a rock in what seemed to be a very uncomfortable position. A little while later I noticed a stunningly beautiful adult male that let me approach very closely without ever shifting its position. Last but not least I observed an adult female out for a mid-morning hunt. All four are pictured above, in chronological order (with a bonus photo of the adult male).
As we drove along the road to Goosenecks State Park, I stared out at the passing scenery, looking for a glimpse of reptilian movement, shape, or color. The road was a pretty good one, so we were humming along at 40 or 50 miles per hour, at least. I caught a flash of color and realized an instant later that it had been a pair of collared lizards together on a rock. Monica kindly pulled over at the next opportunity, and I grabbed my camera and tripod and hurried back along the road and around a bend to rediscover the two beauties I had glimpsed. Unfortunately, one of them had disappeared, but the other one was still there striking a classic collared lizard basking pose.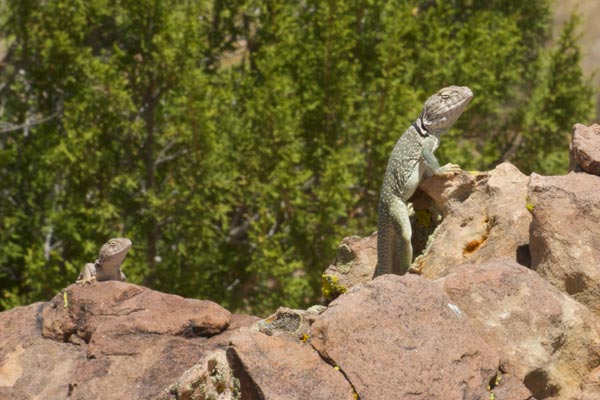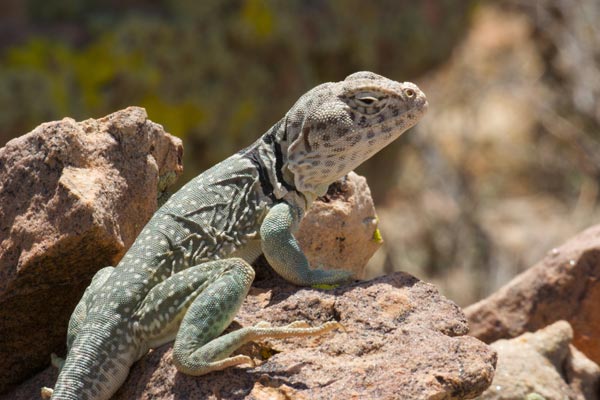 I never tire of watching collared lizards, and Valley of Fires State Park had a nice selection. In the morning we saw them basking along the side of the paved "nature trail" through the lava. In the afternoon we saw them cavorting on rocky outcrops next to our campsite.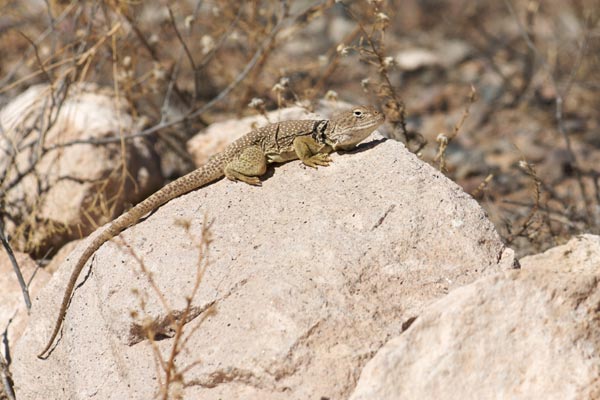 City of Rocks is a wacky geological formation in southwestern New Mexico comprising a bunch of huge boulders strewn about a small area in the desert. No such rocks exist anywhere else nearby. And where rocks and desert meet, one often finds collared lizards.
Here's a wary young lizard early in the morning, still wearing its drab sleeping attire. The color will lighten up as the day warms.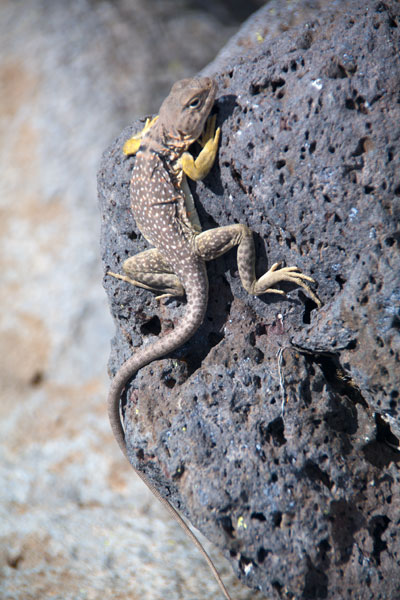 As we were walking out to the remarkable dinosaur tracks at Clayton Lake State Park, this li'l modern dinosaur ran across the path and took shelter collared-lizard-style.
Online references:
Printed references: