wild
herps
Cryptoblepharus plagiocephalus
—
Péron's Snake-eyed Skink
This species was formerly considered to range across most of Australia, but was split as part of Horner's
restructuring
of this genus. It is now restricted to a relatively small area in Western Australia.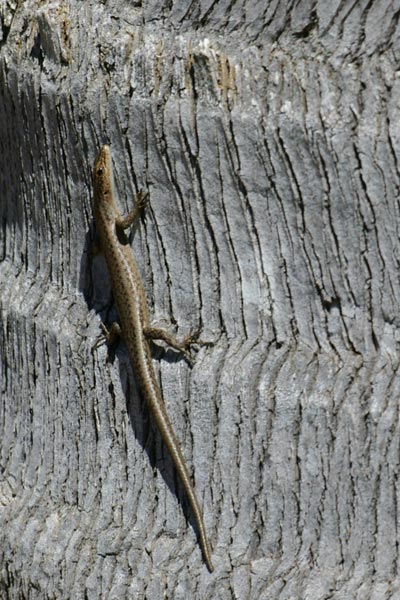 Wandering around at the
Kalbarri Palm Resort
was an easy way to find these little skinks on trees. They weren't quite so easy to photograph though; a bunch of 'em skittered away before I finally managed to sneak up on one closely enough to get a photo.
According to Horner, the skinks in this area are either C. plagiocephalus or C. buchananii. Telling them apart requires a microscope and an upside-down, motionless skink in hand, or some DNA tissues and expensive equipment.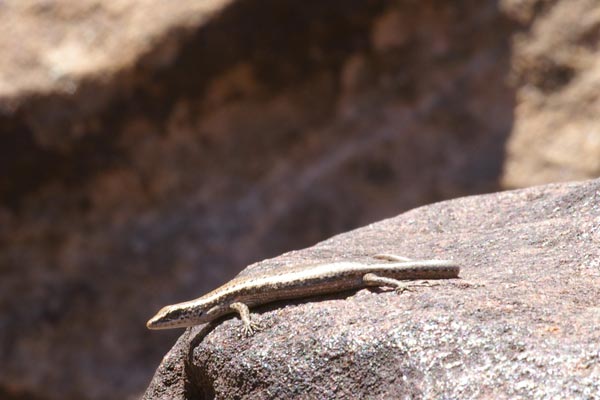 Here's another nearby
Cryptoblepharus
. I had originally identified it as probably
Cryptoblepharus carnabyi
, but
Horner
relegated that species to the status of junior synonym of
Cryptoblepharus plagiocephalus
. So now I know that it is not
C. carnabyi
but I don't know whether it is
C. plagiocephalus
or
C. buchananii
.
Here is a complete list of the reptiles and frogs I saw on this trip to Western Australia.
Printed references: