wild
herps
Ctenotus robustus
—
Eastern Striped Skink
Also known as:
Robust Striped Skink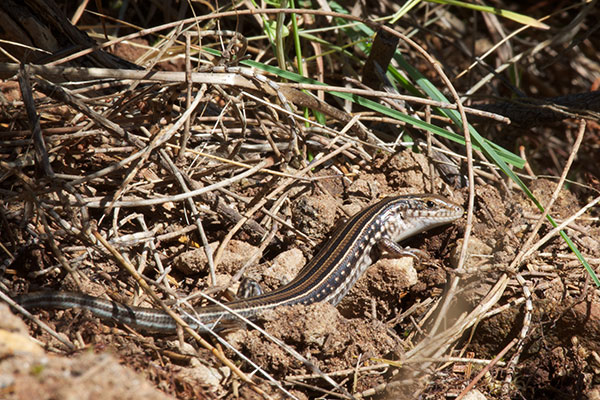 This sleek lizard was basking at the edge of a steep incline just a foot or so off of the trail I was hiking. I was lucky to spot it in the mix of live and dry grasses. It had clearly also spotted me, and after two photos it rocketed off.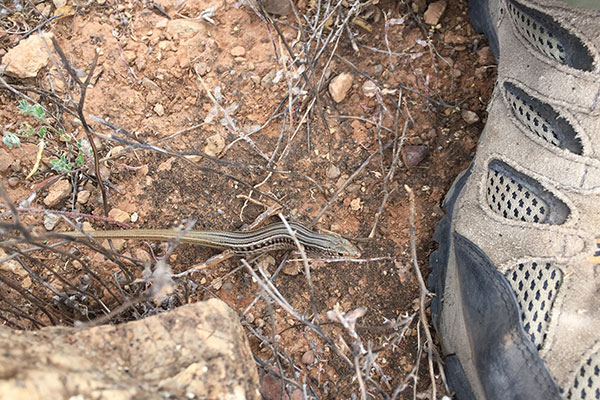 I next encountered one of these skinks under a downed log. When I lifted the log, I saw a flash of movement as the skink dove into a nearby burrow. I stayed in the area for a little while to photograph
other nearby lizards
, and soon this skink reappeared at the edge of the log. I approached slowly, but it retreated under the log anyway. However, this time I knew where it might try to hide next, so I lifted the log again and quickly covered the burrow with my hand. The skink first ran toward the burrow, then noticed my hand and ran off to a nearby pile of small rocks, where it shimmied under one. When I carefully moved that one, it raced off to another. This went on for ten or fifteen minutes. It never stayed exposed for more than a few seconds, and eventually I gave up. The only photos I managed to get were with my iPhone when the skink paused to decide how to navigate my shoe. (Its eventual decision: up and over.)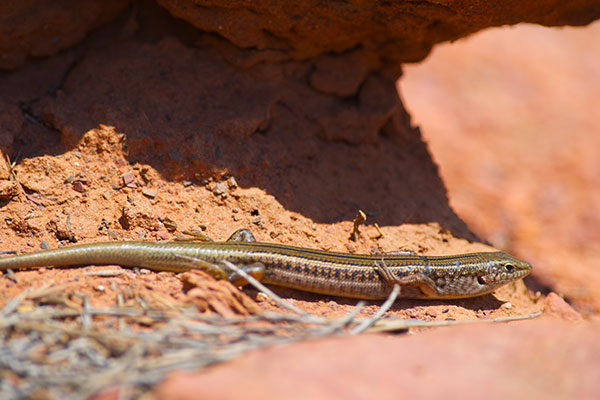 This one was on the move when I noticed it. I followed it around from a distance for a short while, until it paused to soak up some sun. Apparently the undersides of its front legs especially needed warming.
Printed references: