wild
herps
Crotaphytus vestigium
—
Baja California Collared Lizard
Some other names for this species:
Baja Collared Lizard, Black-collared Lizard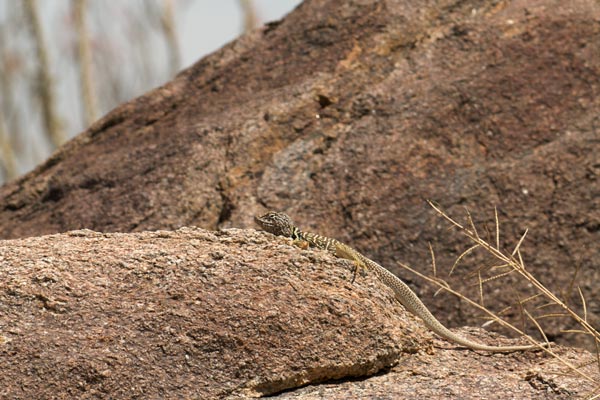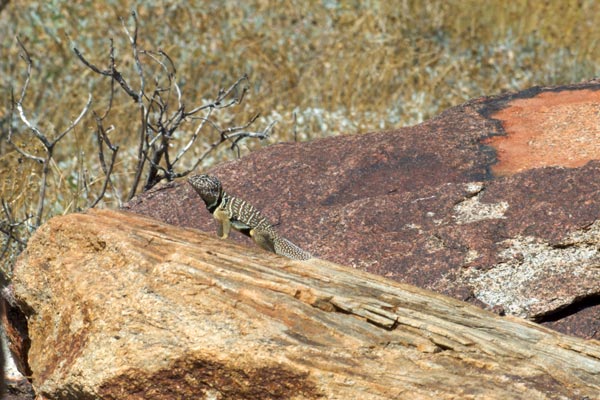 We stayed in Borrego Springs for nearly two weeks. With only a few days left in the area before we were due to head east towards Tucson, I decided to take a long lunchbreak on the hottest day left at the hottest time of day to make one final attempt to find a Baja California collared lizard. Back to Borrego Palm Canyon I went in the early afternoon on a 95-plus-degree day. There were few signs of life at that hour; even the normally ubiquitous side-blotched lizards were laying low. I hiked the most boulder-strewn portion of the canyon with my eyes looking for lizard shapes on the largest distant boulders, and it paid off with this attractive lifer. It wasn't in a modeling mood, so I didn't end up with any close-ups, but I followed it around at a distance for ten or fifteen minutes and admired its striking pattern and big fat side-blotched-lizard-devouring head. Woo-hoo! I saw one more individual run off when I hiked back to the car, but that one was even less cooperative.
Online references:
William Wells has a site with many great photos of collared lizards (among other species).
Printed references: