wild
herps
Heloderma suspectum
—
Gila Monster
Subspecies I've seen: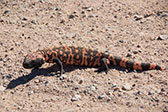 H. s. suspectum
Reticulate Gila Monster
Heloderma suspectum suspectum
—
Reticulate Gila Monster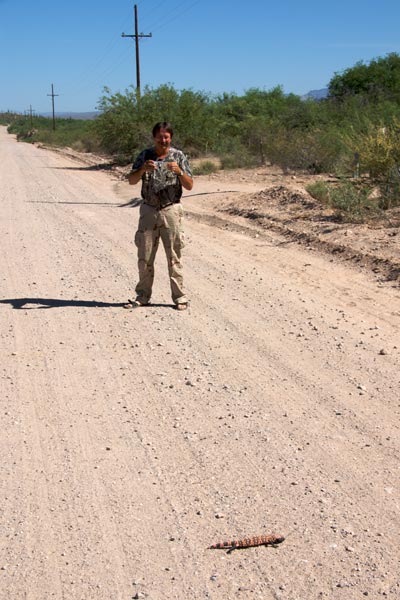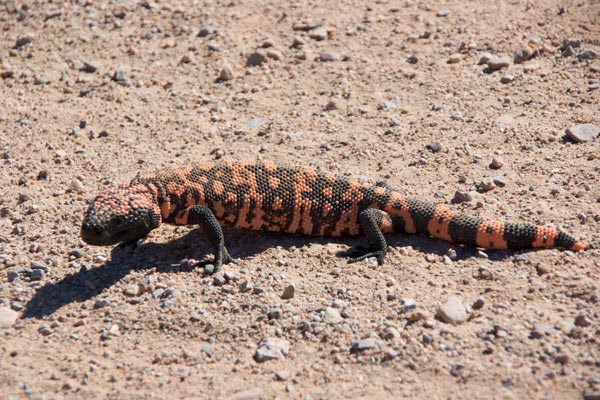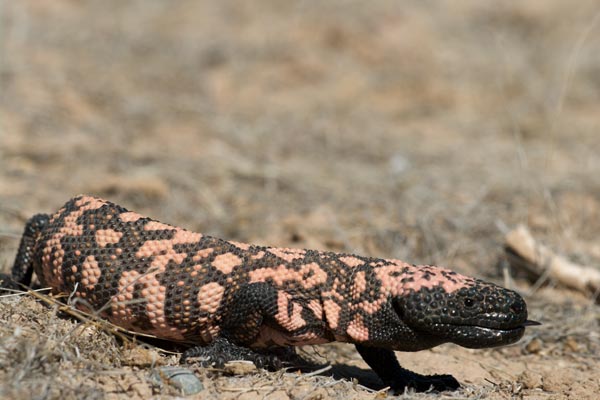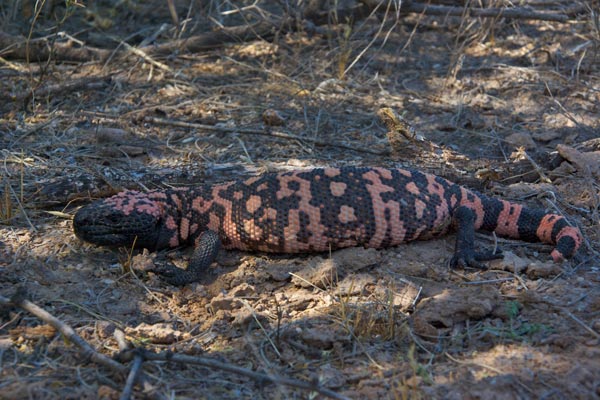 My wife and I spent a week and a half in the general Tucson area in early May because I had heard that May was the time of year in which most Gila Monsters were seen. I really wanted to see a Gila Monster.
Heloderma suspectum
was atop my list of the animals I most wanted to see in the U.S., and perhaps the world.
Even at the right time of year in the right habitat, Gila Monsters are not easy to find. But I had a secret weapon — Roger Repp, Gila Monster finder extraordinaire. The estimable Mr. Repp, past president of the Tucson Herpetological Society, has found dozens and dozens of wild Gila Monsters, and has even been radio-tracking a few of them for long-term behavioral studies. He most generously volunteered to spend some herping time with me while I was in town, letting me set the priorities. My priorities were simple: my visit would be a roaring success if I saw a Gila Monster. So Roger planned our time to maximize our chances of doing so.
I guess there's not really any suspense in this story, given that you are reading my Gila Monster sighting page, and you've already seen a few photos of one just above. So I'll just point out that the first picture above shows Roger along with the first Gila Monster we saw that morning. It was a young adult, plodding across the road in a way that only Gila Monsters can plod. The other photos above are of the same individual after it had made its way across the road and into the desert scrub.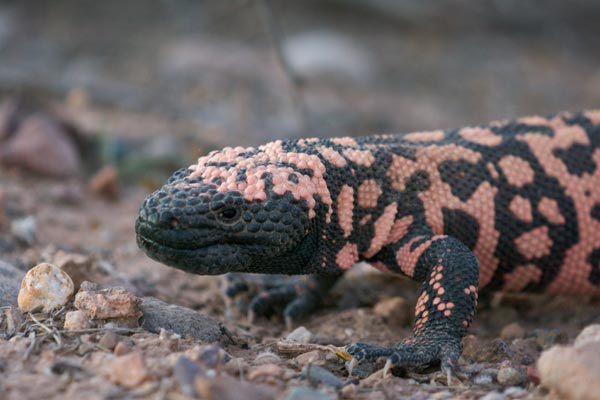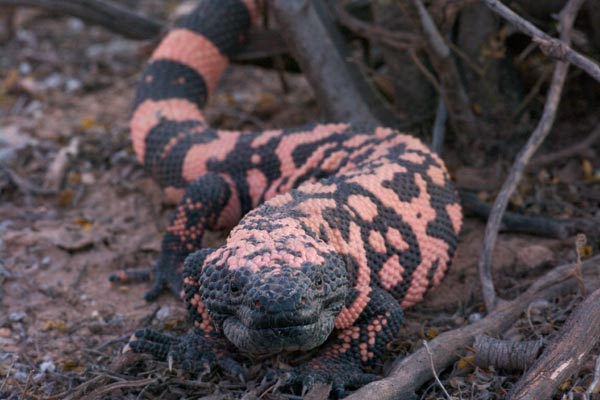 We came back to the same area a little while before dusk since it had served up such a nice variety of reptiles in the morning. Lightning struck twice, and we came across a second Gila Monster crossing the road. This one was somewhat larger, more of a full-sized adult.
Now that I've seen the mighty Gila Monster, I need to pick a new animal to put atop my U.S. want-to-see list. My friend Jackson Shedd suggests the beautiful Reticulate Collared Lizard, though that would probably require multiple visits to south Texas.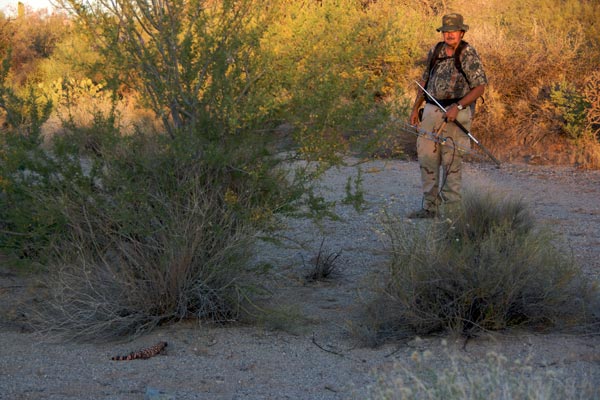 The day after I saw my first two wild Gila Monsters, I joined Roger Repp on one of his radio tracking sessions. Along with a few
rattlesnakes
, we tracked down this monster, known as Pilgrim for his long-distance meanderings. That's Roger with his telemetry equipment admiring Pilgrim in the top photo.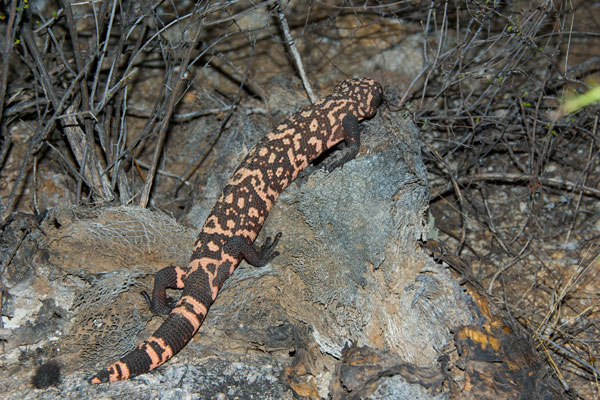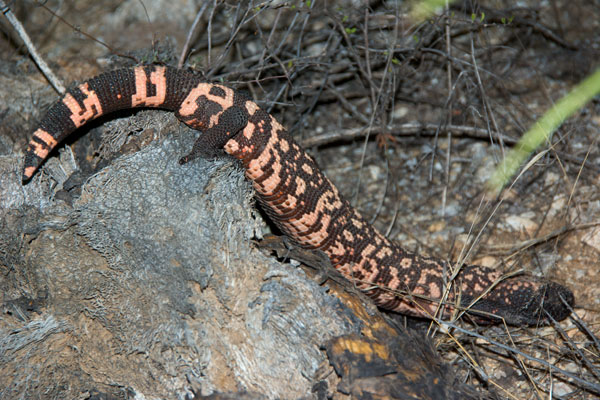 Roger Repp, Gila Monster Finder Extraordinaire (commonly known as GMFE of course), found this one too. Like most Gila Monsters found in the open, it was on the move, plodding along at a monstrously moderate pace.
The previous evening while out road-cruising, I had seen a Gila Monster plodding across the road. That one had the distinction of being the first Gila Monster that I personally located. But when I saw it, I had a Border Patrol jeep riding my butt so I couldn't stop quickly to take pictures. By the time I managed to turn around and get back to the spot where I had seen it, it was long gone.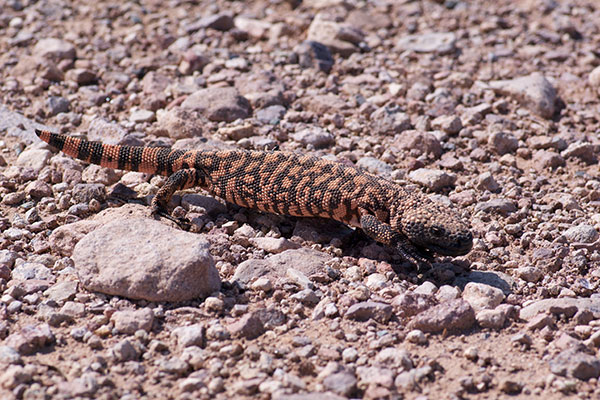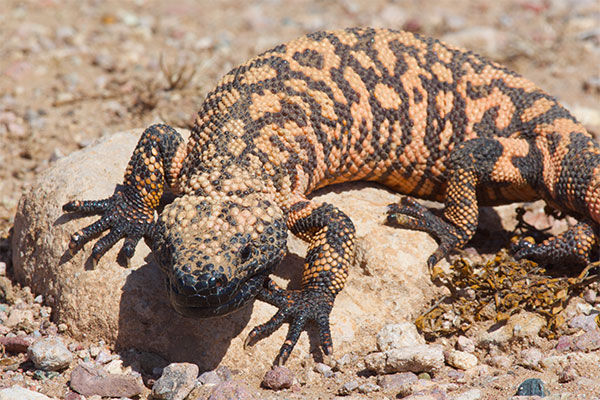 After a couple of hours of fruitlessly searching for snakes, this young lizard made my day (week, month...) by strutting across the road in front of me.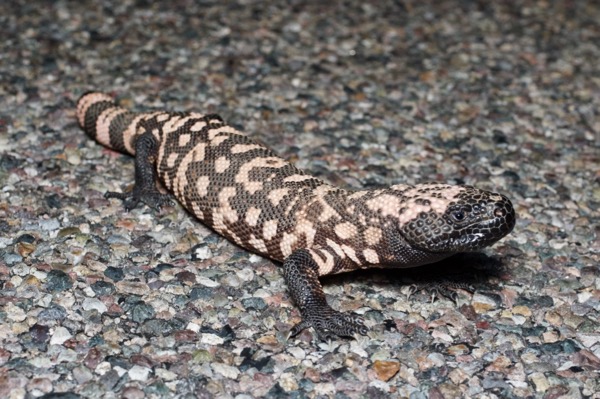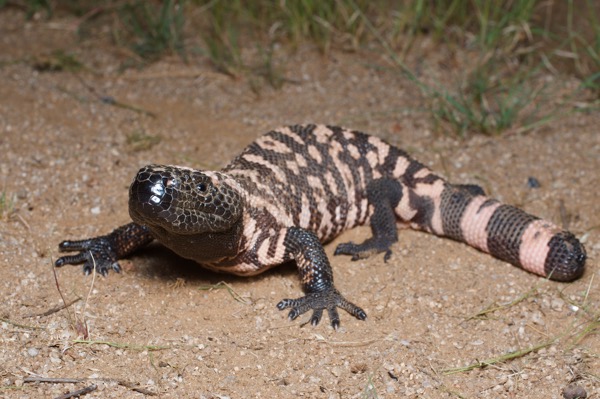 Our last herp of this Mexico trip was a good one, this young stub-tailed Gila Monster found crossing the road in the wee hours of the morning. This was the first Gila Monster for fellow passenger Andrew DuBois, and a relatively cooperative one at that.
Printed references: