wild
herps
Ranoidea wilcoxi
—
Eastern Stony Creek Frog
Some other names for this species:
Wilcox's Frog, Rocky River Treefrog
This species was split from Litoria lesueuri in 2004, then transferred to Ranoidea some time later.
Garden of Red Mill House, Daintree, Queensland, Australia
—
February 14, 2003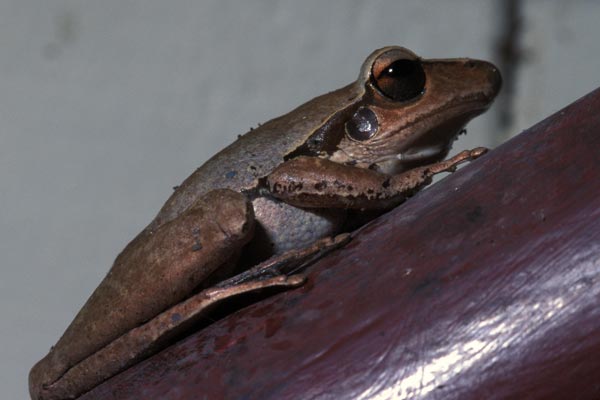 This handsome frog spent most days on the raincover of the motorcycle owned by Andrew and Trish, proprietors of the highly-recommended
Red Mill House
Bed and Breakfast. They were surprised not to find it there when I was inquiring about the local frog population. Surely it had not chosen this day to take a vacation? Fortunately, such was not the case; it had merely settled for this day on a banister a few feet away from its usual perch.
Here is a complete list of the reptiles and frogs I saw on this trip to Australia.
Printed references: