wild
herps
Ranoidea
sp
—
unidentified species
Garden of Red Mill House, Daintree, Queensland, Australia
—
February 14, 2003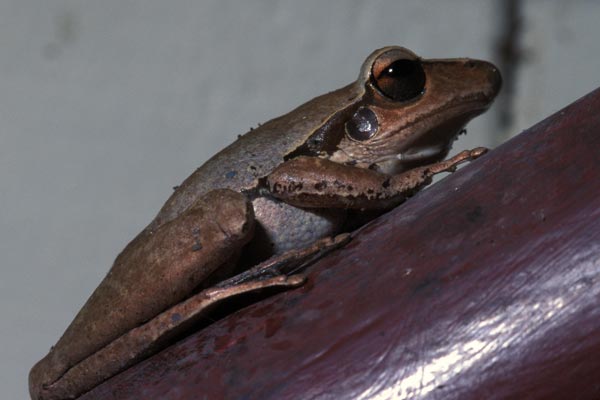 This handsome frog spent most days on the raincover of the motorcycle owned by Andrew and Trish, proprietors of the highly-recommended
Red Mill House
Bed and Breakfast. They were surprised not to find it there when I was inquiring about the local frog population. Surely it had not chosen this day to take a vacation? Fortunately, such was not the case; it had merely settled for this day on a banister a few feet away from its usual perch.
Here is a complete list of the reptiles and frogs I saw on this trip to Australia.
I had originally identified this frog as Litoria lesueuri. That species was split in 2004, and then transferred to Ranoidea some time later. Two nearly identical species are found in this area, Ranoidea wilcoxii and Ranoidea jungguy. It seems they can only be told apart reliably by DNA testing, so I'll never know which of the two species this one represents.