wild
herps
Erythrolamprus typhlus
—
Velvety Swamp Snake
Subspecies I've seen: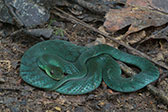 E. t. typhlus
Velvety Swamp Snake
Erythrolamprus typhlus typhlus
—
Velvety Swamp Snake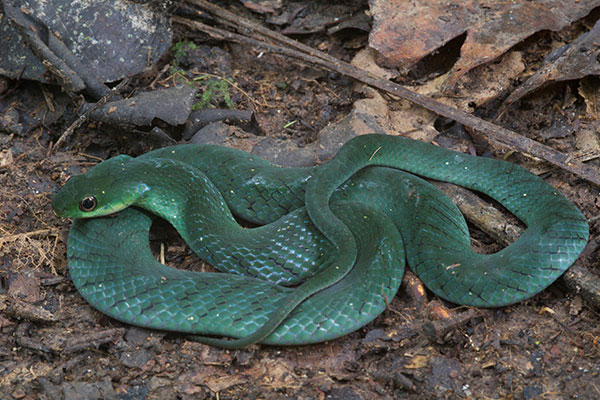 I came across this snake on a solo forest hike on my first morning in the Peruvian rainforest. It was stretched out across part of the trail, and I recognized a snaky shape, though the color did not stand out given the number of other shades of green festooning the forest floor. When I first saw it, it had a standard basically-cylindrical snake shape, but when I detained it for photos it flattened out, exposing the lighter colors between its scales. It took a few minutes to calm down and let me take a few photos, and then it decided enough was enough and started heading back into the vegetation. I intended to capture it to bring back for others to photograph, but it made a quick move into the leaf litter and managed to disappear on me. Fortunately, two other green individuals were caught later by others.
Here is a complete list of the herps I saw in the wild on my 2013 MT Amazon Expeditions trip.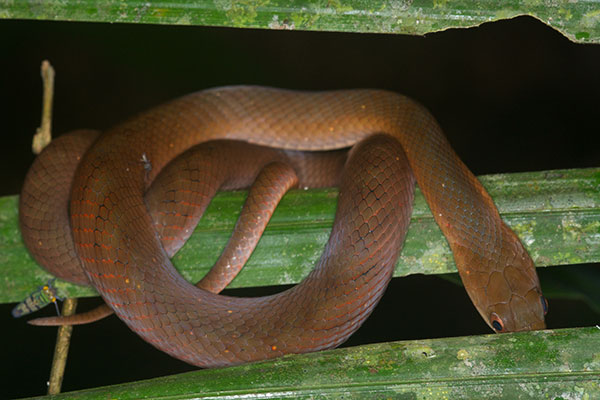 These snakes are found in a variety of colors including green, red, and slaty gray. This one was coiled up in a palm frond at night, trying but failing to look inconspicuous.
Printed references: