wild
herps
Mimophis occultus
—
Common Big-eyed Snake
This species was split from
Mimophis mahfalensis
by
Ruane et al
in 2017.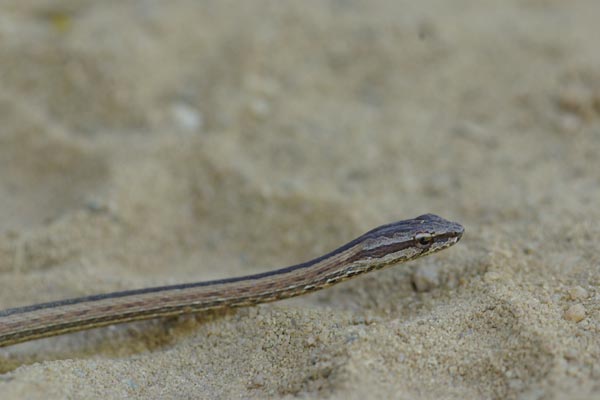 This was our first of many snakes at Anjajavy. My wife Monica Rua spotted this tiny fellow basking in the trail early in the morning as we began a forest hike. When it noticed us, it propelled itself off the trail and into the forest leaf litter by thrashing its body wildly. I'm not sure I've ever seen a snake this small move so fast. I did manage to deter it from escape, and we got some photos in before releasing it. We saw three more of these little snakes on that morning hike, and they all wriggled as quickly as this one.
Here is a list of all the reptiles and frogs I saw on this trip to Madagascar.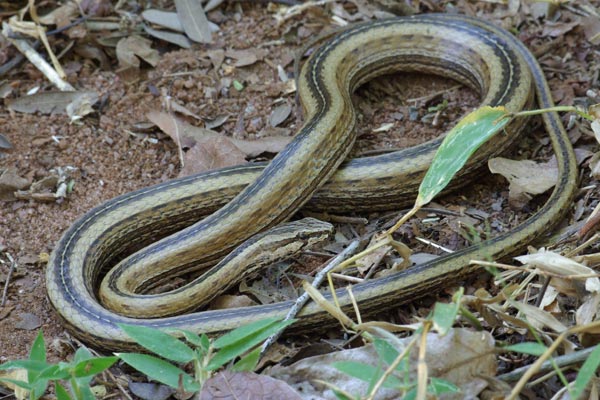 In three days I saw nine of these snakes. All of them were youngsters except this one, which was so much larger than the others that I first thought it must be a different species. The long thickened portion of its body suggests that it dined on some fairly long prey recently, perhaps one of the abundant local
skinks
.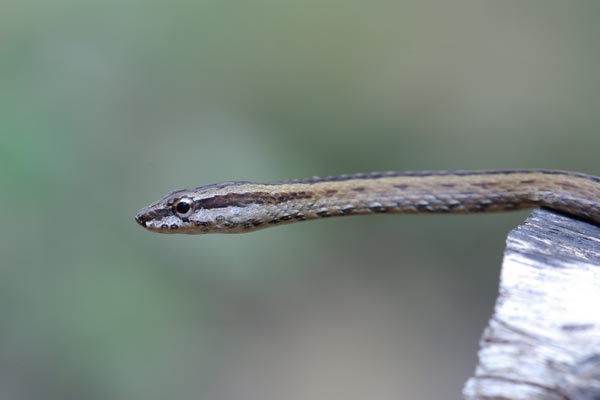 On our last morning in wild Madagascar, before hopping onto the first of the planes that would take us halfway around the world back to coastal California, we saw this, our last snake of the trip.
Online references:
Sara Ruane, Edward A. Myers, Kahmun Lo, Sar Yuen, Rachel S. Welt, Maya Juman, India Futterman, Ronald A. Nussbaum, Gregory Schneider, Frank T. Burbrink & Christopher Raxworthy, 2017. Unrecognized species diversity and new insights into colour pattern polymorphism within the widespread Malagasy snake Mimophis (Serpentes: Lamprophiidae)
Printed references:
Glaw, F., Vences, M. 2007. A Field Guide to the Amphibians and Reptiles of Madagascar, Third Edition
Glaw, F., Vences, M. 1994. A Fieldguide to the Amphibians and Reptiles of Madagascar, Second Edition
Henkel, F., Schmidt, W. 2000. Amphibians and Reptiles of Madagascar and the Mascarene, Seychelles, and Comoro Islands