wild
herps
Microhyla malang
—
Bornean Narrow-mouthed Frog
This species was considered part of
Microhyla borneensis
until someone realized that the type specimen for
M. borneensis
was actually the kind whose tadpoles live in pitcher plants, then called
M. nepenthicola
. So the name "
Microhyla nepenthicola
" was replaced by "
Microhyla borneensis
", leaving a need for a new name to cover the rest of the frogs formerly considered part of
M. borneensis
. And
M. malang
is that new name. Got it? There will be a short quiz after class.
I thought it ended there, but then in 2020 molecular studies once again separated M. nepenthicola from M. borneensis, but this time leaving M. malang alone. My brain hurts.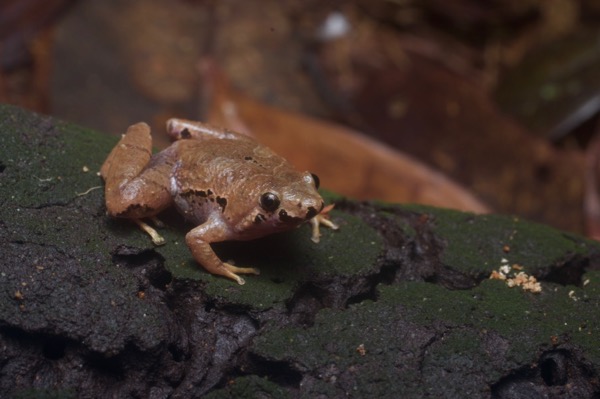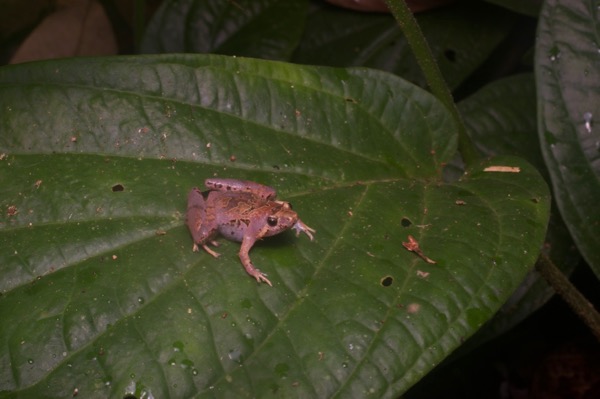 This tiny frog has got some serious self-confidence, fully exposed on a leaf that seems a lot bigger than it actually needs.
Online references:
Microhyla malang account on AmphibiaWeb
Microhyla malang account on Frogs of Borneo
Vladislav A. Gorin, Evgeniya N. Solovyeva, Mahmudul Hasan, Hisanori Okamiya, D.M.S. Suranjan Karunarathna, Parinya Pawangkhanant, Anslem de Silva, Watinee Juthong, Konstantin D. Milto, Luan Thanh Nguyen, Chatmongkon Suwannapoom, Alexander Haas, David P. Bickford, Indraneil Das and Nikolay A. Poyarkov, 2020. A little frog leaps a long way: compounded colonizations of the Indian Subcontinent discovered in the tiny Oriental frog genus Microhyla (Amphibia: Microhylidae)
Printed references:
Inger, R. F., Stuebing, R. B., Grafe, T. U., Dehling, J. M. 2017. A Field Guide to the Frogs of Borneo, Third Edition
Wahab, T. B., Das, I., Min, P. Y., Haas, A. 2014. A Photographic Guide to Frogs of Kubah National Park