wild
herps
Plethodon jordani
—
Red-cheeked Salamander
Also known as:
Jordan's Salamander, Appalachian Woodland Salamander
Appalachian Trail near Clingmans Dome, Great Smoky Mountains National Park, Swain County, North Carolina
—
May 8, 2004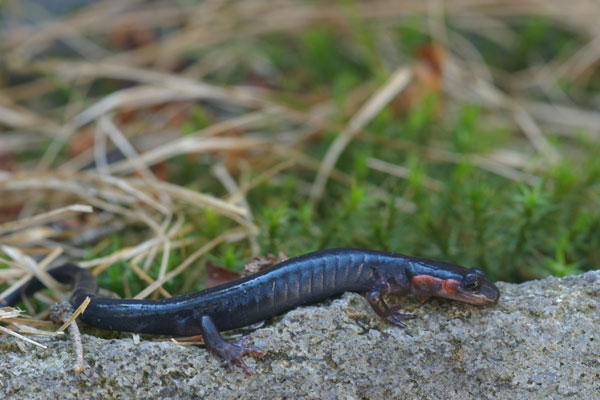 These salamanders are interesting for a number of reasons. First, we saw them on the famous Appalachian Trail (which we were on for a grand total of about fifteen minutes). Second, the red-cheeked variety live only in a very small area. Third, they have skin toxins that render them unpalatable, and there is another type of salamander that's called the Imitator Salamander (Desmognathus imitator) because it mimics the appearance of this species so the predators will incorrectly conclude that it is also unpalatable. Fourth, they are named for David Starr Jordan, once president of my alma mater Stanford University. And I'm sure there are many other reasons as well; for instance, they're so cute!
Printed references: