wild
herps
Phelsuma quadriocellata
—
Peacock Day Gecko
Also known as:
Four-spot Day Gecko
Subspecies I've seen:

P. q. bimaculata
Peacock Day Gecko

P. q. quadriocellata
Peacock Day Gecko
Phelsuma quadriocellata bimaculata
—
Peacock Day Gecko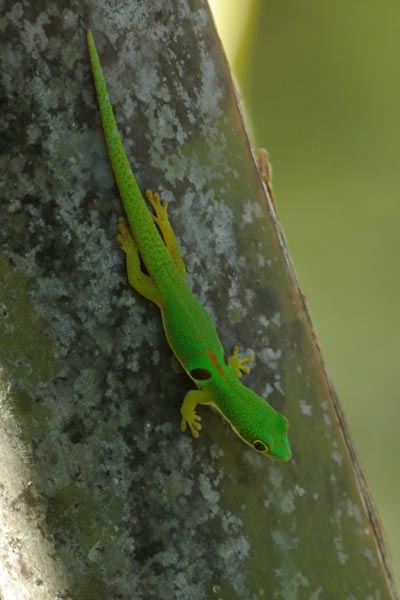 While my sister and my wife were napping in the hot afternoon sun in their bungalows, and our guide was probably doing the same, I wandered about the grounds of Chez Arol looking for herps (as usual). I noticed some day geckos sneaking about in a
Ravenela
palm and settled down to watch them and take the occasional photograph. Most of them were
Phelsuma pusilla
, but I noticed that one especially shy small one looked a little different. Eventually it climbed up onto a frond where I could sneak up on it and get a decent photo. It turned out to be the only individual
P. q. bimaculata
that I saw on this trip to Madagascar. This subspecies is sometimes recognized as a separate full species.
Here is a list of all the reptiles and frogs I saw on this trip to Madagascar.
Phelsuma quadriocellata quadriocellata
—
Peacock Day Gecko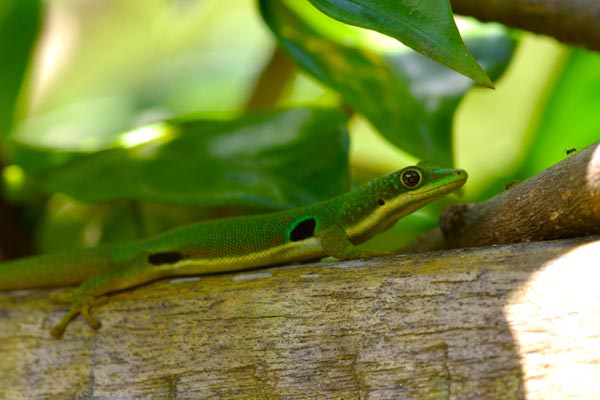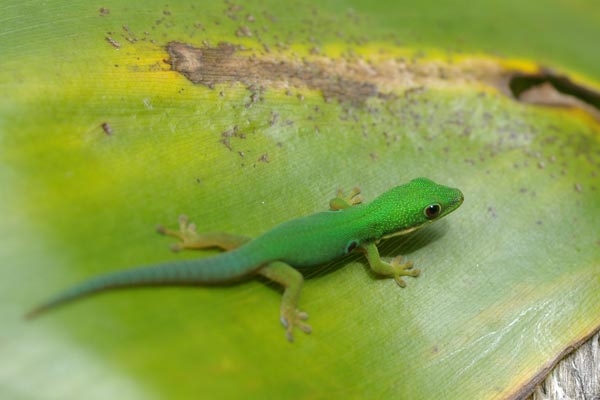 Amidst the large numbers of highly visible
Lined Day Geckos
at Vakona Forest Lodge, there were a handful of these four-spotted cousins. The
P. lineata
were obviously accustomed to the human habitation, as they were typically seen on man-made structures and even inside buildings, and would mostly ignore people until they got very close. These
P. quadriocellata
were much more cautious, typically skittering away into the foliage as soon as I saw them.
The adult here lived on a vine-entangled fence just outside of our room, and I followed its erratic movements on multiple occasions before I was even certain that it wasn't another P. lineata. The youngster here was a tiny little thing, no more than two inches in total length.
Here is a list of all the reptiles and frogs I saw on this trip to Madagascar.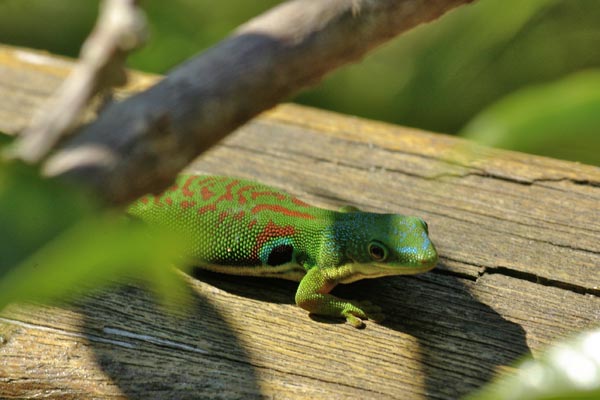 Another day, another only semi-successful attempt to photograph these beautiful, shy geckos.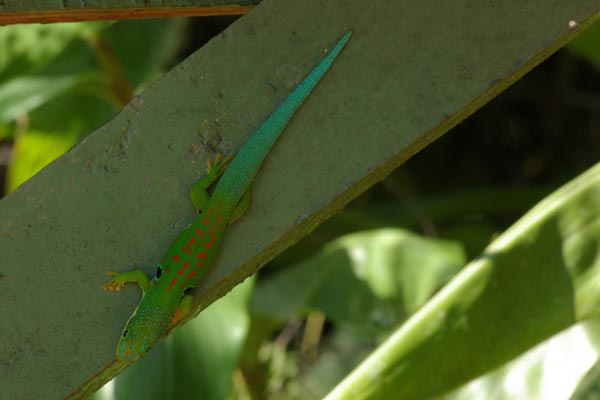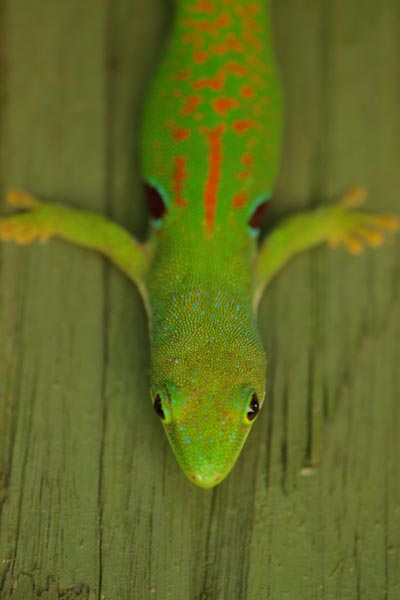 These geckos were much easier to find at Ranomafana, especially on the wooden fence and overhang at the Belle Vue viewpoint.
Printed references:
Glaw, F., Vences, M. 2007. A Field Guide to the Amphibians and Reptiles of Madagascar, Third Edition
Glaw, F., Vences, M. 1994. A Fieldguide to the Amphibians and Reptiles of Madagascar, Second Edition
Henkel, F., Schmidt, W. 2000. Amphibians and Reptiles of Madagascar and the Mascarene, Seychelles, and Comoro Islands