wild
herps
Tympanocryptis tetraporophora
—
Eyrean Earless Dragon
Also known as:
Long-tailed Earless Dragon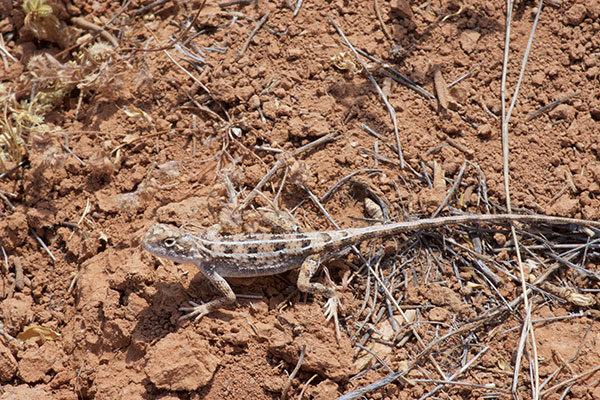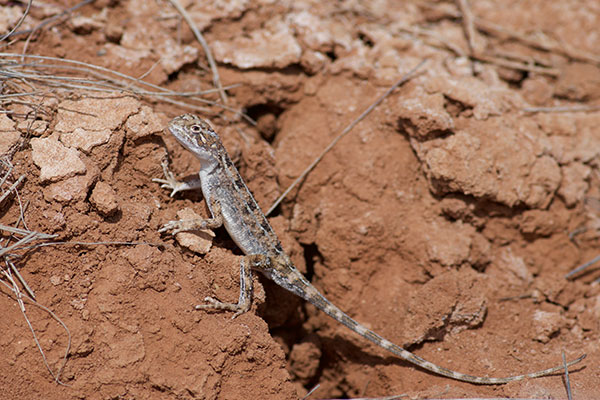 I had driven north of Marree on the wonderfully named Oodnadatta Track hoping to find some reptiles endemic to the harsh desert of that area. I came across an abandoned house just off the track, which was surrounded by hunks of plywood and tin, catnip to many herps and therefore also to herpers. I lifted as many of the pieces as I could, but found only a few
Bynoe's Geckos
and a few
Variegated Dtellas
, two of the most common lizards in Australia. I was heading back to the car when I saw one more piece of plywood, and was delighted to discover this little dragon beneath. It reacted to being exposed by racing out into the open, then running as fast as it could in ever-changing crazy directions until it again reached something it could hide under. Usually this was that same piece of plywood, but once or twice it was my shoe, slightly raised by virtue of its placement on uneven ground. The fourth or fifth time I carefully lifted the plywood, the poor lizard was tired enough to hold still for photos.
Printed references: