Bwindi Impenetrable Forest, Uganda
July 2000
(Click any photo throughout to see a larger version)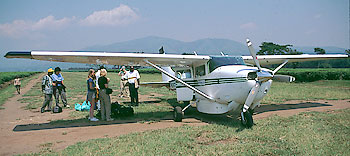 Bwindi at last
For my wife Monica and I, our African adventure was to start in Uganda. We were due to meet her family in Kenya in a week for a safari arranged by our favorite travel company, International Expeditions. We had added on a pre-Kenya week in Uganda, primarily because we really really wanted to see wild mountain gorillas.

Unfortunately, the adventure part of our trip did not wait until we arrived in Uganda. A cancelled Alaska Airlines leg of our itinerary from Monterey, California to Entebbe, Uganda played havoc with the rest of our embarking schedule. We arrived in Entebbe a full 60 hours after we flew out of Monterey. Our checked luggage was not there to greet us. This put us in Entebbe a day later than our original plan, which forced us to charter the tiny plane pictured above for a flight across Uganda so that we wouldn't miss the first of our two cherished gorilla-trekking dates. Just before boarding the tiny plane, we rushed to the nearest little village to find the nearest little shop that carried clothes that could tide us over until that hoped-for but not actually expected day when our own clothes would catch up to us. We each found a few things we could wear without looking completely idiotic, but I'm not going to show you what we did look like wearing them.

After a 2-hour flight full of wondrous scenery and not-so-wondrous turbulence, we staggered out of the tiny plane onto the grassy field that served as an airport, said goodbye to our wacky Australian pilot, and said hello to our guide Gabriel Ochieng of Mantana African Safaris, who drove us to the tented camp that we'd be staying at for the next few nights.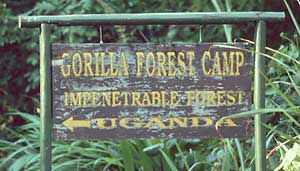 Uh, which way to Uganda?
Over half of the world's pitifully small remaining population of wild mountain gorillas live in the wonderfully-named Bwindi Impenetrable Forest in the southeastern corner of Uganda. Only six people a day are allowed to visit each of the two habituated troops of gorillas, and the visitors are only allowed to watch the gorillas for an hour. The gorillas live in the steep mountain rainforest, and settle in a different location each night, so there's no telling how long you might have to hike before finding them. You might even hike all day and never find them, though the Bwindi trackers are excellent and they nearly always eventually find the gorillas each day.

We had purchased permits for two days of gorilla-trekking. We had an extra afternoon at Bwindi on the first day, so we took the opportunity to stretch our legs and hike in a flatter part of the rainforest. I asked about seeing lizards and snakes as I always do, and was told that people see lizards from time to time but it's very rare to see a snake. Still, rainforests are generally full of snakes, even if they are often hard to find, so I had my hopes up.

By the way, the sign pictured above was intended to point out the way to the Gorilla Forest Camp, not the way to Uganda.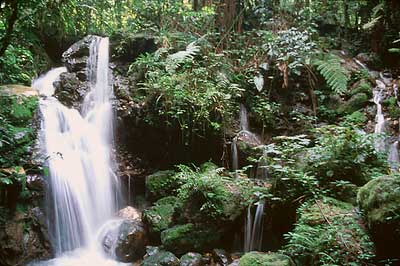 Munyaga Falls
An hour or so of hiking into the forest brought us to these lush and lovely waterfalls. Along the way we saw L'Hoest's monkeys meandering across the trail, a couple of little toads, several swarms of butterflies, oh and did I mention I found a snake?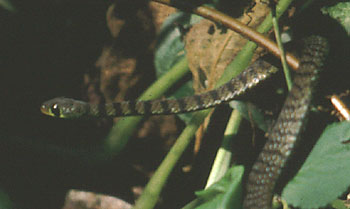 My first African snake
Being a snake-lover, seeing this small green snake slithering off into the jungle on my first day in the African bush boded well for the trip. However, I ended up seeing only two more snakes in the entire trip, including one more on this same afternoon hike. Of course, most people -- especially my mother in law -- don't want to see snakes on their vacations at all for some reason. Fortunately, my wife has successfully been converted to belong in the set of people who are happier after seeing a snake than before. This one turned out to be Dipsadoboa unicolor, or Gunther's Green Tree Snake, probably.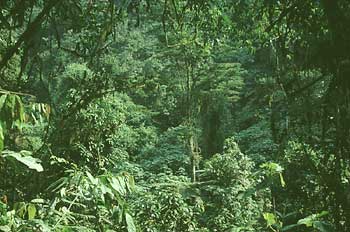 That sure does look impenetrable
The next morning we set out on our first day of trekking for gorillas. In our group were six paying tourists, a guide who led the expedition and educated us on the forest in general and the gorilla/human relationship in particular, two or three porters who carried the lunches and bottles of water for us tourists, two or three trackers who led the way following the gorilla's trail, another ranger or two carrying pangas (large, machete-like knives), and a couple of soldiers with rifles. The rifles are not for protection against the wildlife, but rather for protection against any unfriendly visitors from nearby Rwanda or the Democratic Republic of Congo.

Bwindi is a gorgeous lush green rainforest. We discovered that a gorilla trek starts out on a path, but eventually heads out straight into the mass of vegetation. A panga-wielding ranger blazes the trail with sweeps of his long blade, and the rest of us push and pull our way through. It's wet (being a rainforest after all) and muddy and steep and humid, and there are many biting flies and ants. But it's all worth it at the magical moment when you come across wild gorillas.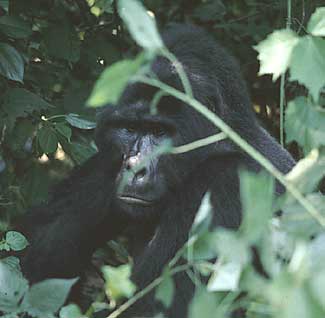 Big daddy
About two hours into our hike we caught up with the gorilla troop we had been looking for. When we first saw them, they were moving fairly rapidly, but shortly thereafter they settled down and started browsing, resting, and playing. This was the dominant male silverback of the group. He mostly laid down or sat still and kept an eye on us while the other gorillas tended to their gorilla business.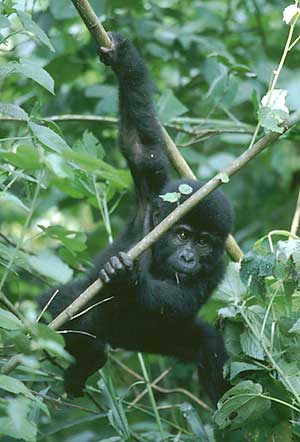 Junior
This adorable baby played around in the branches about 15 feet from us, with his watchful mom nearby. Shortly after I took this picture, mom decided that junior was showing off a little too much, so she reached up with both arms and pulled him back down to the ground.

Most of the gorilla pictures I got were of partially-obscured faces in the forest greenery. This was the only full-body shot.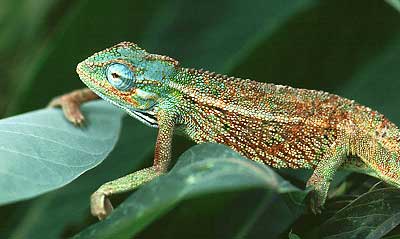 My first African chameleon
Well, my first mainland African chameleon anyway. I was lucky enough to visit Madagascar a few years ago, where I saw many different Malagasy chameleons.

While passing through a cultivated area on our way out of the forest and back towards the spot where we were to be met by our vehicles, I discovered a pretty little chameleon on a passion-flower bush. Unfortunately, the lighting and a breeze combined to make my pictures of it terrible. Fortunately, I told a local man that I was looking for chameleons a little while later, and he found this beauty nearby for me.

Based on this one trip, the chameleon distribution in East Africa seems identical to the snake distribution. I saw two of each in the few days we were at Bwindi, and then one of each in the remaining two and a half weeks of our trip. This little fellow is Chamaeleo elliotti, or Elliott's Chameleon.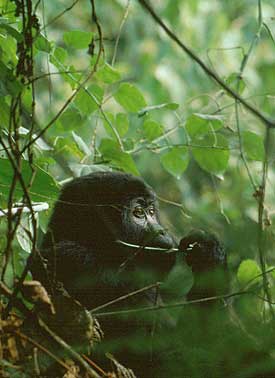 An elusive gorilla
Our second day of gorilla trekking was quite different than our first. We had visited the "M" troop on the first day, and were due to visit the "H" troop on the next. We had been warned that the "H" troop was often harder to find than the "M" troop. That turned out to be quite an understatement. After about four hours of hiking up and down very steep, very wet, very path-free mountain slopes, we had two main thoughts on our minds. One: "I don't care if we ever see these gorillas, I just want to make it back alive." Two: "I hope we're not going back the way we came." After five hours, we were convinced that we weren't going to find the gorillas, but we were also pretty sure that there must be a different way down, as they wouldn't have us slog our way through the rainforest in the dark (would they?). After six hours, we pretty much just wanted to curl up and die. At about the six and a half hour mark, we came across the gorillas. This perked us right up, and it was wonderful watching them for the next hour or so. Once again, they were deep in the dark thick forest, so it was hard to get any halfway decent photos.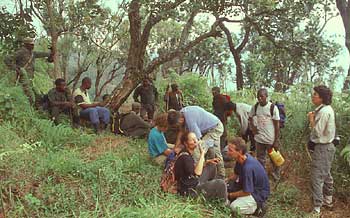 Almost ready to tumble down the mountainside
When our gorilla-viewing hour was up, we took a short rest before starting down. We discovered that we had ended up at a spot from which we only had to hike down one slope to reach a destination where we could wait for the vehicles to pick us up. The only problem was the height (about 500 meters) and angle (about 45 degrees) of that one slope. It took us about an hour to inch our way down. And just to add a little challenge, it started to rain.

Fortunately it didn't rain hard and we had only one minor twisted ankle incident on the way down. And when we met up with our guide Gabriel, we were very happy to discover that our long-lost luggage had finally caught up with us.

Thus ended the physically strenuous part of our African adventure, as well as the clothing-challenged part. The rest was a piece of cake.
---
Return to Uganda and Kenya Trip Overview