Mountain Lodge, Kenya
July 2000
(Click any photo throughout to see a larger version)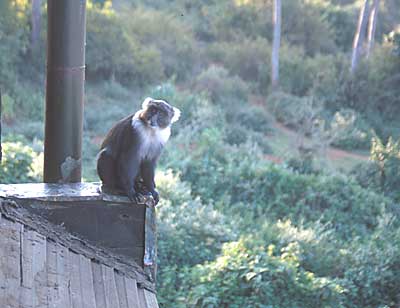 Keep Those Doors Locked
The Mountain Lodge is a private hotel on the fringe of Mount Kenya National Park, at an elevation of 7200 feet. It is laid out specifically for animal watching: all of the rooms have large windows and balconies on the side of the hotel facing the forest. A large artificial watering hole in the clearing on this side of the hotel attracts forest animals, and lights are kept on all night so the attracted animals can be easily viewed. Perhaps not the most natural wildlife viewing site in the world, but a welcome change from seeing animals only from the ubiquitous safari vehicles.

We stayed at the lodge for a single evening on our way north from Amboseli to Samburu. The most entertaining lodge visitors were these Syke's or Gentle Monkeys, which wanted more than anything else to climb into your room. We were told to never leave the balcony door open, or even unlocked, because if you turn your back for a minute the monkeys will sneak in and ransack your room. With constant vigilance, we managed to keep our rooms monkey-free.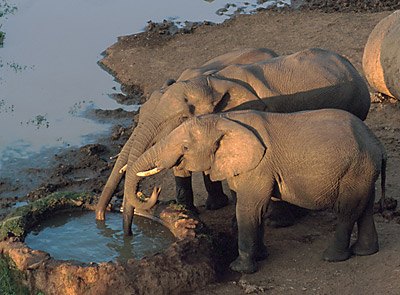 Tuskers at the Pub
The local forest elephants had their own concrete tub from which to drink; they didn't even need to use the large watering hole. They also had a couple of huge rocks to scrape their itchy backs against. It was not unlike seeing elephants at the zoo, except that we saw them wander out of the forest in the first place.

Tusker is a popular Kenyan beer, by the way. There is no direct evidence that these elephants were quaffing it, but there's no direct evidence against it either.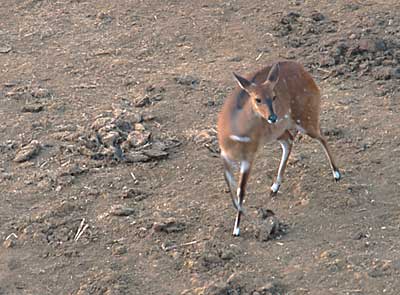 Bushbuck
The Mountain Lodge is the only place we saw bushbuck on our trip. This was one of a handful of females treading nervously up to the watering hole, along with one large male. The bushbucks surprised and entertained us by barking like dogs.

During dinner at the Mountain Lodge, a member of the hotel staff confers with each room's guests about which animals they would like to be woken up for. We signed up for Black Rhinoceros and Leopard, but slept through the night uninterrupted.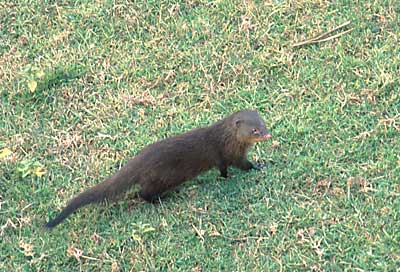 Marsh Mongoose
Despite the complete lack of Black Rhinoceros and Leopard, we did see some interesting critters from our balcony that we didn't get a good look (or in some cases, any look) at elsewhere on our trip. For instance, this large marsh mongoose puttered around on the grass beneath our balcony for awhile. Later we saw a white-tailed mongoose a little further off. A beautiful genet cat several times visited a large wooden structure apparently designed for its entertainment. A red duiker meandered in the bushes at the foot of the lodge. And we saw a troop of Abyssinian colobus monkeys at the forest's edge. My notes also remind me that we saw many mountain forest birds here that we didn't see anywhere else, including the Abyssinian crimson wing, red-fronted parrot, mountain oriole, and silver-cheeked hornbill.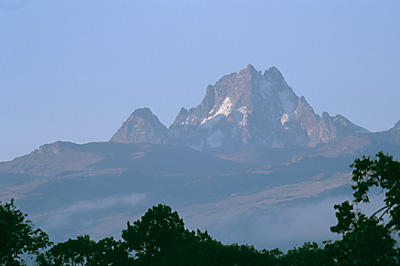 Mount Kenya
When the clouds cleared just so, we had a wonderful view of Mount Kenya in the distance, frosted with snow. When Europeans first heard that snow-covered mountains existed this close to the equator, they scoffed at such obviously fanciful nonsense. Those silly Europeans.
---
Return to Uganda and Kenya Trip Overview