Bali to Komodo, October 1999
| | | |
| --- | --- | --- |
| | page 2 of 9 | |
Bali Culture

(Click any photo throughout to see a larger version)
Indonesia is perched on the equator and entirely in the tropics, so most of it is wet, lush, and green, including Bali. This makes for stunning natural beauty even in the population centers. This shows an outdoor walkway between rooms in the Puri Kamandalu in the city of Ubud, where we spent our first two nights.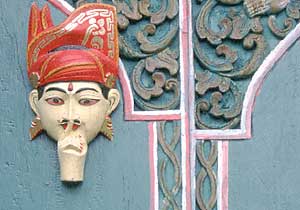 The rooms in the Puri Kamandalu are walled with stone. This is part of the front door, with a Bali-style "do not disturb" sign in place.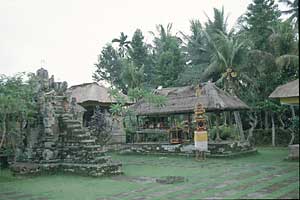 Most of Indonesia is primarily Muslim, but Bali is almost entirely Hindu. It is known as the Land of 10,000 Temples, for reasons that become obvious when you visit. There are Hindu temples everywhere, and Hindu statues most of the places that don't have temples. This is one small corner of a Hindu temple in Ubud.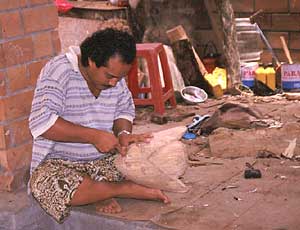 Wooden masks play a prominent role in Hindu pageantry. This is master carver Wayan Muka from the city of Mas at work. Some of his masks are used as decorations, while others are worn by Balinese dancers. He is himself a dancer, so he can evaluate and test his masks as a performer would.
We saw two Balinese dances on our trip. This picture is from a dance called Kupu-Kupu Carum, whose rather complicated plot involves a prince meditating to try to win a magic kris (sword), while supernatural beings try to distract him in various ways. Here the god Shiva comes down to scare off the lesser supernatural beings and eventually deliver to the prince his well-earned kris. The seated men are part of the gamelan orchestra, which plays complicated rhythms on a variety of percussion instruments continuously throughout the dance performance.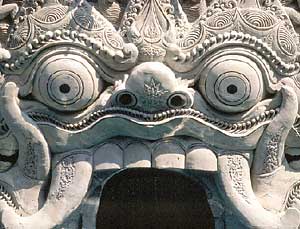 This stone waterfall may bear the same visage as Shiva's form in the Kupu-Kupu Carum dance. This is from a pool in the Puri Santrian in the city of Sanur.