When I was young I knew only a few things about Sri Lanka, mostly just these: It used to be called Ceylon. Science and science fiction writer Arthur C. Clarke lived there for much of his life. It was a very dangerous place to be while the Tamil Tigers were active. And it was the home of all sorts of crazily decorated lizards.
Most of these facts are no longer particularly relevant, but Sri Lanka is definitely still the home of all sorts of crazily decorated lizards. It also boasts a tremendous diversity of frogs, most of which have only been formally described in the twenty-first century. And let's not forget its many fine snakes. Oh yeah, some people are also interested in its many elephants and leopards. Clearly, I had to visit.
I heard from fellow world-traveling herp enthusiast Paul Norberg that he had recently searched for Sri Lankan snakes with a guide by the name of Udaya Chanaka. So I found Chanaka on the internet and we worked out an itinerary, one that covered many different ecosystems and locales so that I could see a nice wide range of animals. In early August 2019 Chanaka met me at the airport in Colombo, Sri Lanka's largest city, and off we went.
Note: A complete list of the reptiles and amphibians I saw in Sri Lanka resides elsewhere on this website. Not all of them are included in this travelogue.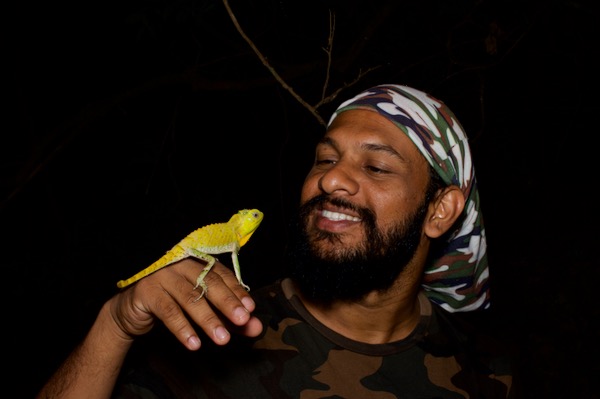 Chanaka employed the services of several of his friends and associates in different spots on the island to help look for animals, drive, cook, etc. Here I am with the two friends that we spent the most time with, Ruwan and Dulin.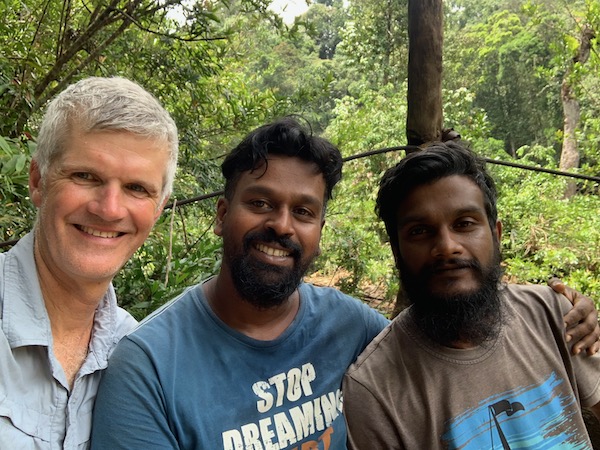 We visited a wide variety of habitats and locations in order to find as many different kinds of animals as possible.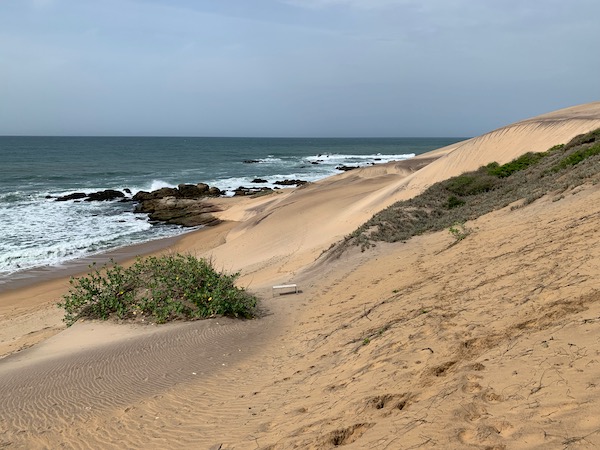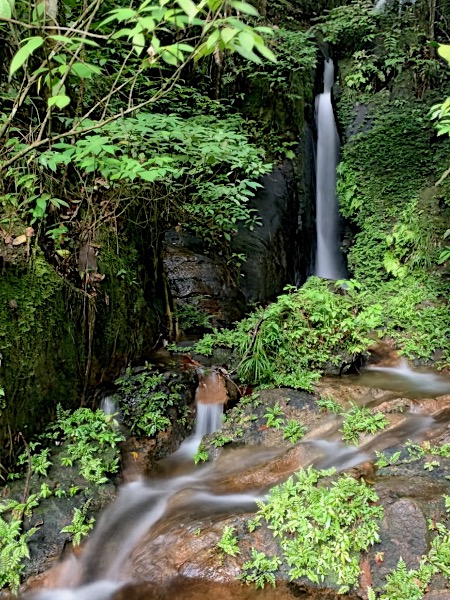 Buddhism is the most popular religion in Sri Lanka, and Buddhist temples and their surroundings proved to be good spots to look for certain species. We visited an ancient Buddha one afternoon on our way up Pidurungala Rock, so that after dark we could look for nocturnal herps on the way down.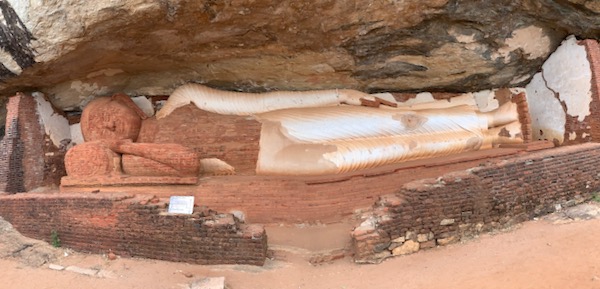 A couple of days later, we visited a nearby holy Bodhi tree at first light in the hopes of spotting a particular arboreal skink. (Alas, the skink did not put in an appearance.)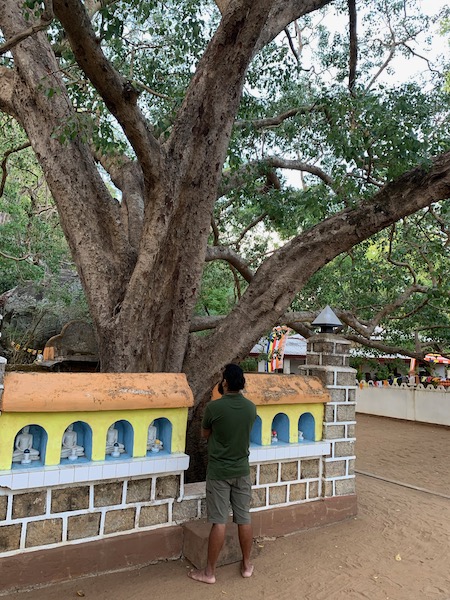 On standard roads, we traveled in a small and sturdy rental car. It served us well on long drives, and was equipped with a DVD player and two DVDs of music videos that we watched until we were way too familiar with them.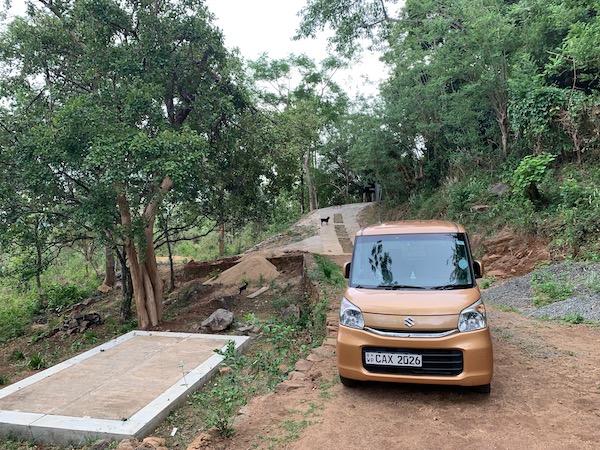 In Yala National Park, open-air 4WD safari trucks conveyed us on our quest to see leopards, sloth bears, and elephants.
We could have used a 4WD vehicle on the steep, rutted, narrow, slippery and mostly unpaved "road" up to Morningside Reserve, but it seems the few 4WD trucks are all used to look for leopards, sloth bears, and elephants down at Yala National Park. We at least had a truck, but it was not quite a match for the poor road conditions and weather. We got stuck in the mud three times on the way up the hill, and after the third time we were eventually forced to abandon the truck and walk the rest of the way. Soooooo many leeches. (The truck was successfully recovered the next day, with the help of reinforcements from town.)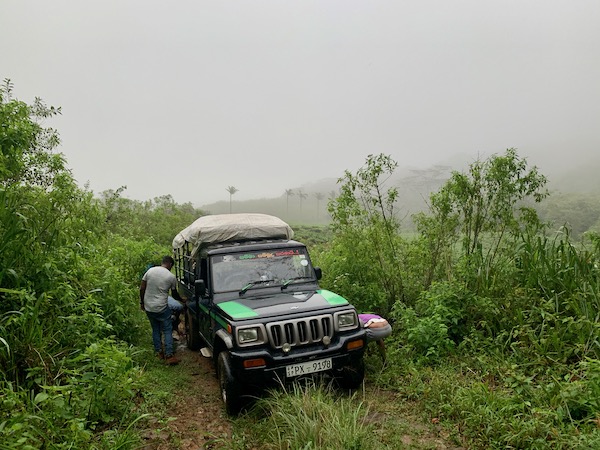 The most common type of vehicle on Sri Lanka's roads is a three-wheeled modified motorcycle called a tuk tuk, perhaps named after its less-than-confidence-inspiring engine sound. These were similar to the mototaxis I had previously encountered in Iquitos, Peru.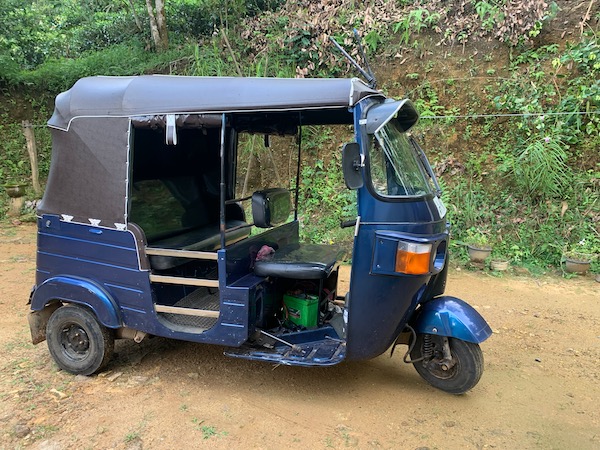 For the last several days of my trip, we stayed at the Runakanda Rain Forest Conservation Center, which Chanaka founded and operates. His mother in law lives just down the hill, and his wife and son were also there helping out during my visit. As with the other homemade meals on my trip, the food was delicious.
Next: Bugs & Such