wild
herps
Sclerophrys garmani
—
Garman's Toad
Also known as:
Leopard Toad, Square-marked Toad, Greater Cross-marked Toad
The genus Amietophrynus was split from Bufo by Frost et al in 2006. Later still, Sclerophrys was erected for some of these African toads.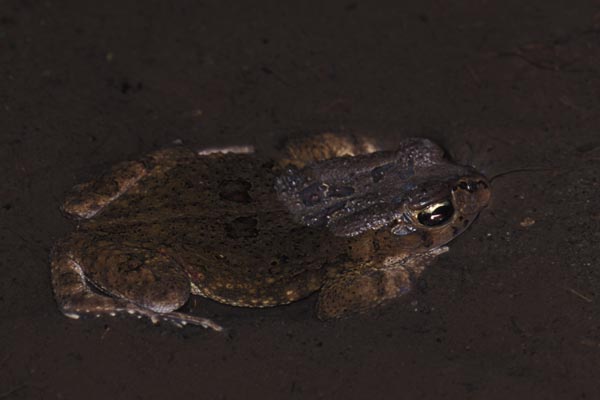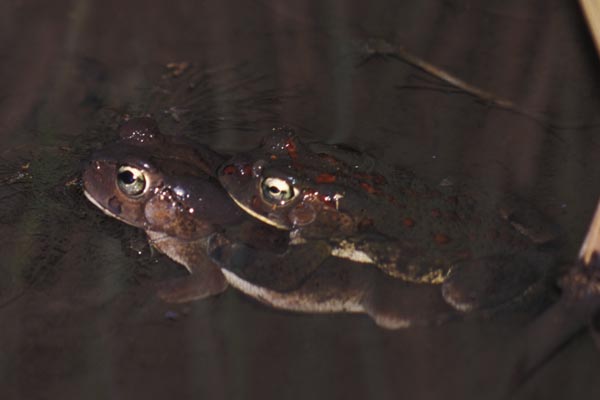 I saw these toads at night only, and took these pictures with a flash. A small creek meandered across the grass at this camp, periodically widening into small ponds with papyrus and other reedy plants. A long dry spell had been broken with some rain a day or two back, and two frog species were calling up a storm: this toad and a
treefrog
. The toad's call was a low-pitched, monotone, throaty croak.
I asked the camp staff naturalist about the frogs in the ponds and he said there were two kinds, little "acacia frogs" and big "savannah frogs". I presumed he meant the toads were the big ones, as I did not see or hear any third species. I could find neither "Acacia Frog" nor "Savannah Frog" (nor "Savannah Toad") on the web or in my herps common/scientific names book. These toads were basic toad size, probably between 3 and 4 inches long.
Due in part to a lack of comprehensive references, and in part to the poor quality of my photos, I didn't have a good guess for the identify of these toads until recently. Helpful people on iNaturalist pointed out that they seem to be Sclerophrys garmani.
Online references:
Printed references: