wild
herps
Sclerophrys gutturalis
—
Guttural Toad
Some other names for this species:
Leopard Toad, Square-marked Toad, Greater Cross-marked Toad
The genus
Amietophrynus
was split from
Bufo
by Frost et al in 2006. Most references still use the long-established
Bufo
. There's still controversy in the ranks of amphibian taxonomists about this split, but since the
SSAR names book
follows the split for North America, I'm also following it for the rest of the world.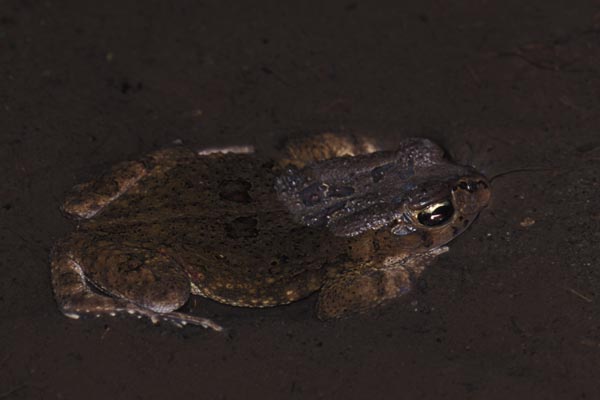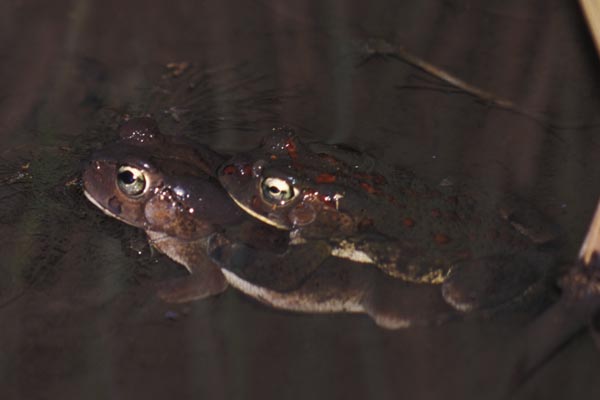 I saw these toads at night only, and took these pictures with a flash. A small creek meandered across the grass at this camp, periodically widening into small ponds with papyrus and other reedy plants. A long dry spell had been broken with some rain a day or two back, and two frog species were calling up a storm: this toad and a
treefrog
. The toad's call was a low-pitched, monotone, throaty croak.
I asked the camp staff naturalist about the frogs in the ponds and he said there were two kinds, little "acacia frogs" and big "savannah frogs". I presumed he meant the toads were the big ones, as I did not see or hear any third species. I could find neither "Acacia Frog" nor "Savannah Frog" (nor "Savannah Toad") on the web or in my herps common/scientific names book. These toads were basic toad size, probably between 3 and 4 inches long.
I couldn't find enough information about the toads in this area to identify this guy until I got a copy of Channing and Howell's recent guide to East African Amphibians. Amietophrynus maculatus is similar, but the sizes of the tympana and some color details make me think this is B. gutturalis.
Online references:
Printed references: