Species:
Ctenosaura similis
Gray's Spiny-tailed Iguana
Some other names for this species:
Black Iguana, Spiny-tailed Iguana, Scaly-tailed Iguana, Wishwilly
April 17, 1998
Ambergris Caye, Belize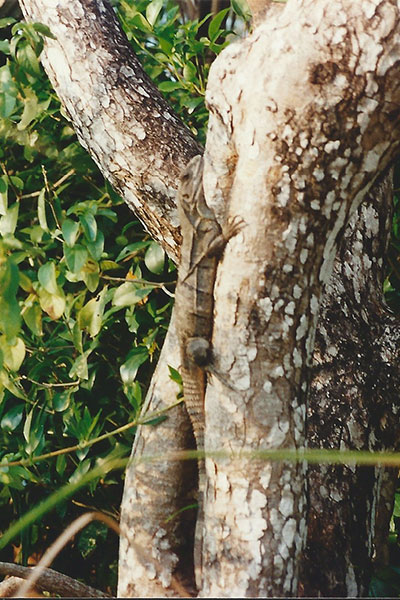 We saw at least a dozen of these large iguanas hanging out on fences, rocks, trees, porches, everywhere. But like
chuckwallas
, they didn't want us getting anywhere near. Next time I'm in spiny-tailed iguana land, I'll have a telephoto lens.
April 14, 2001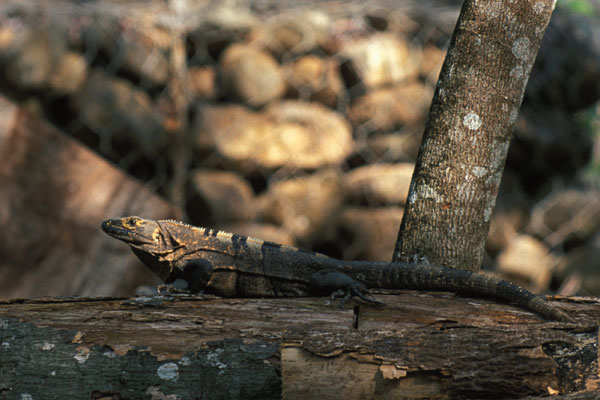 Between visits to Carara National Park, we dropped by a nearby hotel for lunch on their beautiful outdoor patio. Providing our post-lunch entertainment was a healthy collection of black iguanas and
common basilisks
.
April 14, 2001
down the mountain from Monteverde, Puntarenas province, Costa Rica
Sure enough, telephoto lens in hand, I eventually came across more spiny-tailed iguanas, this time in Costa Rica. This was one of several large lizards sprawled around a rock-strewn field just off the road. This large male was doing giant-lizard-sized push-ups, no doubt impressing the female iguanas with his manly physique and dominating personality.
April 14, 2001
Tarcoles River bridge, Puntarenas province, Costa Rica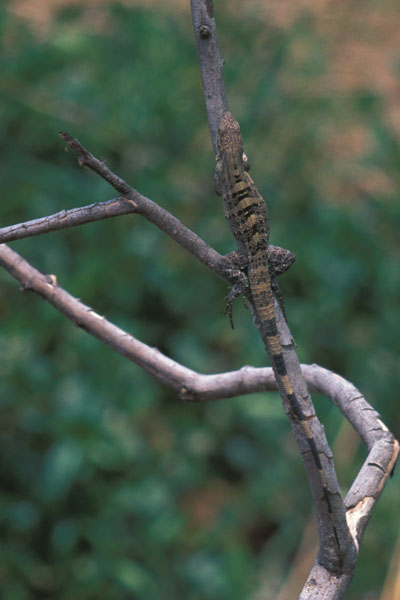 This bridge near Carara National Park is well-visited due to the ever-present collection of
American crocodiles
in the Tarcoles river beneath. Just at the south edge of the bridge I spied this beautiful juvenile spiny-tailed iguana clinging to a small tree. Babies of this species are bright green, resembling young
green iguanas
. This one is old enough to have lost its green color, but still retains prominent banding and colors, which fade with age.
March 6, 2004
Crandon Park, Key Biscayne, Miami-Dade County, Florida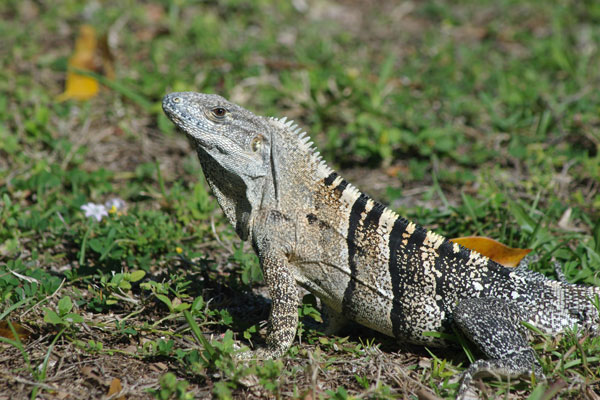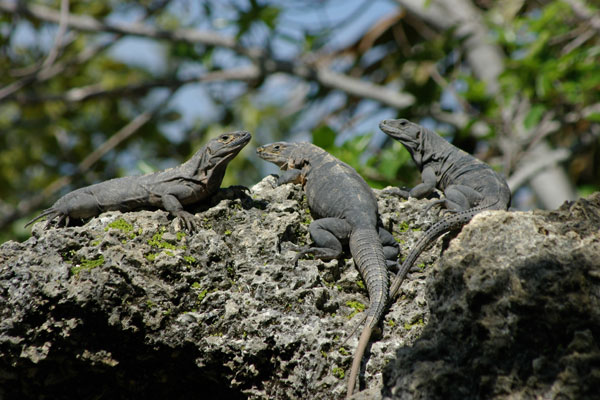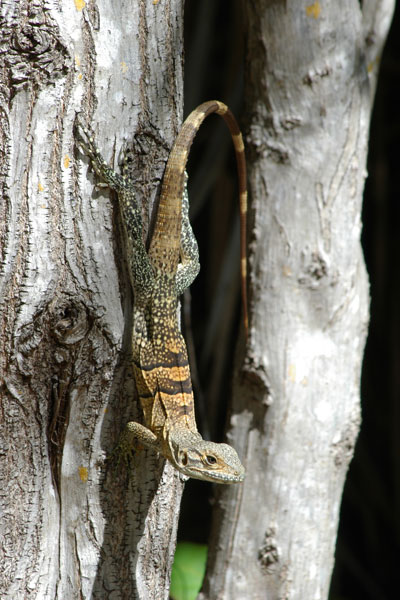 Crandon Park was home to a zoo until 1979. The zoo grounds remain, having been redesignated a Botanical Garden. Apparently the reptile keepers at the old zoo were a little careless about their charges, because huge populations of non-native Gray's Spiny-tailed Iguanas and
Green Iguanas
parade around as if they own the place. Until you get too close, that is, whereupon the Spiny-tailed Iguanas dash into burrows or rock crevices, and the Green Iguanas leap into the nearest water.
A paper by Josiah H. Townsend, Kenneth L. Krysko, and Kevin M. Enge, available online in PDF format, documents the history of the three non-native iguana species in South Florida.