wild
herps
Dendropsophus timbeba
—
Cardoso's Treefrog
The species
Dendropsophus allenorum
was synonymized with
Dendropsophus timbeba
by
Orrico et al in 2013
.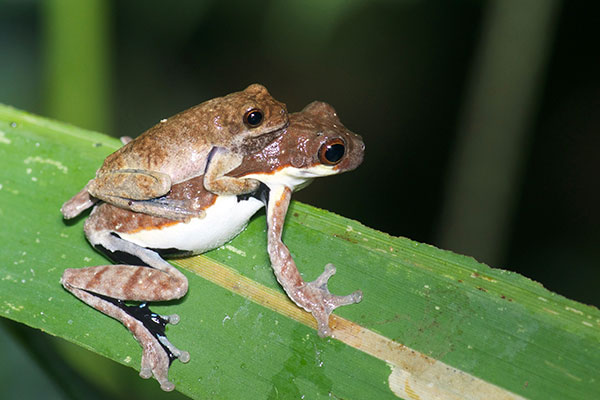 When I found this amplexing pair, I recognized them as
Dendropsophus
but I didn't recognize the species. I assumed it would be easy to look them up, since the white sides and belly marked with inky blackness under the limbs are so distinctive. But it took me a surprisingly long time to track down the identity. This is partly because this species is not in
Bartlett's book
, which includes the vast majority of frogs that we saw in Peru. Also, the (same) picture in Duellman's
two
books
is taken from a high angle that minimizes the visible amount of white and almost completely hides the black, so I didn't recognize it at first when leafing through. And the
recent name change
didn't help either.
My Travelogues and Trip Lists page includes a complete list of the herps I saw in the wild on my 2016 MT Amazon Expeditions trip.
Printed references: