wild
herps
Leptolalax pictus
—
Painted Slender Litter Frog
Some authorities have now lumped Leptolalax in with Leptobrachella. My go-to Borneo references haven't done that yet, so I'm leaving them distinct for now.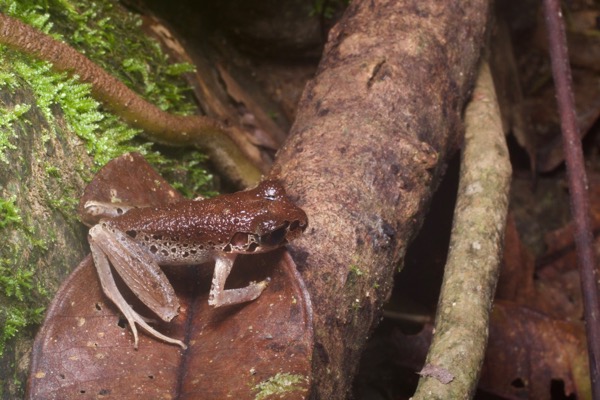 Dramatic specimens of this species have lots of white-bordered dark blotches on the head and body. Less dramatic ones like this have a few such blotches. In the same area can also be found
L. fritinniens
, which is nearly identical in shape and size but lacks the white-bordered dark blotches. It's not easy ID'ing hundreds of frogs after a trip to Borneo!
Online references:
Printed references:
Inger, R. F., Stuebing, R. B., Grafe, T. U., Dehling, J. M. 2017. A Field Guide to the Frogs of Borneo, Third Edition
Malkmus, R., Manthey, U. Vogel, G., Hoffmann, P., & Kosuch, J. 2002. Amphibians & Reptiles of Mount Kinabalu (North Borneo)