wild
herps
Morelia spilota
—
Carpet Python
Subspecies I've seen: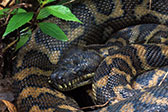 M. s. mcdowelli
Eastern Carpet Python
Morelia spilota mcdowelli
—
Eastern Carpet Python
Imagine my surprise when I glanced up from photographing a tiny
skink
to see this a few feet away. Fortunately for me it was very calmly digesting what appeared to be a substantial meal, so it cooperated nicely for my camera. I don't have much experience estimating the size of very large snakes, but I'm guessing this one was between ten and twelve feet long.
Here is a complete list of the reptiles and frogs I saw on this trip to Australia.
The next day I spotted this beautiful individual well-camouflaged in the leaf litter at the side of the road. Though much smaller than the one I'd seen the previous day, it was still a good-sized snake, perhaps six or seven feet long.
Printed references: