wild
herps
Pristimantis altamazonicus
—
Amazonian Rain Frog
Also known as:
Amazon Robber Frog, Upper Amazon Rain Frog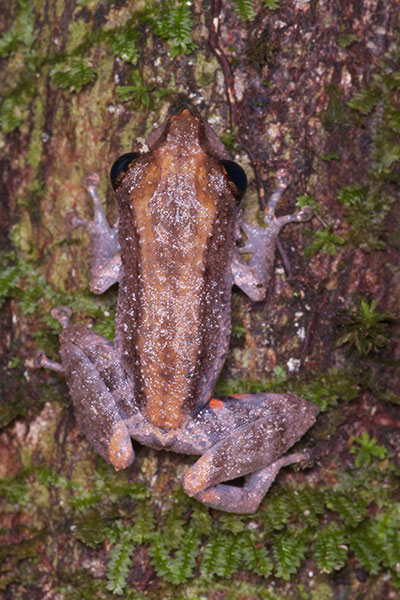 This little frog was showing us just a teaser of its orange-red and black thigh flash colors. I think that these colors, in combination with the frog's general appearance, means that this is most likely
Pristimantis altamazonicus
. However, Dick Bartlett thinks it might instead be either
P. martiae
or
P. orcus
. We will never know for sure.
Here is a complete list of the herps I saw in the wild on my 2014 MT Amazon Expeditions trip.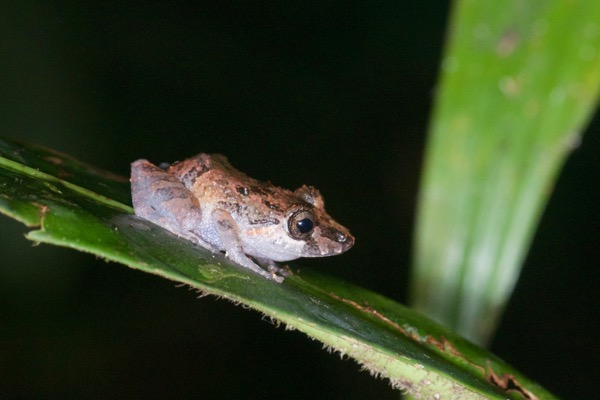 I spent a long time trying to identify numerous small
Pristimantis
frogs after this trip. Just to show that I'm not entirely guessing, here are my notes for this one:
"Pristimantis altamazonicus (reasonably tuberculate, general size & shape, toepad shape, thick scapular W mark, no tympanum, barring on lips and limbs, iris color, heel color. eyelid tubercles rule out croceoinguinis.)"
After all that, I fully expect someone to explain why this one isn't really P. altamazonicus. So go ahead.
Online references:
Printed references: