Species:
Pseudacris sierra
Sierran Treefrog
Some other names for this species:
Sierra Chorus Frog, Pacific Chorus Frog
Notes on this species:
July 15, 1998
Frog Pond, Del Rey Oaks, Monterey County, California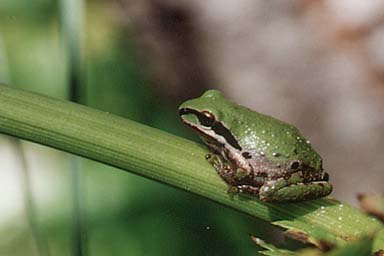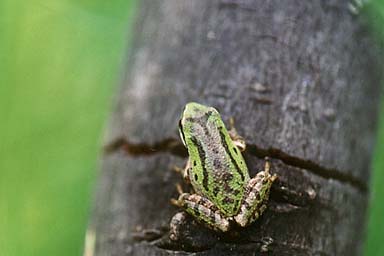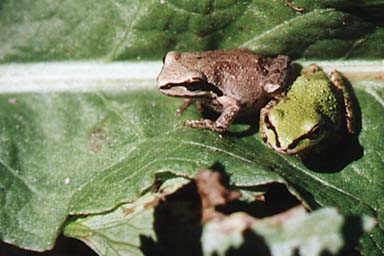 There are always treefrogs aplenty at Frog Pond. Pacific Treefrogs have the chirping cricket-like call familiar from countless old movies, because they were easy for Hollywood moviemakers to locate and record.
July 7, 1999
Bear Gulch Reservoir, Pinnacles National Monument, San Benito County, California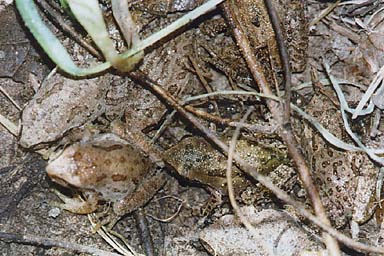 Little just-metamorphosized froglets swarmed near the reservoir on this warm July morning. Right at the water's edge dozens of them frolicked in the reeds and leaped into the water at the first sign of danger. Ten or twenty feet away in the mostly dry mud where the creek flows in wetter times of year, every rock, log, and pine cone harbored piles of the little critters. They scurried away quickly when exposed, but I managed to get this picture showing at least seven frogs in one pile. There were at least a dozen when I first moved the rock, but several had escaped before I could focus and shoot.
August 20, 1999
Fort Ord Public Lands, Monterey County, California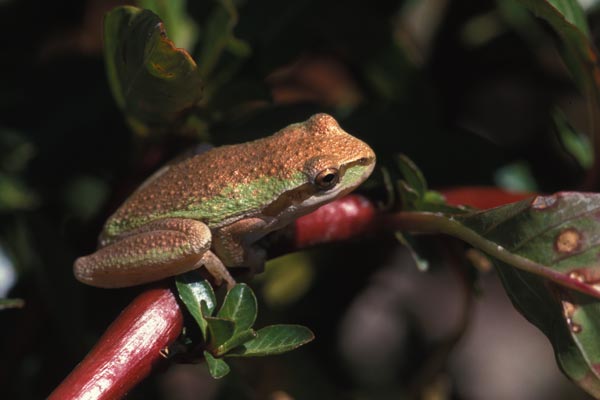 This tan-and-green beauty was hiding in some ground cover at the edge of a pond. Pacific Treefrogs range from pure green to pure brown to interesting mixtures like this.
March 4, 2000
Del Monte Forest, Pebble Beach, Monterey County, California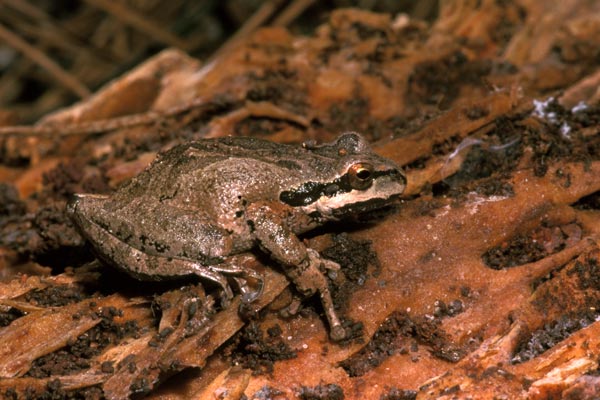 This frog was very large for this species, nearly two inches long. It was under a log near a small temporary pond teeming with tiny tadpoles. It was very chubby and my guess is that it was a she ready to let loose her eggs in the pond.
July 19, 2001
Fern Canyon Trail, Van Damme State Park, Mendocino County, California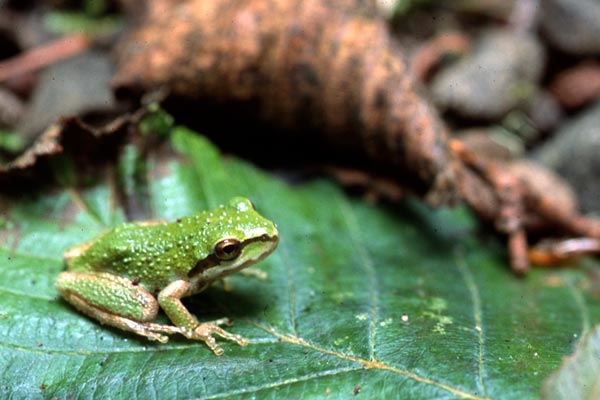 Here's a pretty young Pacific treefrog on the forest floor, a few feet from Little River.
August 19, 2006
San Mateo County, California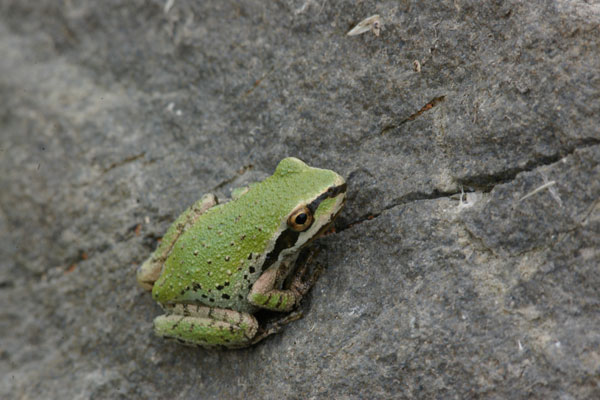 Along with the
Western Fence Lizard
, this is another of the few species that I've seen so often and in such quantity that I usually don't bother taking any more photographs of them. But this beautiful little green guy caught my eye so I took a little time away from the
snake
fest
to capture a few photos.
July 23, 2011
Bear Gulch Reservoir, Pinnacles National Monument, San Benito County, California
For some reason, all of the Pseudacris regilla that my friend Andrew and I saw around the edges of Bear Gulch Reservoir, and there were many, were this basic shade of tan. Not the most exciting color for a frog. But they are still cute li'l guys.