wild
herps
Pristimantis
sp
—
unidentified species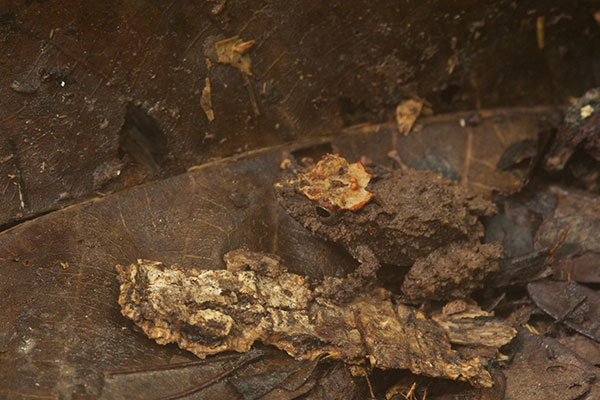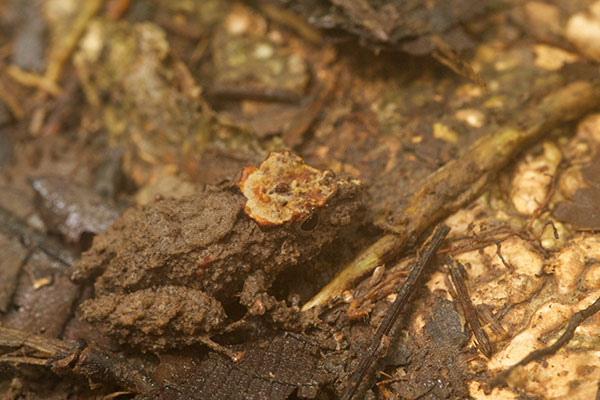 This is an interesting little
Pristimantis
that I haven't been able to even tentatively identify. It's reminiscent of
Pristimantis croceoinguinis
in its bumpiness, which gives it an excellent disguise in the mud. But it seems even bumpier ("more extremely tuberculate") than
Pristimantis croceoinguinis
, and as far as I know the hard-edged orange-ish crown isn't known from
Pristimantis croceoinguinis
. Another somewhat similarhttps://www.facebook.com/MTAmazonExpeditions/ species is
Pristimantis academicus
, which is also very bumpy and is known to have orange splotchy areas. I have only seen a very small handful of photos of
P. academicus
, and none of them had this kind of crown, but otherwise it looks pretty similar.
Dick Bartlett contacted some Peruvian frog experts, and so far none have been able to identify this frog from these photos. It's possible that it's a known species that has significant variation in appearance, or it's possible that it's an undescribed species.
Here is a complete list of the herps I saw in the wild on my 2013 MT Amazon Expeditions trip.