wild
herps
Sanzinia madagascariensis
—
Madagascar Tree Boa
Also known as:
Madagascan Treeboa
Subspecies I've seen: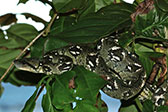 S. m. madagascariensis
Eastern Madagascar Tree Boa
Sanzinia madagascariensis madagascariensis
—
Eastern Madagascar Tree Boa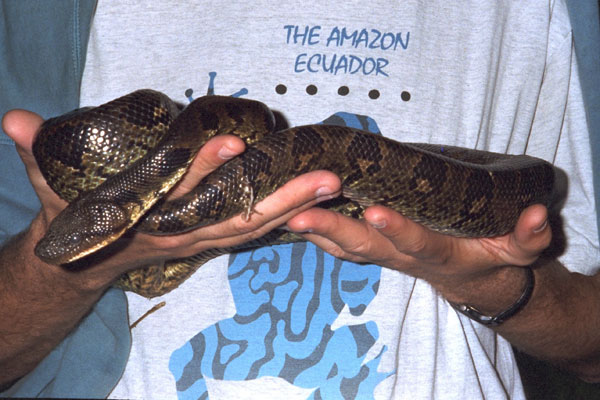 This medium-sized individual was found at night curled up on the ground near the trail. It probably was not completely healthy or it would have been up in a tree somewhere.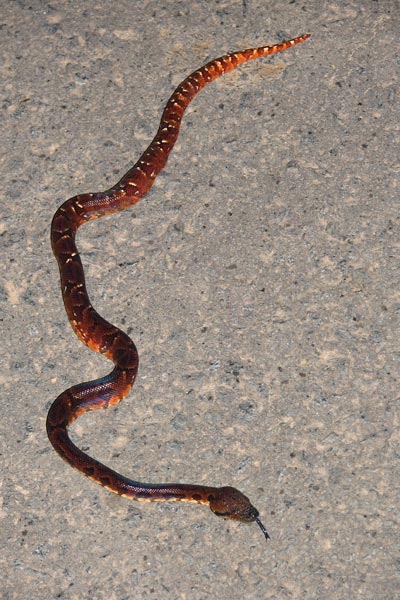 At night we walked along the road bordering Analamazaotra Reserve looking for nocturnal and sleeping herps. Mostly we stared into the foliage looking for movement and reflected chameleon bodies, but fortunately my sister Mary took an occasional glance at the road itself, and noticed this young boa slithering by. Just as we saw it, a large troop of children on an outing from a local school converged on us and crowded around the snake. Before that group dissipated a car approached. I quickly got the snake off of the road where it quickly snuck off into the foliage, so the only photos we got were a few from when it had been in the road. My wife Monica Rua took this photograph.
Here is a list of all the reptiles and frogs I saw on this trip to Madagascar.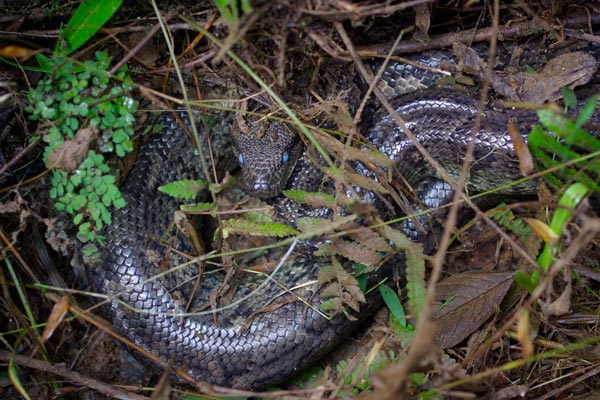 The local guides on our Madagascar trip often went out of their way to try to satisfy my desires to see as many snakes, lizards, and frogs as possible. On this afternoon, while we were watching the antics of lemurs in the trees, our guide Mary snuck off to see if she could find a boa for me. It only took her about ten minutes to locate this guy coiled up in a drainage culvert along the main trail. The blue eye-covering scales show that this snake is on the verge of shedding its skin.
Here is a list of all the reptiles and frogs I saw on this trip to Madagascar.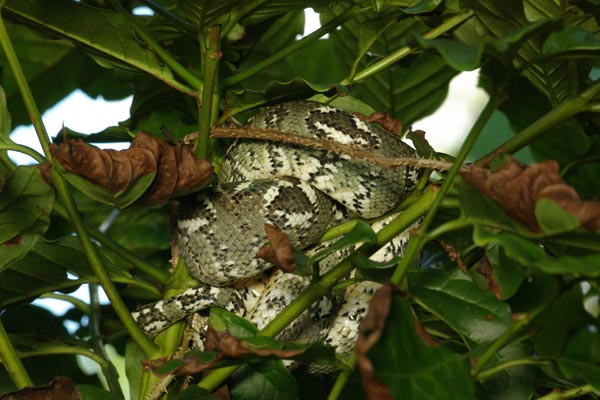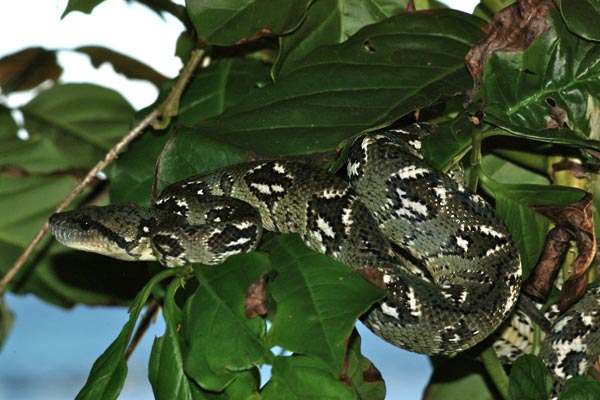 One afternoon we walked from our little eco-lodge Chez Arol to a nearby local village in an ultimately successful search for
Panther Chameleons
. As we strolled, I spotted a ball o' boa in a small tree. Our guide Armand told us that the local people knew that a storm was coming when they saw these boas up in trees. (Despite the "Tree Boa" name, these snakes are more typically found on the ground.)
Printed references: