My first multi-day stop in South Australia was in Flinders Ranges National Park, which encompasses a wide variety of habitat types, and thus a wide variety of herps. I stayed in the Wilpena Pound Resort near the southern end of the park. I was happy to see that the staff maintained a lizard-friendly environment, as evidenced by this colored chalk masterpiece inside the general store & information center.
The walls of the resort were also lizard-friendly, though only with little skinks when I was looking. These little Cryptoblepharus skinks are everywhere in Australia. Once upon a time, they were all considered a single species. By the end of the twentieth century, Australia was the proud home to five or six differentiated species. Then Paul Horner split out a bonanza of new species in 2007 based on extensive morphological and genetic studies. Now there are more than 20 defined species in Australia, many of which can only be distinguished by examining the teeny-tiny scales on the bottoms of their teeny-tiny feet. Fortunately, most places only have one or two or three candidate species, and Horner's paper does a good job of calling out differences in areas where species overlap.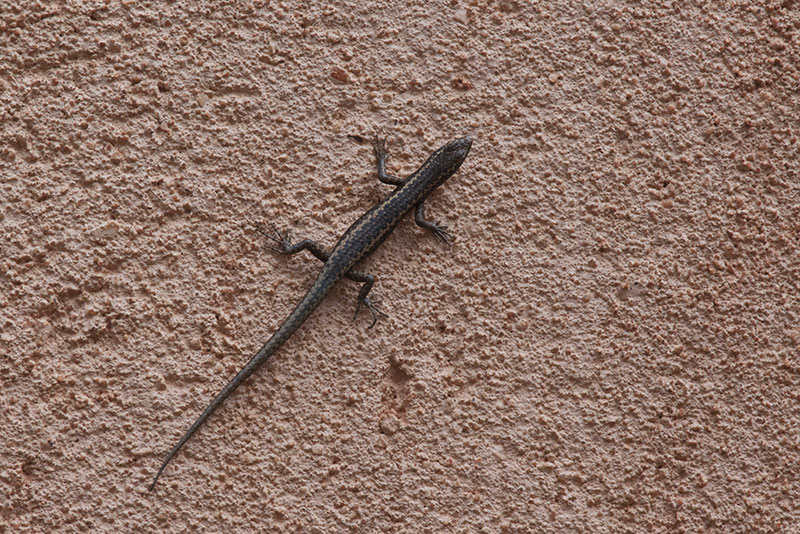 Several trails start at the resort and head out in various directions. On my first afternoon I chose a trail that is basically flat until the end, when it climbs a rocky hillside to a viewpoint. Along the flat part I saw various skinks, including the following four.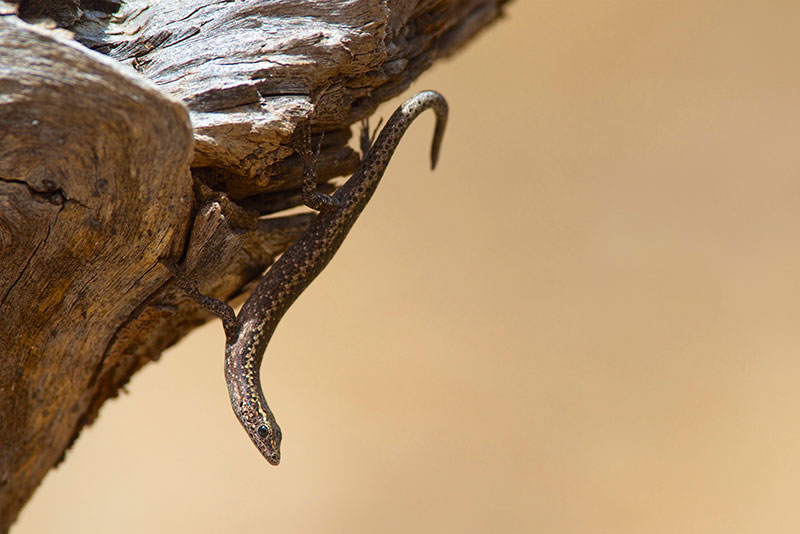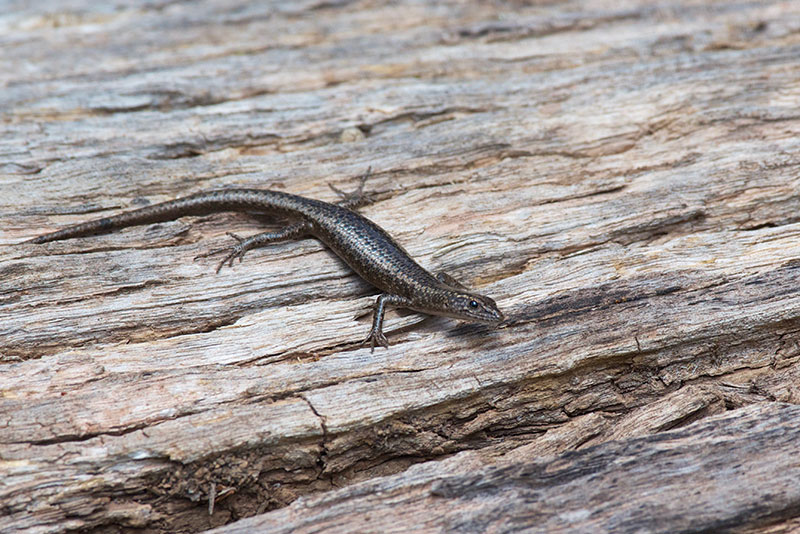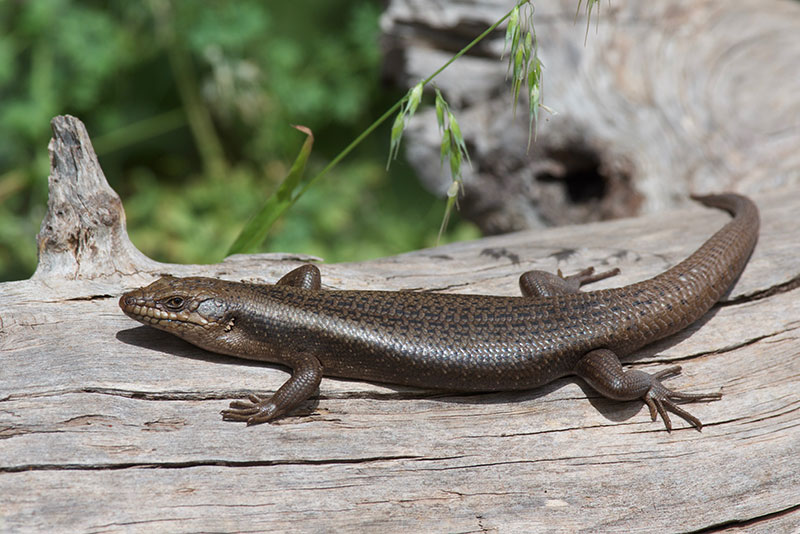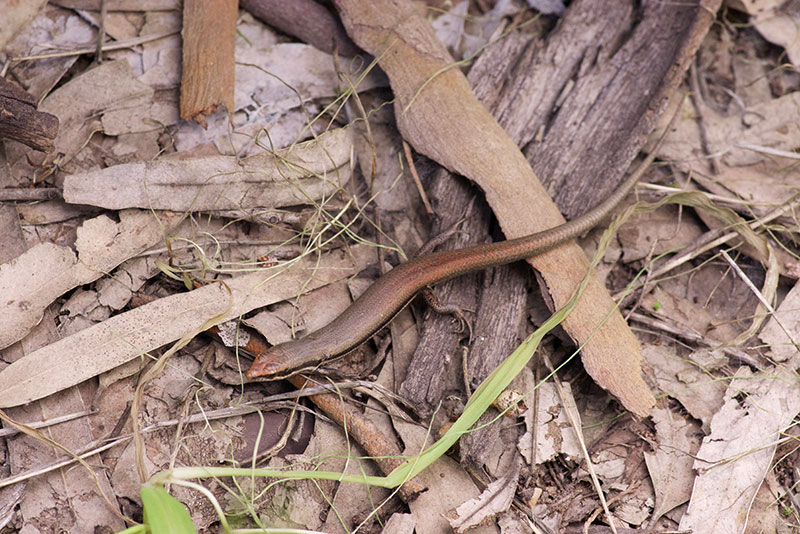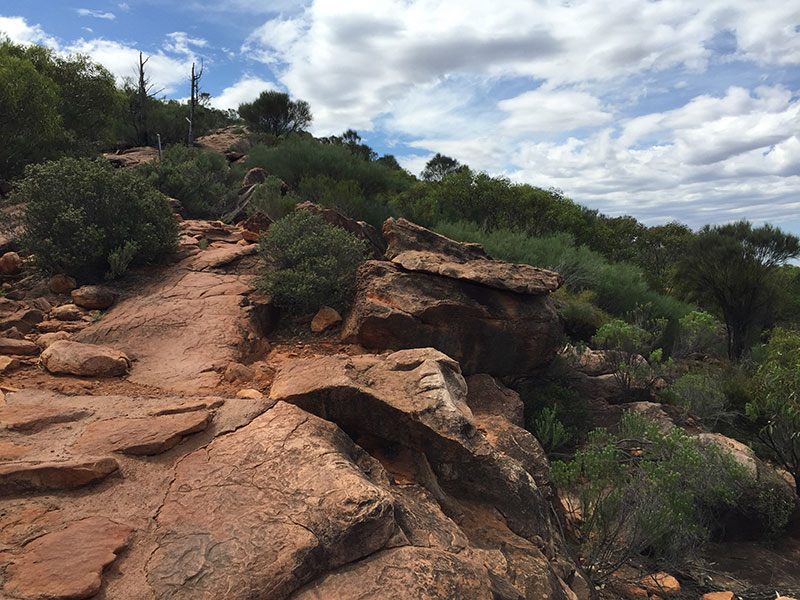 This rocky hillside was ideal habitat for lizards. (Probably snakes too, but I didn't see any.) Very soon after I left the flat ground and started climbing, I saw the first of many Tawny Dragons.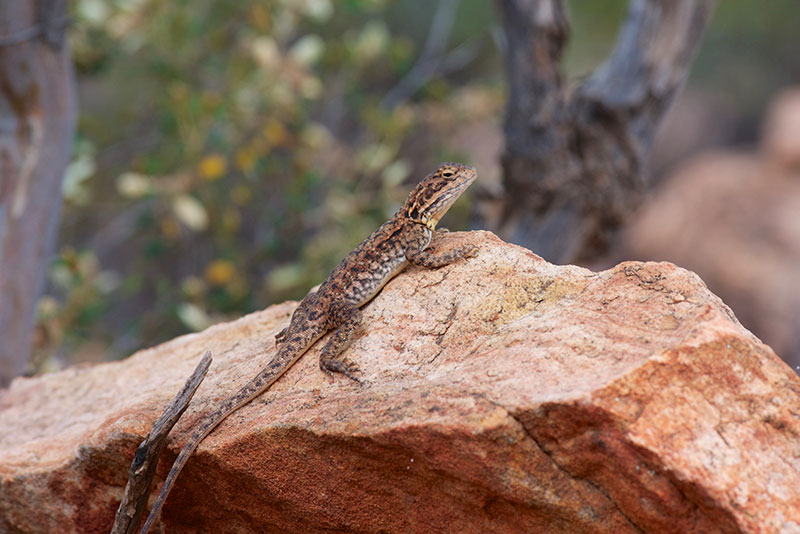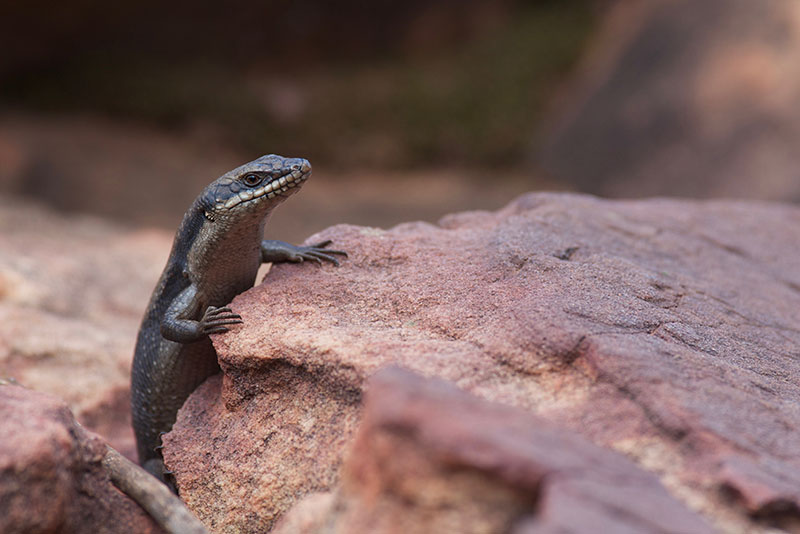 I noticed that an occasional skink on the rocks seemed to have slightly different proportions than the very common Tree Skinks, and also to move a little differently. I hadn't gotten a good look at one of these other skinks until I turned a corner and found this one basking on a low rock right in front of me. The light-colored eyeliner turned out to be a key identification characteristic.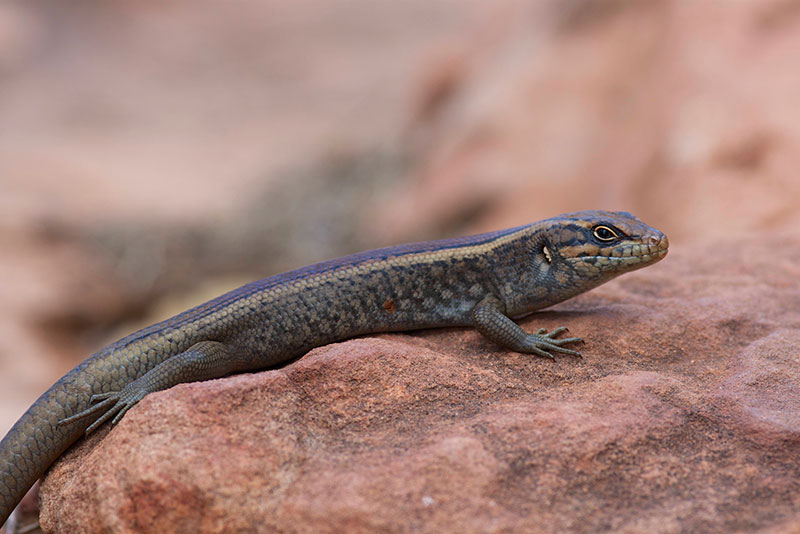 One other basking skink struck me as different. It was at least essentially the same size, shape, and pattern as the Boulenger's Snake-eyed Skinks I had seen earlier. But this one seemed significantly darker, and this one held its position for at least a few minutes, whereas the ones I had seen earlier were all scuttling around in leaf litter, and never stopped moving for more than a few seconds. But I couldn't find any other candidates in my books, so my best guess is that this is indeed another of that kind.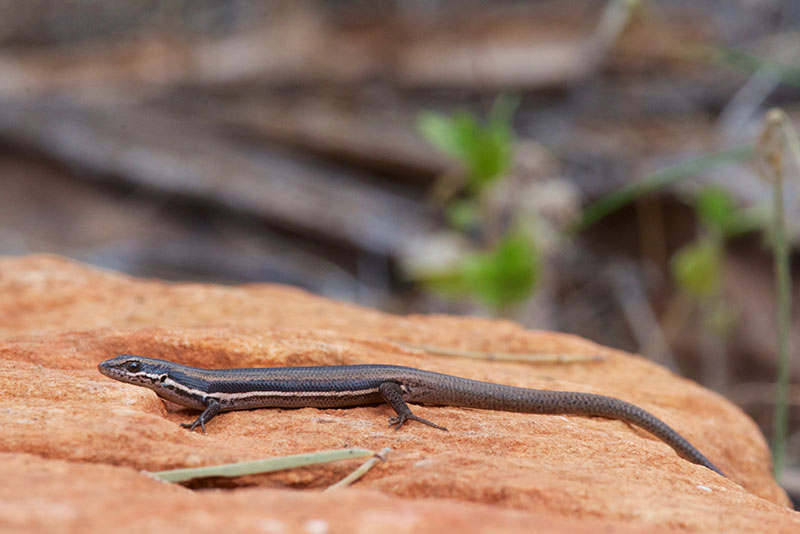 On another morning I drove out to hike Wilkawillina Gorge, because (A) it seemed like a significantly different type of habitat, and (B) it had an entertaining name.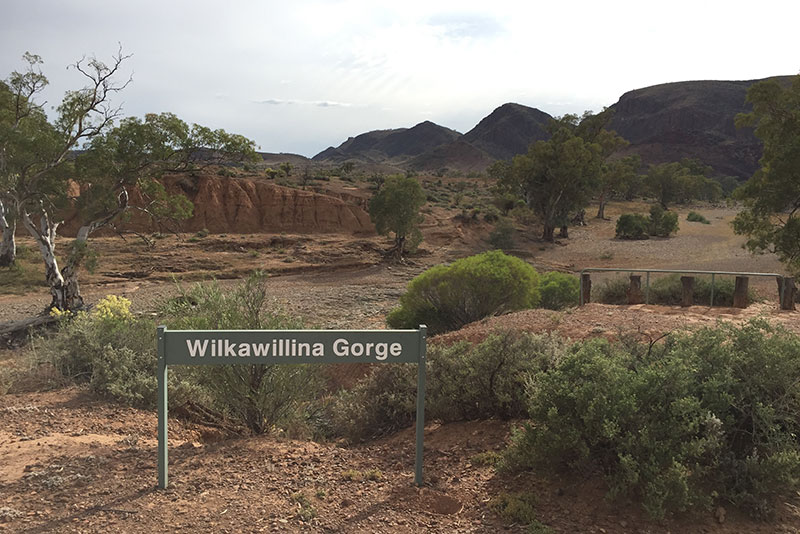 One of the attractions of Wilkawillina Gorge was another chance to see the Yellow-footed Rock Wallaby that I had missed back at Telowie Gorge in Part 4 of this account. This time I had more luck, and spotted one of these colorful rocky outcrop specialists just after it spotted me and bounded away.
Flinders Ranges National Park had cool to cold nights while I was there, so the temperatures didn't reach maximum herp-friendliness until late morning at least. I was impatient as usual and started my morning hike earlier than that, so the lizards were few and far between at the start of my hike. I first saw a few species that I had encountered in other parts of Australia.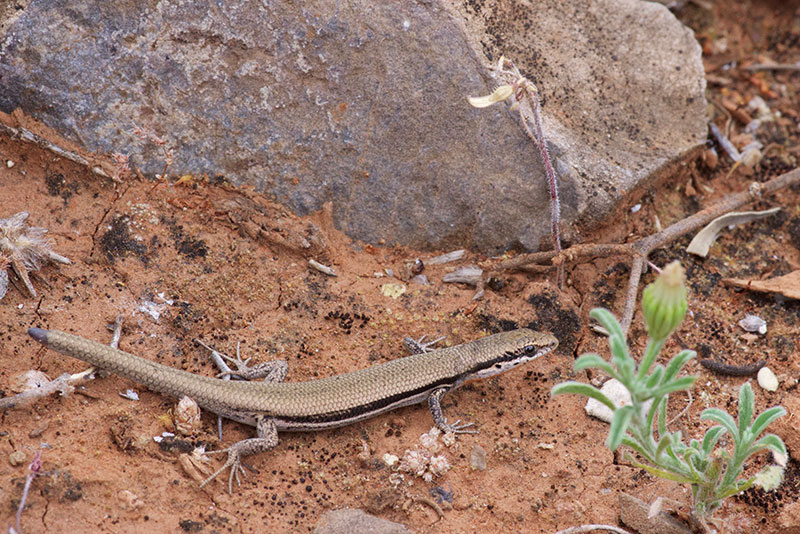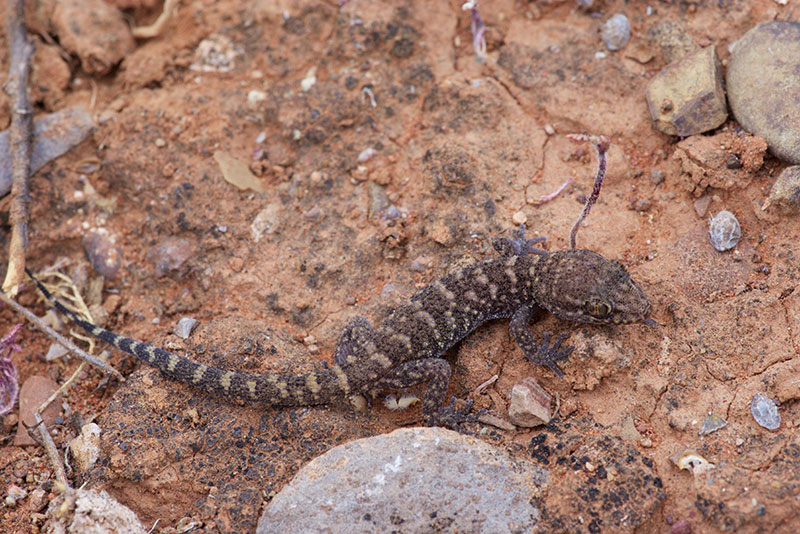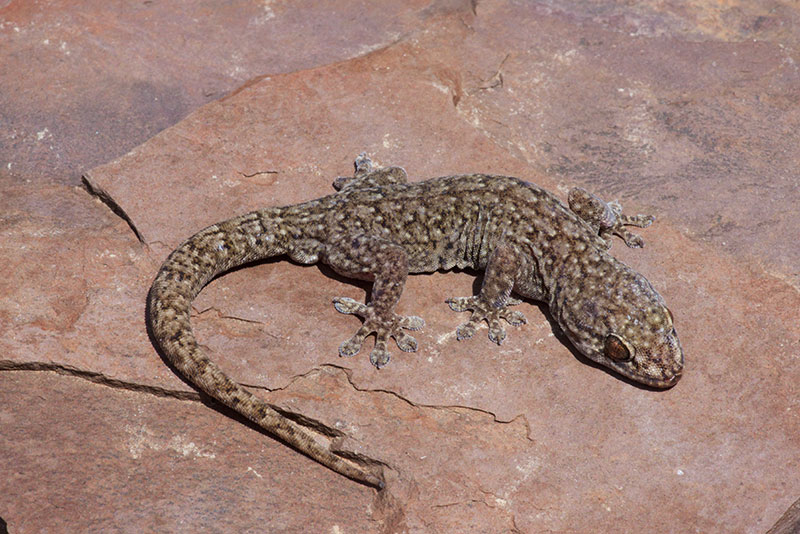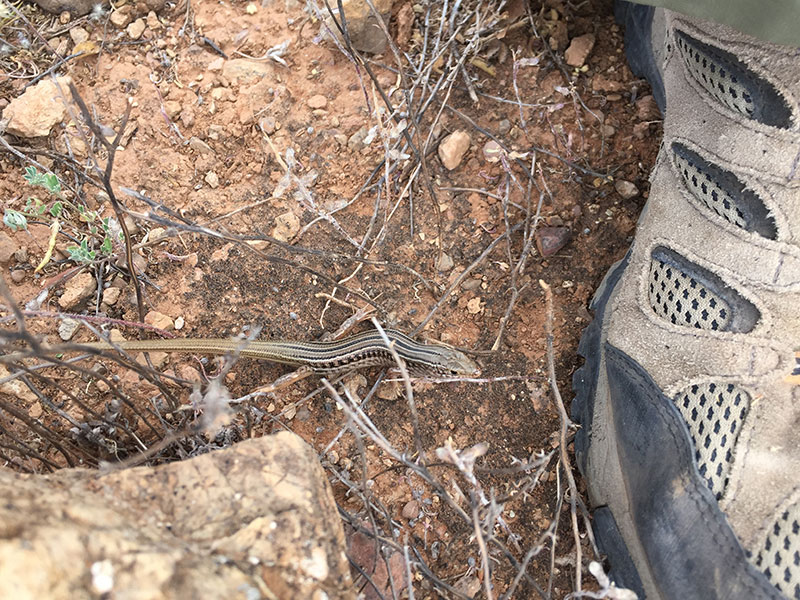 I eventually found a herp that was actually motionless and in plain sight. It was at the top of a small rocky outcrop; I saw it from the bottom and carefully climbed around the back side to get photos before it could get spooked.
When I was climbing down from the rocky outcrop I caught a glimpse of another Ctenotus skink. I couldn't tell whether it was Ctenotus robustus again or some other of the many Ctenotus candidates, so I crept around the outcrop for a few minutes trying to spot it. I did not see it again, but I did spot some sort of rock dragon in the process. The rock dragon was colorful, and its colors seemed different than those of the Tawny Dragons I had been seeing, but I didn't get a good look. I figured that this was just a sign that the lizards were starting to emerge in force, and with any luck I would see this dragon again soon.
On the other side of the rocky outcrop I reached the main gorge itself, and there was even a little waterhole nearby.
I poked around at the edges of the waterhole and quickly discovered a population of small frogs. I assumed at the time that they were the same species I had seen at Telowie Gorge, but later discovered that the Flinders Ranges have two resident species of froglet, and this was the other one.
As I was admiring the froglets, I spotted a flash of color out of the corner of my eye, and turned to spot one of the most beautiful lizards I'd ever seen doing its macho push-ups on a nearby rock. This was a plain-sight version of the dragon I had glimpsed earlier. I recognized it immediately as a Red-barred Dragon, a species I had particularly hoped to see on this trip. In fact, at David Fischer's suggestion, I had specifically added a place called Arkaroola to my itinerary in the hopes of seeing this gorgeous lizard.
The object of this male's affections was elsewhere on the same rock. I followed the two of them around for about fifteen minutes as they traveled from rock to rock, sometimes hunting, sometimes just showing off.
On my way back to Wilpena Pound from Wilkawillina Gorge, I stopped for a picture of a colorful parrot.
Just beyond the parrot was a familiar road-lizard silhouette.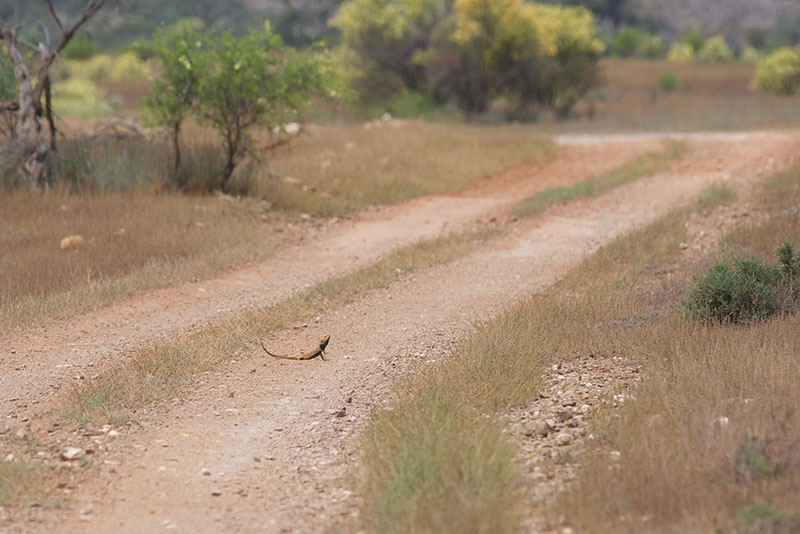 This beardie ran off the road as I approached, as was typical. When I parked my car and found it hunkered down in the scrub, and it noticed me, I expected it to run off further. Instead, it chose to bluff, puffing out its body and its glorious beard and running a few steps toward me. (After a minute or two of holding its bluff pose, it then turned and ran off.)
For my final afternoon excursion from Wilkina Pound I chose the charmingly named Mt. Ohlssen-Bagge Trail, whose brochure description was: "Steep rocky inclines followed by rewarding views of Wilpena Pound and the surrounding area. This hike incorporates excellent reptile habitat." Of course I could not resist.
Some excellent reptiles were indeed out and about on this trail, all of them lizards: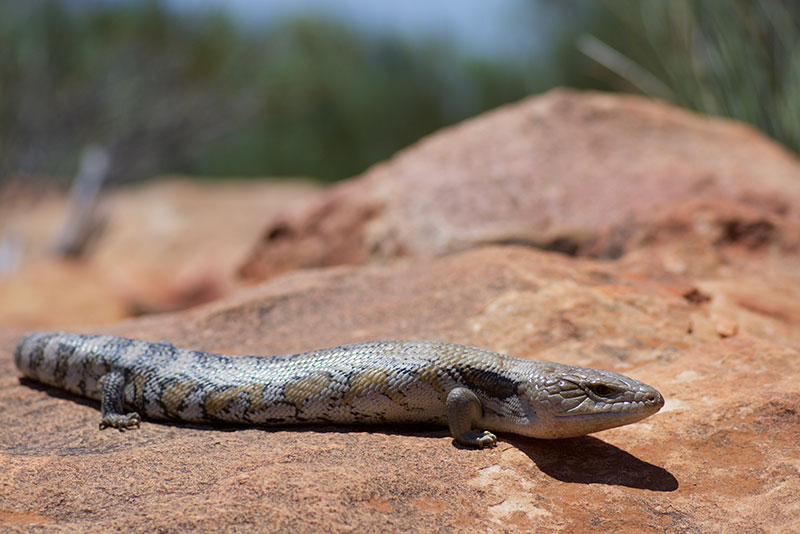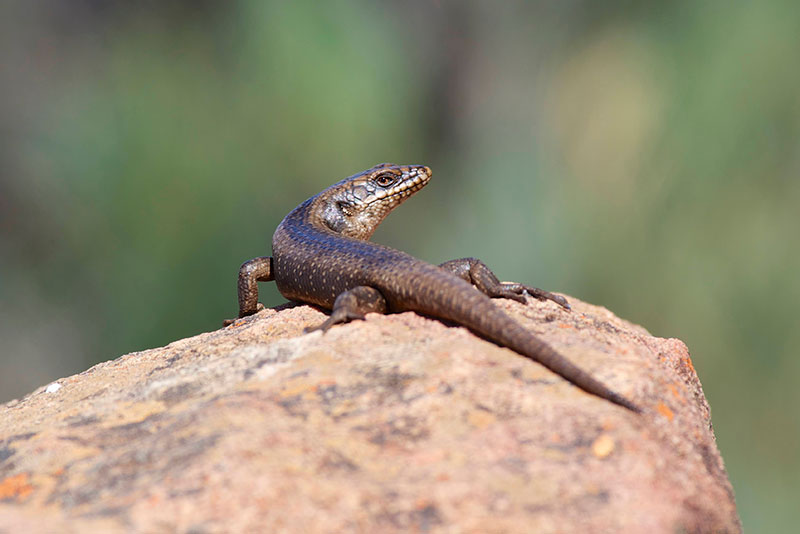 Kangaroos cluttered the roads and grassy habitat at dusk. I saw over a hundred in about forty-five minutes one night.
Feral European Wild Rabbits were unfortunately also very common, especially around dusk. They are a very troublesome invasive species in Australia, though in terms of ecological disaster they probably aren't quite as bad as Cane Toads or domestic cats.
I didn't see many herps after dark in Flinders Ranges National Park, presumably because the temperature dropped rapidly after dark. I did manage to find a couple of new-to-me geckos though. The first one was fairly nondescript by Australian standards.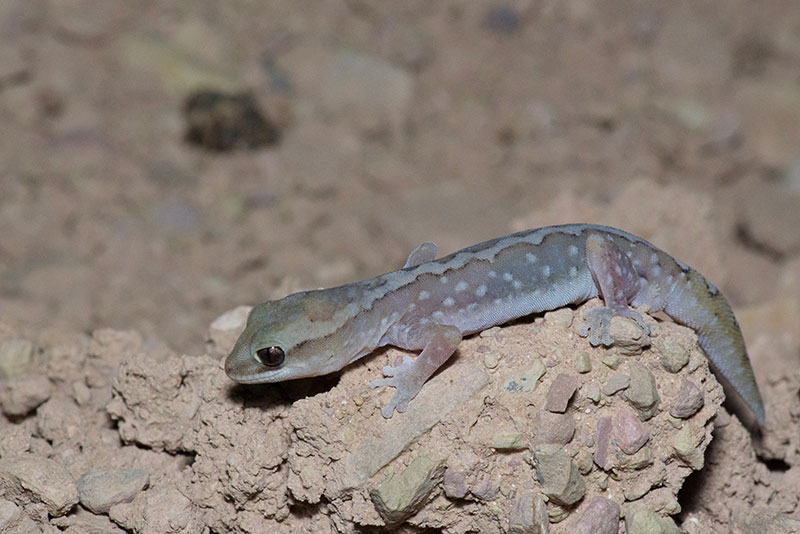 The second type of nocturnal gecko was a most excellent one, the Common Thick-tailed Gecko, a.k.a. Barking Gecko. I didn't hear them bark, but I did get to see them look amazing. They are known to be more cold-tolerant than most Australian geckos.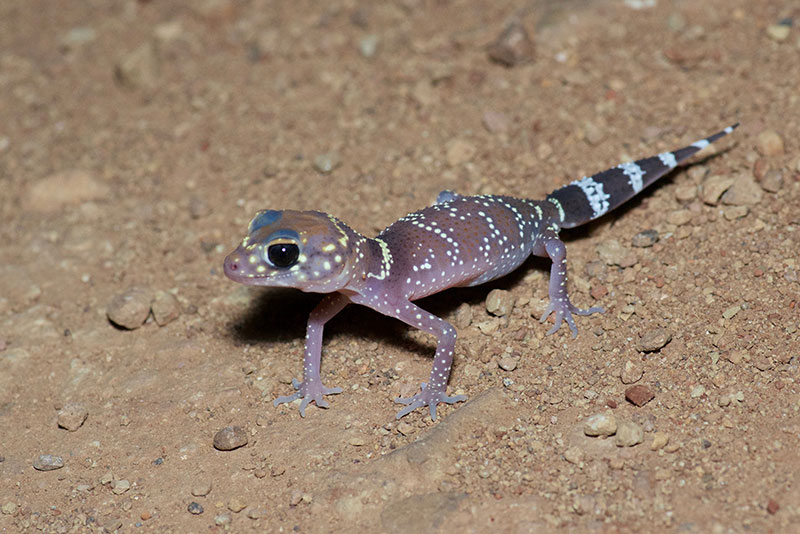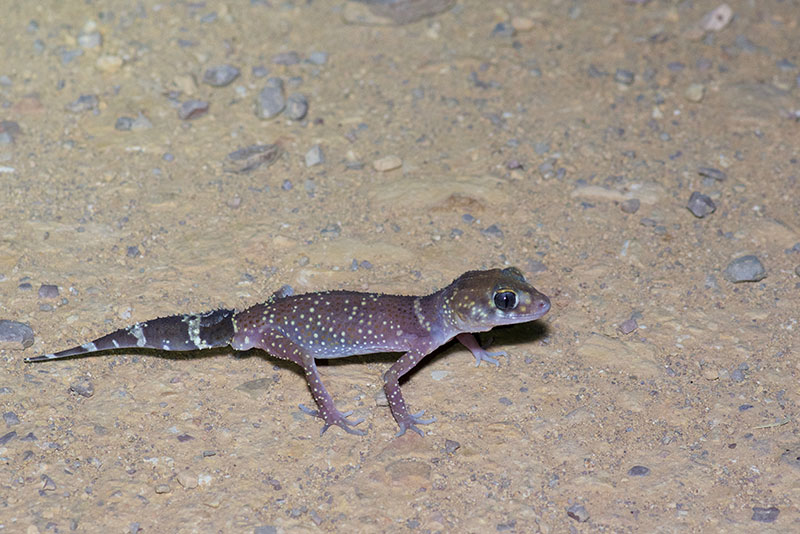 One other nocturnal herp of note near Wilpena Pound was another King Brown Snake. It was moving on the road when I first saw it, so I pulled over and followed it on foot for awhile. It never stopped moving, but I managed to get a few shots as it prowled the roadside vegetation.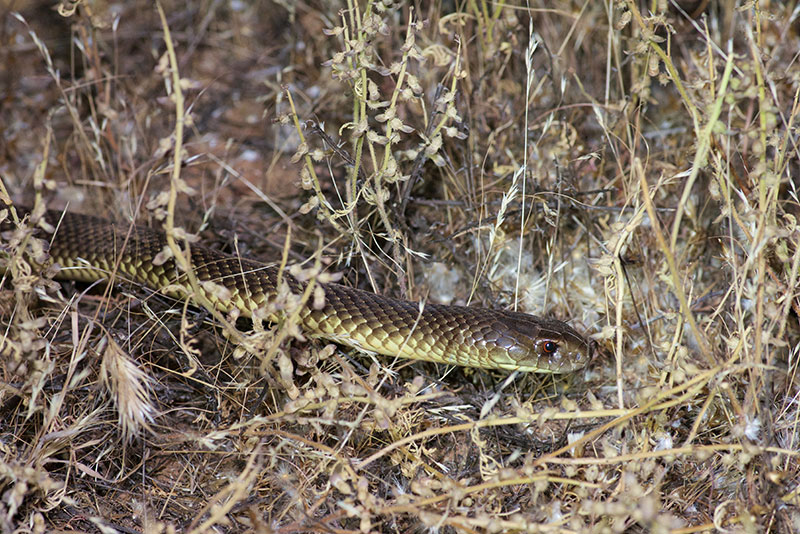 After leaving Wilpena Pound, I traveled north from Wilpena Pound as far as Marree (on the Oodnadatta Track), with a stop at Arkaroola. I just love Australian place names.
Next: Arkaroola to Marree