wild
herps
Anaxyrus boreas
—
Western Toad
Also known as:
Boreal Toad
The genus Anaxyrus was split from Bufo by Frost et al in 2006. This split is particularly controversial among herpetologists, and many references still use the long-established Bufo. Also, Goebel et al in 2009 concluded that the toads collectively known as A. boreas form a not-yet-properly-differentiated species complex, so the previously designated subspecies A. b. boreas and A. b. halophilus should no longer be recognized.
This is just a tiny metamorph; a few days earlier it was a tadpole.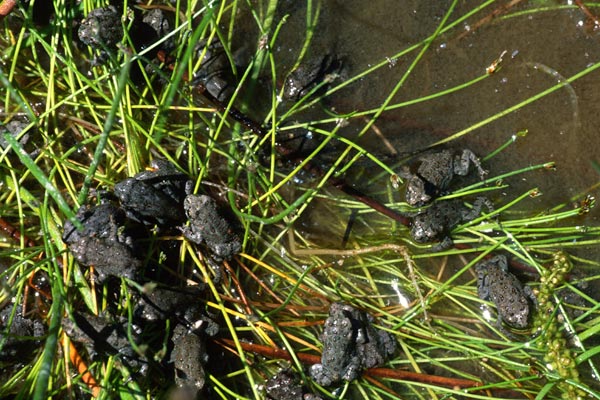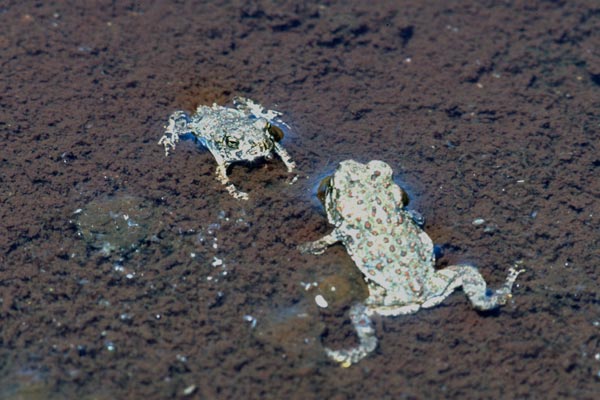 We happened to visit this area right in the middle of the annual toadlet frenzy, when zillions of toad tadpoles were turning into tiny little hoppers. The ground was crawling with little toadlets; you had to wait several seconds before putting each foot all the way down to avoid stomping them.
This is a pure, refined example of toadiness at its best.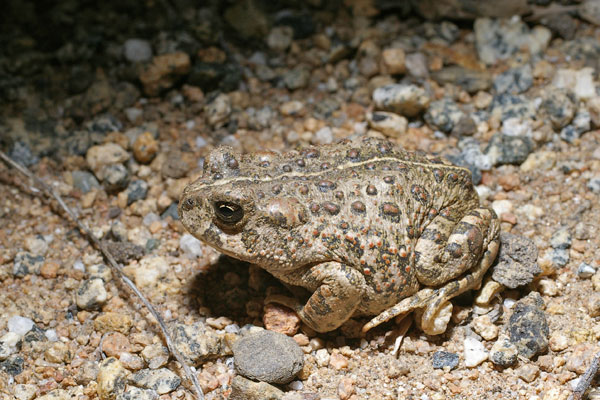 My friend Fred Harer, his wife Angie, his mom Lipa, and I went out for a night drive starting up at Kennedy Meadows in the Eastern Sierra and ending up down near Pearsonville in the Mojave desert. The only herps on the road at night up in the mountains were a good number of these lovely toads. (Not too much going on down in the desert either, but Fred did end up finding two baby
sidewinders
.
After an evening of road-cruising for
snakes
and
geckos
, I returned to my hotel in Borrego Springs to find this toad in the interior corridor, waiting for some kind soul to open the door so it could hop back into the warm desert night. Once it got outside, it got all shy and hunkered down in the nearest corner, looking like an apologetic middle-school detention subject.
As we approached Todd Lake with our passel o' dogs, we came across a sign prohibiting catching frogs or tadpoles. The sign explained that the lake held two species of concern, the Western Toad and the Cascades Frog. We didn't see any Cascades Frogs that day, but boy oh boy did we see Western Toads. First up was an adult, which turned out to be the only adult we saw. Then I started noticing the occasional tiny metamorph hopping about in the open areas near the lake. Then we got to the sunny side of the lake and saw hundreds and hundreds of metamorphs piling all over each other at the water's edge, with zillions of tadpoles in the shallows.
On this, my umpteenth trip to Anza-Borrego Desert State Park, I spent some time in a new-to-me area that has a (surprisingly!) year-round stream. I thought I might find some amphibians there even in the heat of late May, and I was not incorrect, though all of the amphibians I saw were very, very small.
Printed references: