wild
herps
Coleonyx variegatus
—
Western Banded Gecko
Also known as:
Variegated Ground Gecko
Subspecies I've seen:
C. v. variegatus
Desert Banded Gecko
Coleonyx variegatus variegatus
—
Desert Banded Gecko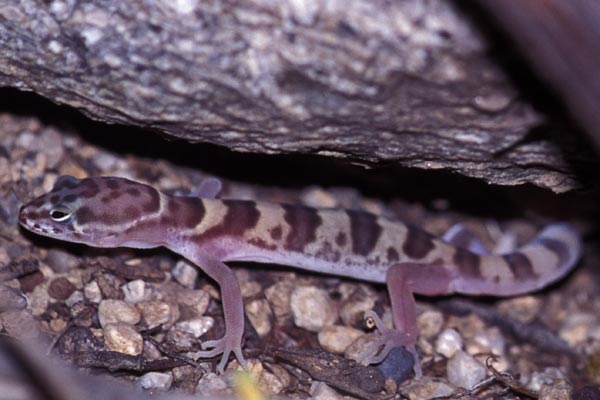 These delicate little pastel-colored lizards seem too fragile to survive in the extreme heat and dryness of the southwestern U.S. deserts, but they get along just fine, thank you, primarily by coming out only at night. I've heard that they're often mistaken for baby Gila monsters due to their pinkish hues and banded pattern, but this mistake is presumably made only by people who've never seen a Gila monster in person. Banded geckos are tiny, fragile-looking, smooth, and fast, whereas Gila monsters are huge, bulky, bumpy, and slow. This one and one other were found on a night where our main goal was to find a Gila monster, but alas, it was not to be.
The banded geckos in this area were once considered a distinct subspecies, the Tucson Banded Gecko (C. v. bogerti).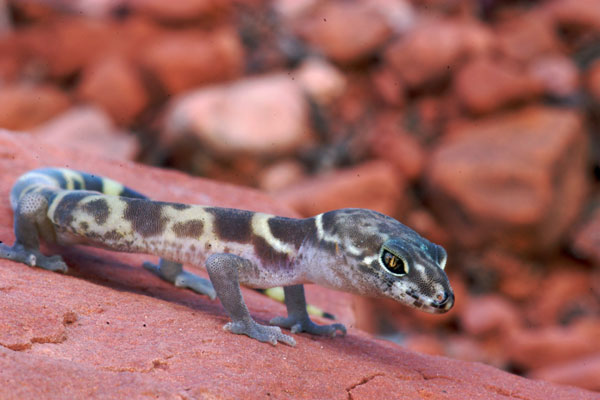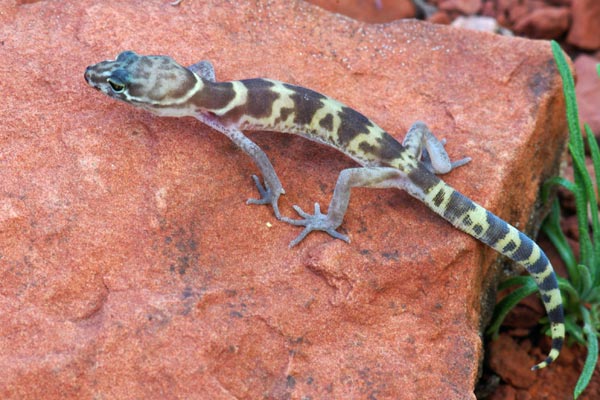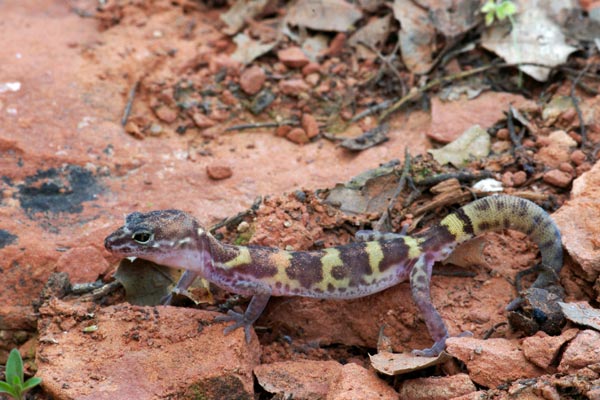 I finally found a banded gecko during the day (under a rock) so I could get some decent pictures. Over the course of three weeks, I ended up finding nine of them under rocks. They're pretty twitchy and are not so fond of being uncovered for long, so it takes some patience to get them to pose.
Banded geckos are most often seen at night on roadways. They look like leaves blowing across the road.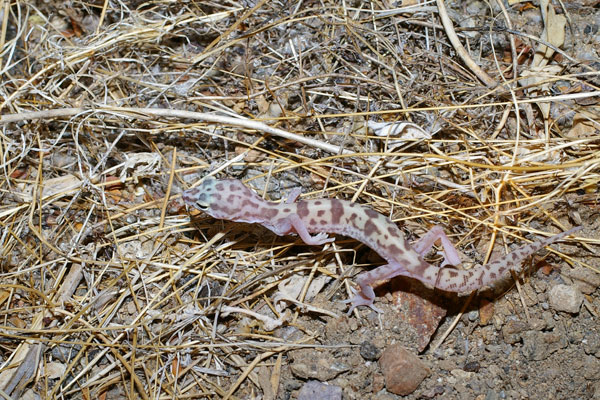 I was driving on the road at night looking for nocturnal snakes and lizards when I caught the white reflection of this little gecko in the road. For a moment I was very excited, because I was in an area of Anza-Borrego known to contain the elusive Barefoot Gecko (Coleonyx switaki). But after pulling my car over, grabbing my camera and flashlight, and racing back to where the gecko was, all that awaited me was a fairly common Desert Banded Gecko. Still, they are beautiful little lizards.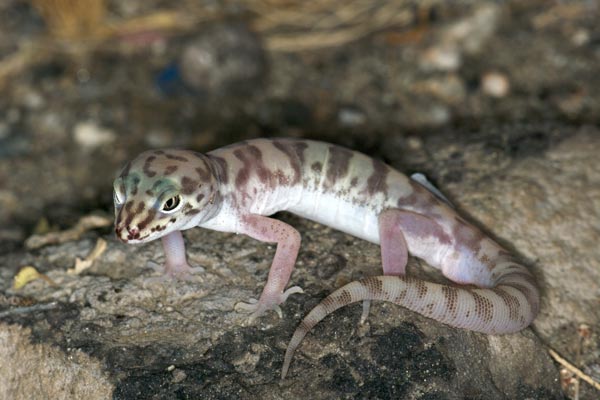 Here is a much larger and more robust banded gecko from the same general area as the previous one. I saw quite a few of these pale lizards on the roads at night, From a distance, they look like a small stick or leaf on the road, but they generally have their heads lifted (and sometimes also their tails), so they do have a fairly distinctive shape that is not too hard to recognize with some practice.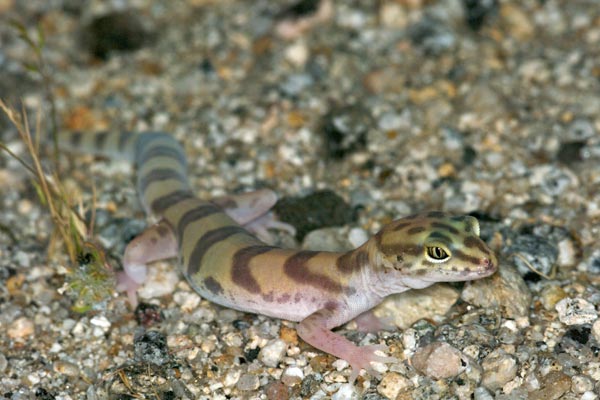 This one from a few days later is also a robust adult. Its more purely banded appearance makes it look superficially like the San Diego Banded Gecko (Coleonyx variegatus abbotti). However, that subspecies is typically found west of the Peninsular Ranges and this one was crawling across highway S2 to the east of said mountains. Also, the San Diego Banded Gecko has a distinctive light stripe from the back of the eyes to the collar that this one lacks. So this just shows part of the range of appearance of this species even within a relatively small area.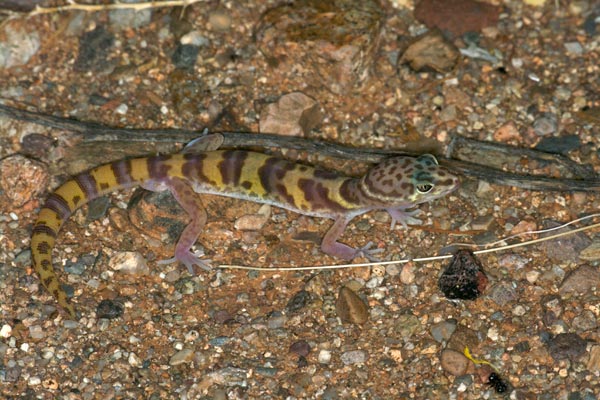 Driving back home after an evening of radio-tracking
Gila Monsters
and
rattlesnakes
, my friend Roger Repp and I drove through a sandy area in which Roger had frequently seen
sidewinders
. We had no luck with the sidewinders that evening, but found a couple pretty little geckos as a consolation prize.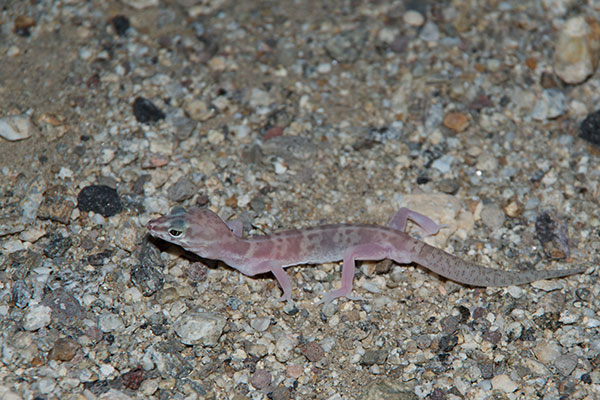 Banded geckos are a sort of consolation prize for herpers out looking for nocturnal snakes or rarer gecko species. You can usually find a few on any decent herping night, even when the snakes and other lizards are playing hard to get.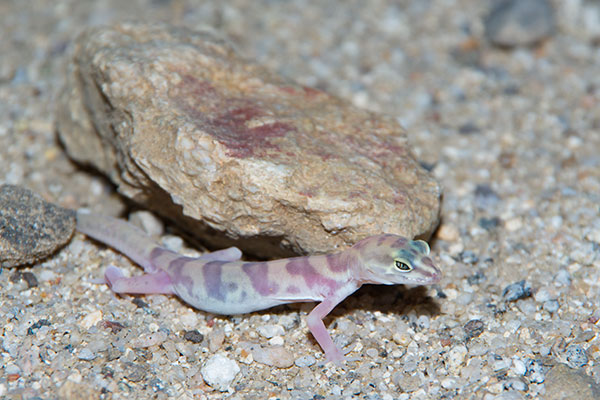 Here's another one on the next night, with a much more solid-banded pattern.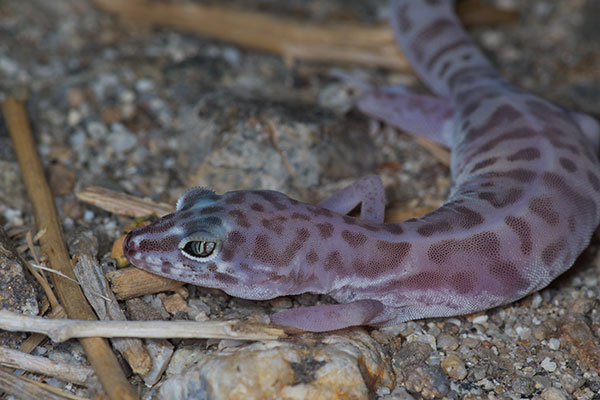 Matt Cage and I took a break from all the
shovel-nosed snakes
to admire this gravid gecko for a little while.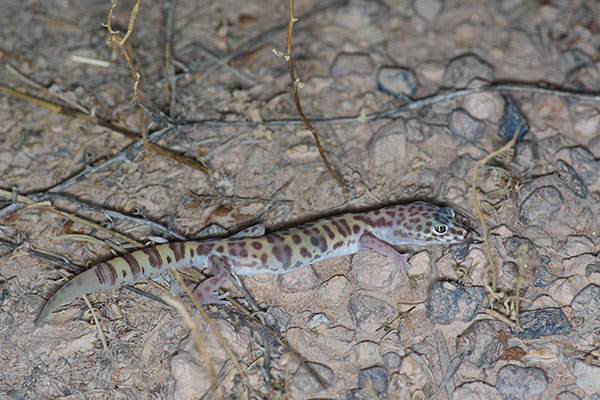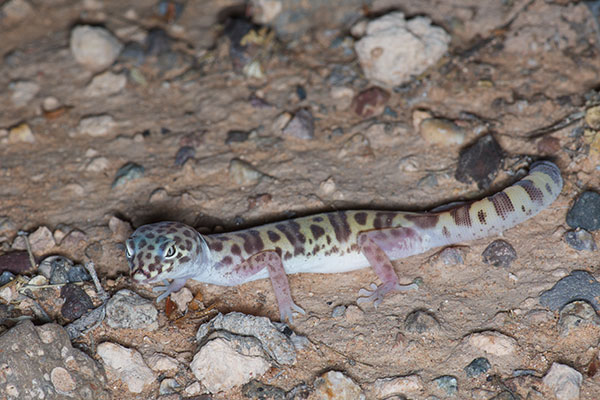 These geckos are probably the most commonly-seen reptile in the Mojave desert at night, but that doesn't make seeing one any less special for me. They are beautiful, and always seem to bear a look of slight condescension.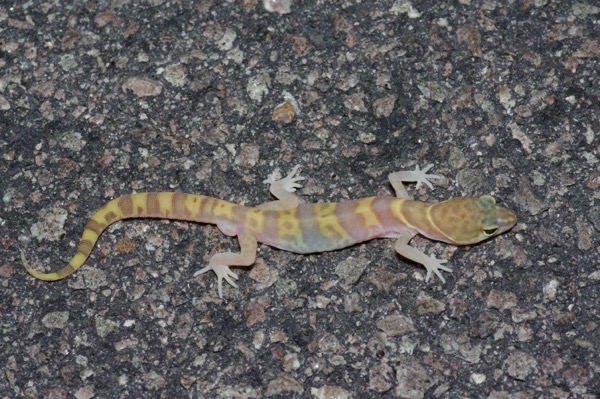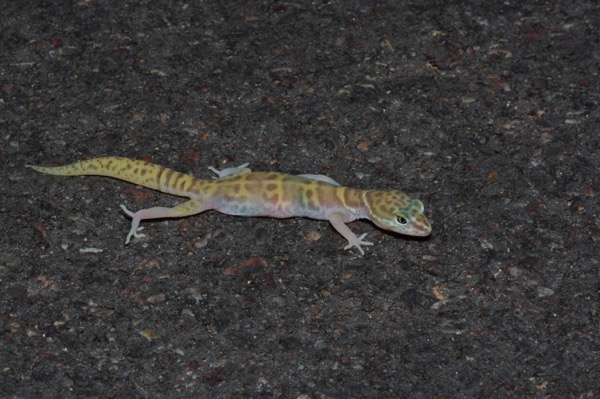 The banded geckos in this area were once considered a distinct subspecies, the Utah Banded Gecko (C. v. utahensis). Then someone had to come along and do some DNA studies that showed evidence that only C. v. variegatus and C. v. abbotti were worthy of being called subspecies.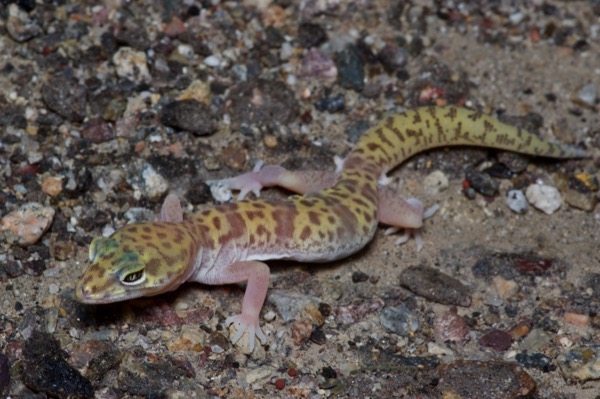 This one was particularly colorful. I photographed a few more on this trip, but they were not nearly so pretty.
Another subspecies, the San Diego Banded Gecko (Coleonyx variegatus abbotti) typically has a simpler, "cleaner" pattern than your average C. v. variegatus. This one might pass for a San Diego Banded Gecko, but it was on the wrong side of the mountains to be that subspecies. (Also, the head pattern isn't right, but let's not overcomplicate the story.)
Printed references: