wild
herps
Caiman crocodilus
—
Common Caiman
Also known as:
Spectacled Caiman, Crocodile Caiman, Babilla (Colombia), Yacaré (South Colombia), Matúa (North Colombia), Jacaré-tinga (Brazil)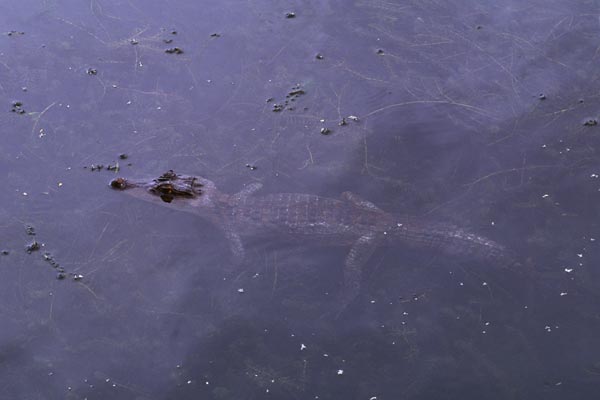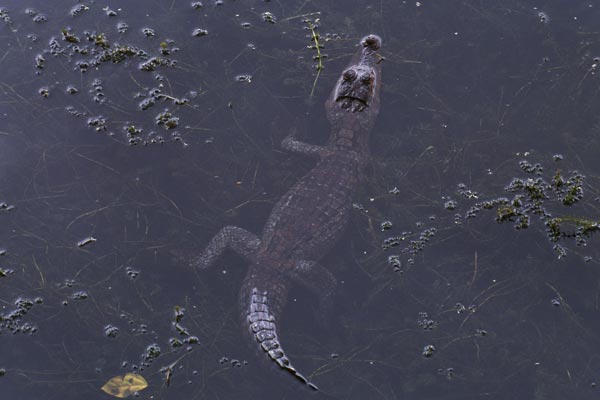 This young caiman was cavorting with a whole mess o'
turtles
in the Chagras river just past the dining patio at the Gamboa Rainforest Resort. We saw adult caimans here as well, but they didn't pose for me.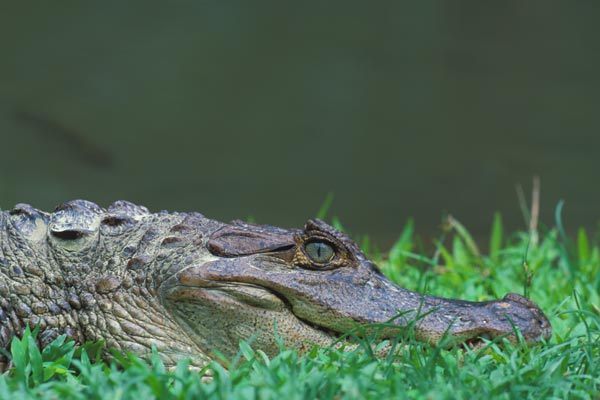 This was the (voluntary) resident caiman at the Esquinas Rainforest Lodge, idling his time away in a pond just outside the dining area. The lodge staff put up a "Caiman Pond" sign and named him Lorenzo (don't ask me why). They overfeed him with scraps of meat from the kitchen, and he is one fat and happy caiman. The lodge manager told us that about six months earlier he vanished one day, and only reappeared three months later. Our guess is that he went off in search of lady caimans to woo with his flirty smile. But he did come back, because he knows a good thing when he sees it.
Here is a complete list of the species we found on this GreenTracks trip.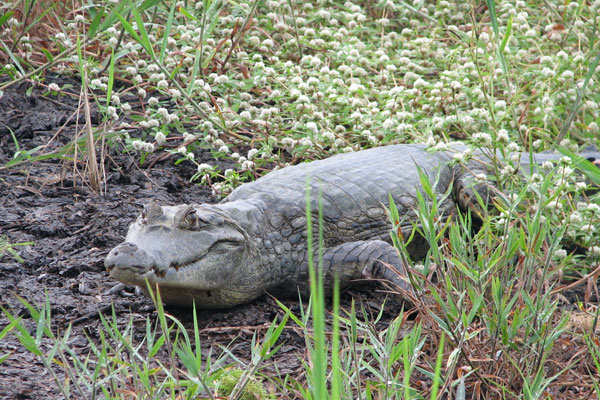 Black caiman
were extremely common at Mamirauá; we must have seen at least a hundred in a few days, always floating in the water. So-called Common Caiman were much harder to discover. We saw this one basking near the edge of Lake Mamirauá late one afternoon, but this is the only individual we saw in four days.
Here is an account of the four days we spent at Uakari Floating Lodge in the Mamirauá Sustainable Development Reserve.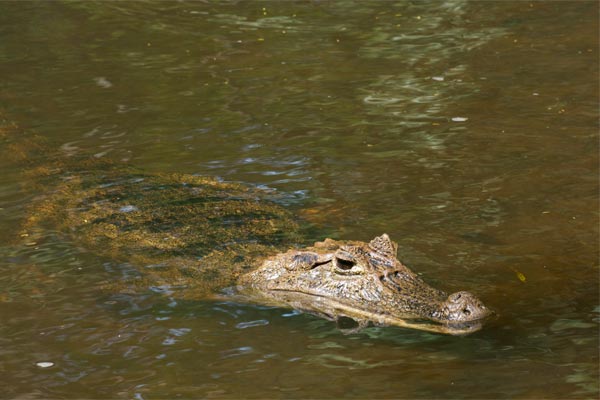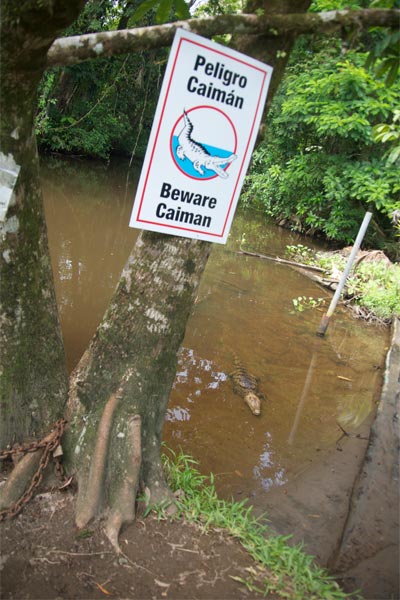 This is Tosty, the resident caiman at Evergreen Lodge. He spends much of his time hanging out near the Peligro Caimán sign, frightening the easily frightened. The lodge employees claimed that they do not feed Tosty. I am not sure that I believe them, for Tosty is extremely fat.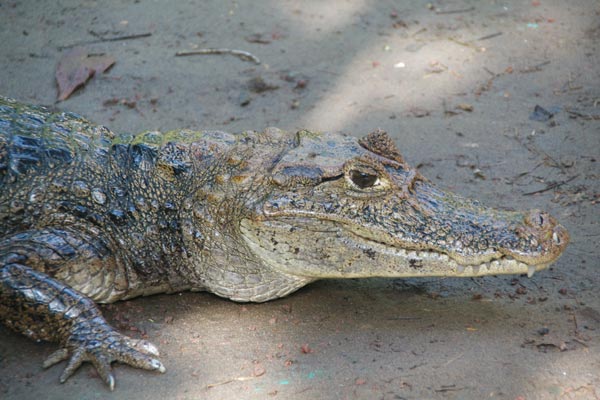 Sometimes Tosty pulls hauls his great fat body out of the water and lies around on the shore, smiling his crocodilian smile. It's a lot of effort for him though.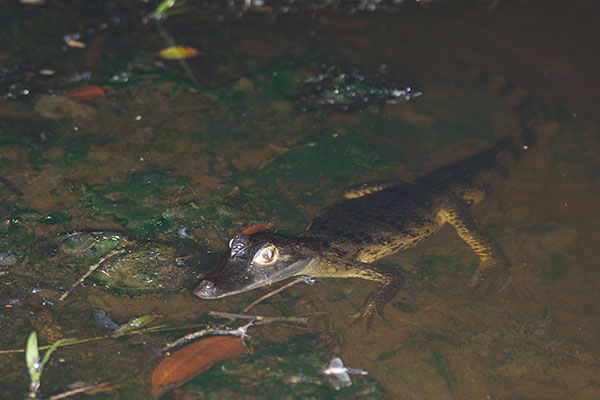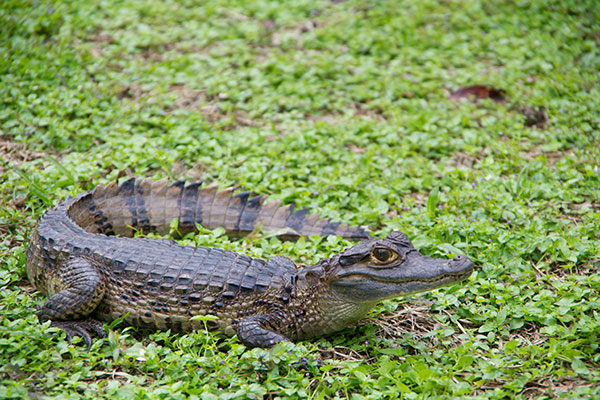 These primarily nocturnal crocodilians have extremely reflective eyes that make them easy to spot from a distance at night with a flashlight. There were a number of young ones living in the pond at the Santa Cruz field station. The one in the second picture here was captured by
Jake Scott
and detained overnight so that photos could be taken in the daylight. It might or might not be the same individual I photographed in the pond the previous night.
Here is a complete list of the herps I saw in the wild on my 2013 MT Amazon Expeditions trip.
I saw at least two and perhaps three of the caimans that inhabit the pond behind the Santa Cruz Forest Reserve buildings, but only at night and only from a distance. Nobody grabbed one of them for photos this year.
Here is a complete list of the herps I saw in the wild on my 2014 MT Amazon Expeditions trip.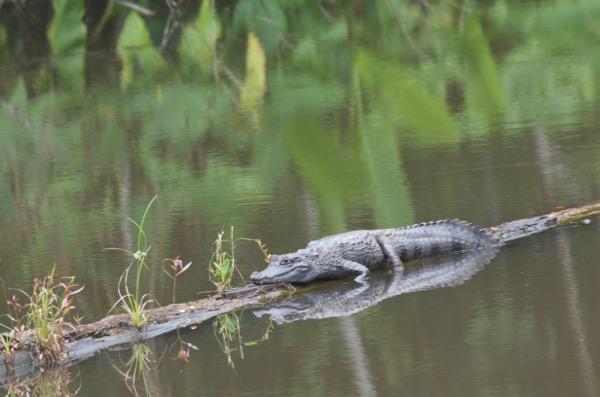 Printed references: