wild
herps
Furcifer oustaleti
—
Oustalet's Chameleon
Also known as:
Malagasy Giant Chameleon
Oustalet's Chameleon is one of the two Chameleon species called "the biggest chameleon".
Parson's Chameleon
, the other one, is generally more massive, but Oustalet's Chameleon is generally longer. This one was doing the chameleon "I am a leaf in the wind" sway across the road, a somewhat maladaptive adaptation. We stopped and helped it across to prevent it from becoming more laterally flattened than it already was.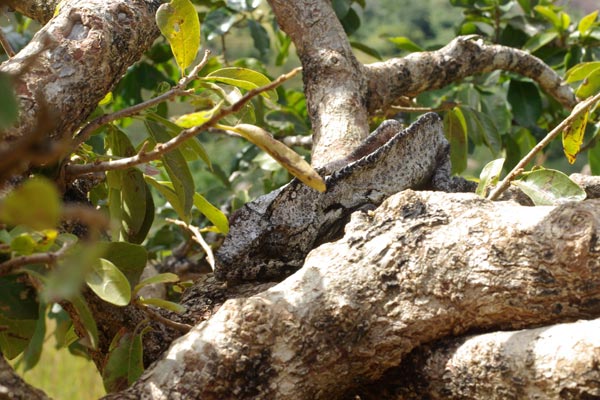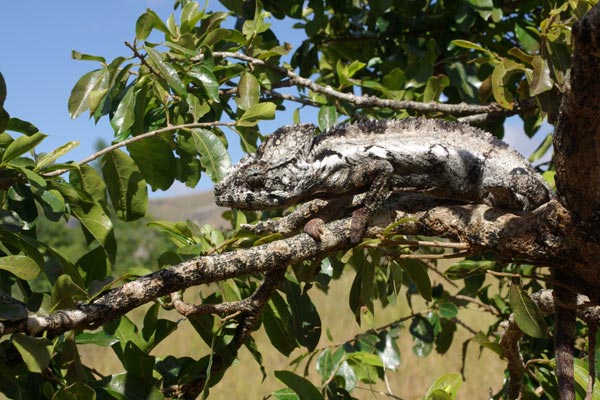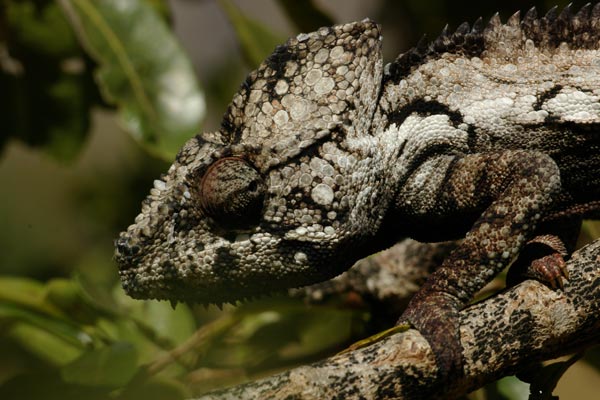 After we had spent a wonderful couple of hours admiring ring-tailed lemurs and various herps in this small reserve run by a local community, we were just about to get into our car and head north to Ranomafana when one of the locals asked politely if we wanted to see a chameleon in the one small tree at the edge of the dirt area that served as a parking lot. Well, sure, you can never see enough chameleons, but we assumed it was one of the fairly
small ones
that we had seen already. Instead, it was a monster, with camouflage that made it almost invisible in its tree. This was the largest chameleon I've seen in my life, anywhere. It was as long as my hand and forearm, and I have large hands and long forearms. Our guide Gersica, who has seen a lot more chameleons than I have, didn't even consider it a particularly large one.
Here is a list of all the reptiles and frogs I saw on this trip to Madagascar.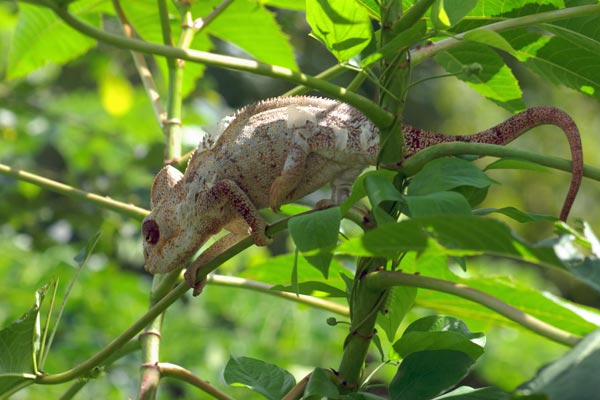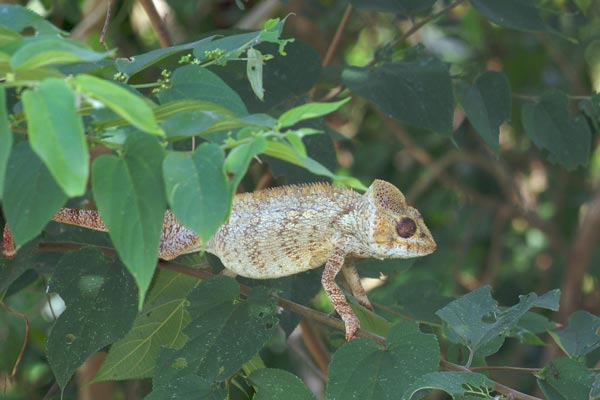 After flying to Antsiranana (a.k.a. Diego-Suarez, but isn't "Antsiranana" more fun to say?), we met our dreadlocked, reggae-singing naturalist guide John and drove south in the direction of Ankarana Special Reserve. I made it clear that I wanted to see herps, and shortly after getting out of the heart of town we pulled over because John had sighted this pair of huge Oustalet's Chameleons high up in the trees off to the side of the road.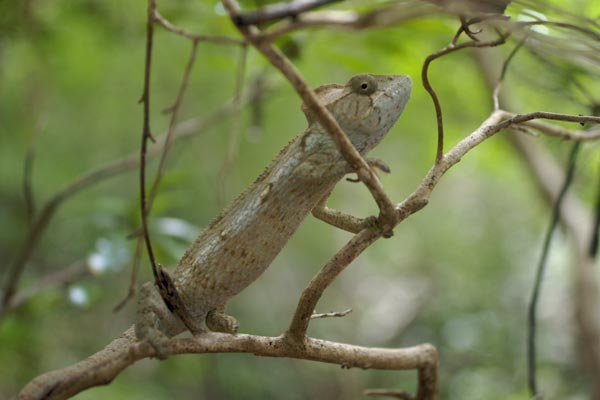 The Oustalet's Chameleons we saw in Ankarana were fairly bland compared to the ones we had seen at Anja and Antsiranana. Still, any chameleon is a good chameleon.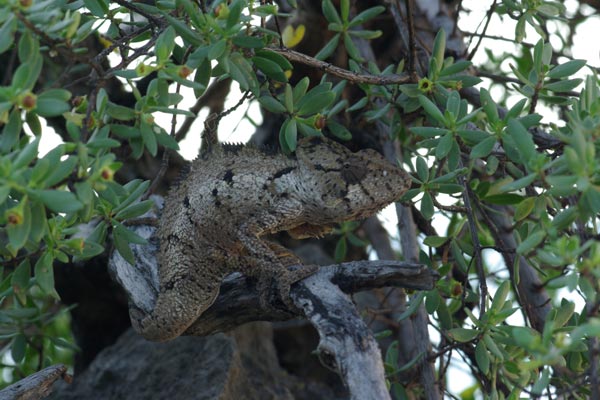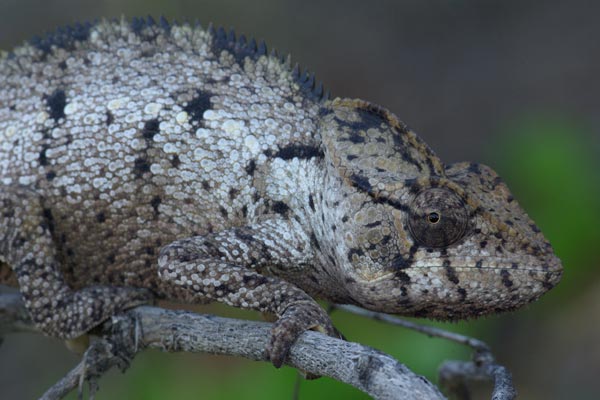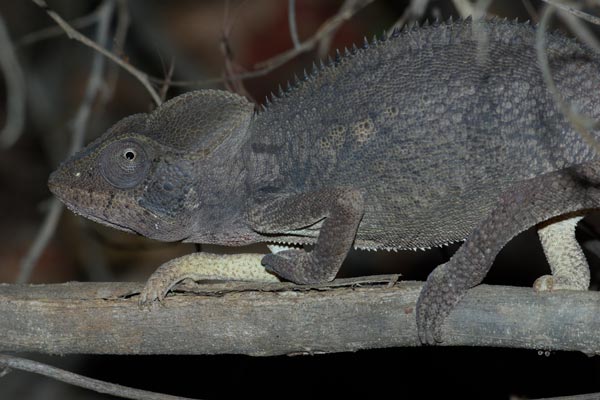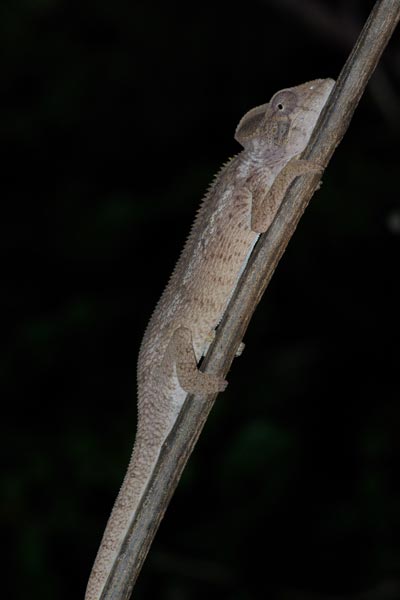 Here's a selection of chameleons from our last full day in wild Madagascar. The first two photos above are of the same individual, which was the tenant of a single bush perched six feet up on a corrugated limestone rock on a beach within thirty feet of the Indian Ocean. The next nearest plant was at least fifteen feet of jumbled, broken limestone rock away.
The third and fourth photos are two different individuals found at night, minding their own business and wishing we would do the same.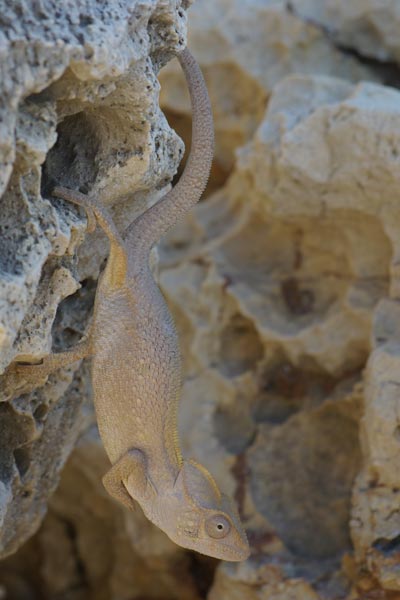 The next morning, I returned to the beach where I had previously found the chameleon perched in its limestone castle in order to try to show it to my wife and sister. The bush was devoid of chameleons, so at first I thought it must have made its way across the rocks and back into the forest, but my wife spotted this stealthy fellow a few feet away. It has adopted a new monochromatic look since the previous afternoon, but the details of the scale layout reveal it to be the same individual.
Printed references: