wild
herps
Leioheterodon madagascariensis
—
Madagascar Hog-nosed Snake
Also known as:
Madagascar Menarana Snake
This snake was sighted making a quick forest floor getaway. In the small Lokobe Reserve we also saw at least four
Madagascar Tree Boas
, including one huge one with a body diameter of at least three inches. They tended to be wrapped around trees that we were walking under, to the consternation of some members of our party.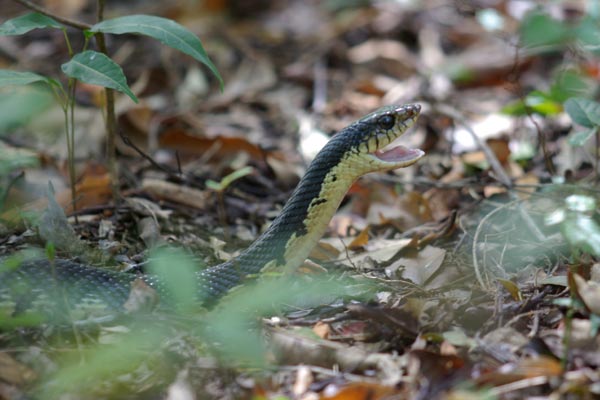 Just after driving into Ankarana Reserve, we had pulled over to admire a
Panther Chameleon
in the foliage along the dirt road. While milling about, our guide John turned to notice a large snake crossing the road behind us. I tried to detain it for photos, but it had no intention of holding still, so after a few minutes I let it slither off into the forest. Once free and out of the open, it slowed down and stopped periodically to inspect its surroundings. I followed it into the forest and got a few photos, like the first one above.
About ten minutes later we had reached the end of the road and started hiking through the forest. Within five minutes another large Leioheterodon madagascariensis slithered into sight. We stood still and watched it investigate various nooks and crannies with its hoggish nose. We first saw it from a distance of maybe twenty feet, but it eventually passed within three feet or so of us. That's the second one pictured above.
Here is a list of all the reptiles and frogs I saw on this trip to Madagascar.
Printed references: