wild
herps
Trachylepis gravenhorstii
—
Gravenhorst's Mabuya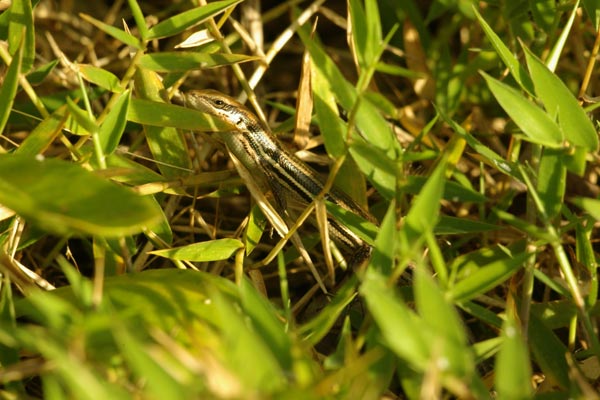 In the late afternoon, my sister Mary noticed these skinks scurrying about in the ground cover near the ocean beach. They were very active, and each time I tried to sneak up on one that was temporarily in an open area, it would nervously dash off into the vegetation.
Here is a list of all the reptiles and frogs I saw on this trip to Madagascar.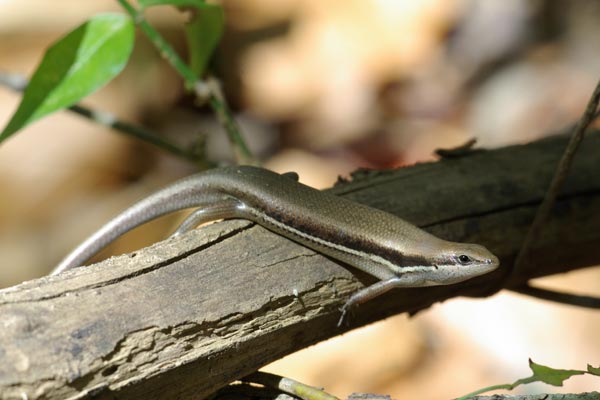 I spotted this largeish skink holding a position just off the trail on our first hike in Ankarana. I expected to see a bunch of them, but I didn't see another skink in Ankarana. I did see some skink-like
Zonosaurus tsingy
though.
It's nearly impossible to tell Mabuya gravenhorstii from Mabuya elegans. The two main differences are that M. gravenhorstii reaches a larger size, and has a slightly different arrangement of scales on the top of the head. I didn't get a photo that shows the head scales clearly, but this individual was large enough that I think it's probably M. gravenhorstii.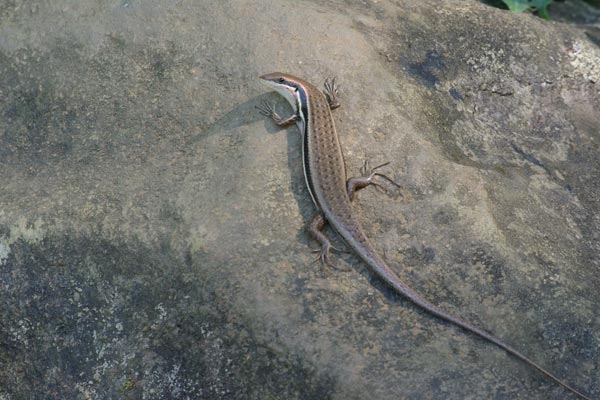 We were staying at a lodge/hotel/whatchamacallit named
Jardin Vanille
on Nosy Komba, right on a beautiful beach on the Mozambique Channel. From the beach up into the rainforest, piles of huge boulders make for a dramatic landscape. Various lizards patrol the boulders, including these skinks, some big
Zonosaurus madagascariensis
, and at least one large gray gecko that kept scuttling away before I could get close enough to photograph or even identify it.
Printed references:
Glaw, F., Vences, M. 2007. A Field Guide to the Amphibians and Reptiles of Madagascar, Third Edition
Glaw, F., Vences, M. 1994. A Fieldguide to the Amphibians and Reptiles of Madagascar, Second Edition
Henkel, F., Schmidt, W. 2000. Amphibians and Reptiles of Madagascar and the Mascarene, Seychelles, and Comoro Islands