wild
herps
Furcifer willsii
—
Canopy Chameleon
Also known as:
Will's Chameleon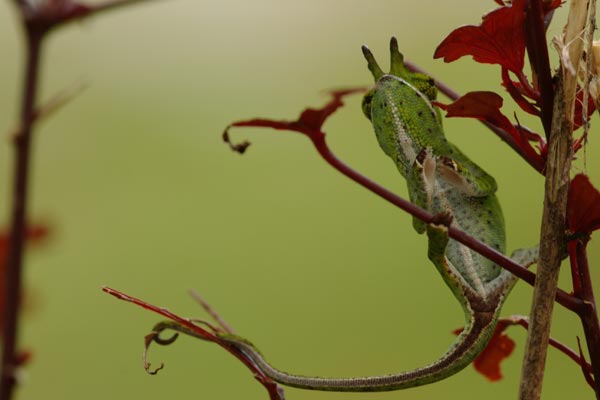 We were in Analamazaotra for two days, and by late afternoon of the second day we had seen four of the five arboreal chameleon species that our guide knew to live in the reserve (
Calumma parsonii
,
Calumma brevicorne
,
Calumma gastrotaenia
, and
Calumma nasutum
). As disk approached, we were walking along the side of the road that runs past the reserve in hopes of seeing the fifth and rarest,
Furcifer willsii
, which is usually found in the tops of tall trees. Suddenly a car came pulling up and the driver had a few words with our guide.
Furcifer willsii
had been spotted back at the reserve entrance! We hopped into the car and were driven back lickety-split to see this pretty little chameleon. It was great to have guides that were looking out for our specific interests like this.
Getting good photos of this little guy was challenging because the daylight was going fast and the chameleon wanted to climb up up up. My sister Mary Sullivan took the first of these photographs. The belly shot was mine.
Here is a list of all the reptiles and frogs I saw on this trip to Madagascar.
Printed references: